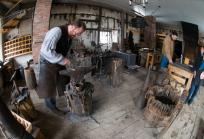 Cooperstown, N.Y.
- Join The Farmers' Museum for its springtime tradition for families and friends throughout the region,
Sugaring Off Sundays
.  Held every Sunday in March (March 4, 11, 18, and 25), the event features historic and contemporary sugaring demonstrations, children's activities and more. A full pancake breakfast is offered from 8:30 a.m. to 1 p.m. with other activities scheduled 9 a.m. to 2 p.m.   In the Museum's historic village, children find fun activities-no homework-at the Filer's Corners Schoolhouse.  Everyone learns about spring tonics and treatments in the More House, and the blacksmith is demonstrating his craft at the Peleg Field Blacksmith Shop.  Visitors are invited to have a taste of jack wax, hot maple syrup poured over snow! On March 18 only, Native American educator and storyteller Mike Tarbell tells stories from the Haudenosaunee tradition. To delight young and old, The Empire State Carousel, a favorite attraction at The Farmers' Museum, will be open.  You can find spring items, unique gifts, crafts, and books at The Farmers' Museum Store and Todd's General Store.  Local maple products will also be for sale. Admission to
Sugaring Off Sundays
is $8 for ages 13 and up; $4 for children age 7 to 12; and free for children 6 and under. Admission includes full breakfast. No reservations are required.  Visit FarmersMuseum.org for more information. Sponsored in part by Bank of Cooperstown, Otsego County Maple Producers, Sysco, and Quandt's Foodservice Distributors.
###
Attached Images - Caption:
Blacksmith Steve Kellogg demonstrates age-old techniques to visitors during last year's Sugaring Off Sundays event at The Farmers' Museum.  (Photo by Zach Winnie)
About The Farmers' Museum
As one of the oldest rural life museums in the country, The Farmers' Museum in Cooperstown, New York, provides visitors with a unique opportunity to experience 19th-century rural and village life first-hand through authentic demonstrations and interpretative exhibits. The museum, founded in 1943, comprises a Colonial Revival stone barn listed on the National Register for Historic Places, a recreated historic village circa 1845, a late- nineteenth-century Country Fair featuring The Empire State Carousel, and a working farmstead. Through its 19th-century village and farm, the museum preserves important examples of upstate New York architecture, early agricultural tools and equipment, and heritage livestock. The Farmers' Museum's outstanding collection of more than 23,000 items encompasses significant historic objects ranging from butter molds to carriages, and hand planes toplows. The museum also presents a broad range of interactive educational programs for school groups, families, and adults that explore and preserve the rich agricultural history of the region.
Contact:
Todd Kenyon, Public Relations New York State Historical Association Fenimore Art Museum/The Farmers' Museum Phone: (607) 547-1472 / E-mail:
t.kenyon@nysha.org