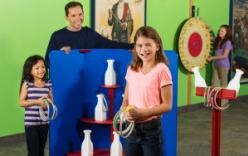 Rochester, N.Y. - Two original exhibits, a Fairy Folk Village, a Red Wings meet and greet opportunity, daily parades-and so much more await your family at The Strong this summer!
Now Playing: Boardwalk Arcade. Step right up! Celebrate arcade amusements in all their beeping, blipping, vibrant glory at Boardwalk Arcade, an original, summertime exhibit back by popular demand.
Journey through the evolution of seaside amusements, play a variety of carnival games and classic arcade machines, and challenge yourself on redemption games such as Skee Ball, Hoop Fever, Ticket Monster, and Harpoon Lagoon. Win tickets and use them to collect a variety of prizes, including stickers, oversized sun glasses, and stuffed animals. 
Now Playing: Pinball Playfields. Trace the evolution of the pinball playfield-the surface where the ball ricochets through a maze of lights and obstacles to rack up points-from countertop games of the 1930s to the sophisticated, electronic versions of today at an original exhibit at The Strong. View pioneering pinball machines and try to rack up high-scores on a field of playable machines including Vagabond, FunHouse, Monster Bash, Lord of the Rings, and Emerald City Limited Edition Wizard of Oz. Wrap your arms around Hercules-the world's largest commercial pinball machine.
Tuesday, July 15-Sunday, July 27: Corn Hill Arts Festival Fairy Houses Display. View a whimsical display of award-winning fairy houses from the Corn Hill Arts Festival. Be captivated by the charming fairy abodes and marvel at entries judged as "Best Use of Natural Materials," "Most Unique," "Most Whimsical," and more. These one-of-a-kind dwellings are constructed from twigs, bark, feathers, shells, and other natural materials and were inspired by The Fairy
Houses series of children's books by Tracy Kane.
July 15-September 1: Fairy Folk Village. According to the folk lore, there are a thousand tricks to befriend the fairy folk, but the best way to ensure their goodwill is to make a fairy door. Explore the twisting paths and hidden nooks of the museum's Discovery Garden to discover whimsical fairy doors donated by Chris Pallace and Kevin Serwacki of Blue Toucan Studios. The Discovery Garden is open seasonally during regular museum hours.
Monday, July 28: Rochester Red Wings Meet and Greet. Meet a player from the Rochester Red Wings and receive his autograph from 11 a.m.-noon.
All summer long (Friday, July 4-Monday, September 1): Summer of Farewell Parades. Join in a festive, musical march through the museum galleries at the end of each day-a rousing way to conclude a visit!
All summer activities are included with general museum admission fees.
###
Contact:
Shane Rhinewald, 585-410-6365,
srhinewald@thestrong.org
Kim Della Porta, 585-410-6325,
kdellaporta@museumofplay.org