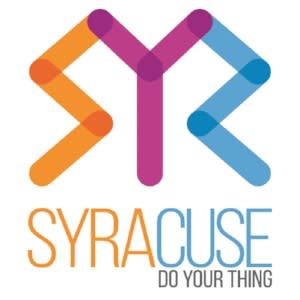 Destiny USA Teams Up with Central New York's Top Attractions to Once Again Offer a Destination-Wide Summer Fun Pass
Syracuse, NY (June 7, 2018) - Experience Central New York's top attractions this summer with the return of the  Destiny USA Summer Fun Pass and get access to four of 29 participating Destiny USA attractions, free admission to the 2018 Great New York State Fair, Syracuse Chiefs, Rosamond Gifford Zoo and Syracuse University Football as added bonuses.
Summer Fun Pass Pre-Sale: NOW!
Summer Fun Pass Availability: June 11 – September 3, 2018
Cost: Children's Fun Pass is available for $40 plus applicable sales tax (ages 12 and younger – age and weight restrictions apply) and Adult Fun Passes are available for $50 plus applicable sales tax.
Purchase the Fun Pass online at www.destinyusa.com/summer or visit one of Destiny USA's Guest Service desks on the third level of Destiny USA, near World of Beer, or beneath the Carousel.
"The annual Summer Fun Program is the most unique ticket available to residents and visitors of the Syracuse community," said Destiny USA Director of Marketing John Fazio. "We're thrilled to continue these relationships. And, with the Embassy Suites by Hilton available this season to guests around the hub of attractions, we look forward to driving even more economic activity to Central New York."
The Summer Fun Pass represents a savings of up to 65 percent per person. Fazio added that it's the best way to experience Central New York's top attractions.
"We are proud of how well the attractions in Central New York continue to work together to promote tourism – their efforts align perfectly with our mission to drive tourism demand," said Visit Syracuse President and CEO Danny Liedka. "Destiny USA continues to lead by example to attract international visitors; while giving them the opportunity to enhance their experiences."
With each Destiny USA Summer Fun Pass purchase, guests will receive a barcoded booklet with tickets to be used at four of 29 participating Destiny USA venues. Each booklet will also include a bonus admission ticket to the 2018 Great New York State Fair, Syracuse Chiefs, Rosamond Gifford Zoo and Syracuse University Football. Restrictions apply and are available online at www.destinyusa.com/summer.
This is the second year the Summer Fun Pass has included Central New York's top attractions. More than 60 percent of Fun Pass sales come from greater than 50 miles away.
DESTINY USA ENTERTAINMENT OPTIONS:
NEW THIS YEAR! Funny Bone: One Ticket to Non-Special Engagement Show of your choice. Must be 21+ or older. Subject to seating availability. Reservations suggested. (Offer not valid with Child Pass)
5WITS: One Adventure
Amazing Mirror Maze: General Admission
Billy Beez: General Admission (One Accompanying Adult Included)
Canyon Climb: One Ropes Climb
Carhartt: Limited Edition Syracuse-Branded T-Shirt
Dave & Busters: $10 Power Card
GlowGolf: One Round of Golf
LazerTag: Three Games of Lazer Tag
Microsoft: X-Box Game Pass (1 month)
Mystery Room: One Admission
Pole Position Raceway: Adult Race Package (Waive Temporary License)
All-Star Alley & Tavern: Two Games (Includes Shoes)
SkyTykes: One Ropes Climb (Must Be 48" or Less)
WonderWorks: General Admission
DESTINY USA DINING OPTIONS
All Star Alley & Tavern: ADULT: Choice of Cajun Chicken Pasta, Crispy Chicken with Fries, Turkey Club with Fries, or a Build-your-own Two-Topping 10" Pizza, CHILD: Choice of any item off the Kid's Menu
Burger King: ADULT: Free Double Cheeseburger Meal, CHILD: Free 4-Piece Kid's Meal
Cantina Laredo: Gourmet Enchiladas or Specialty Tacos
Cold Stone Creamery: Free "Like It" Signature Sundae
Gordon Biersch:  Adults: Exclusive "Fun Pass" Pizza, or GB Chopped Salad, or "Destiny Burger" or CBLT, Kids: Mac and Cheese with Choice of Seasonal Fruit or Fires, or Cheese Pizza, or Pepperoni, or Cheeseburger with Choice of Seasonal Fruit or Fries, or Chicken Sandwich with Cheese with Choice of Seasonal Fruit or Fries, or Pasta Marinara with choice of Seasonal Fruit or Fries
Johnny Rockets: Adults: Original Burger, or Streamliner Burger, or Rocket Dog, Fries, and Soda, Kids: Mini Burgers (2), or Grilled Cheese, or Mini Hot Dogs, Fries, and Soda
Margaritaville: Choice of Cheeseburger in Paradise, Fries and Soda, or Chicken Caesar Salad and Soda
P.F. Chang's: Adults: $10 gift card, Kids: $5 gift card
Sweet Yummy: One Regular Size Cup of Frozen Yogurt with Toppings (up to 14 oz), or Smoothie, or Milkshake, or Regular Ice Cream, or Crepe
Syracuse's Original Carmelcorn Shoppe: Refillable Bucket of Popcorn (Choice)
TGI Fridays: ADULT: Fridays Combo; CHILD: Kid's Meal from the Kid's Menu, Kids: Kids Meal from the Kids Menu
World of Beer: Adults: Signature pretzel and beer (choice of Happy Hour beers), Kids: Mac & cheese bites and a side (French fries or tater shots) with soda
BONUS ADMISSIONS—Each Fun Pass booklet includes a single bonus ticket to each:
Syracuse University Football: one ticket to one of two select 2018 Syracuse University Football home games
New York State Fair: one admission into the 2018 Great New York State Fair.*
Rosamond Gifford Zoo: one general admission into the Rosamond Gifford Zoo.*
Syracuse Chiefs: one ticket to one regular season Syracuse Chiefs home baseball game.
For more information, contact:
###
CLICK HERE FOR PRESS RELEASE PDF
About Destiny USA
Shopping, dining and entertainment so big, it needed its own zip code. Welcome to Destiny USA—New York's largest destination of its kind with over 250 places to shop, dine and play, visited by 26 million guests every year. From an antique carousel to the world's largest suspended ropes course at WonderWorks to tropical destination Margaritaville, Cheesecake Factory and retail and outlet brands like Apple, Nordstrom rack, Michael Kors and more, there's something for everyone at Destiny USA. And all of it under one roof with perfect weather year round. Discover the Destiny USA experience and plan your next visit at www.destinyusa.com.
About Pyramid Management Group, LLC
Pyramid Management Group, owner of Destiny USA, is one of the largest, most innovative, privately-held shopping center developers in North America. Headquartered in Syracuse, New York, Pyramid's portfolio of retail-based, tourist, and entertainment destinations dominate the northeast, with 16 properties located throughout New York, Massachusetts and Virginia. For over 40 years, Pyramid has lead the industry by combining the best elements of traditional retail with world-class dining and entertainment, all under one roof. For more information, visit www.pyramidmg.com.


About Visit Syracuse
Visit Syracuse, Inc. is Onondaga County's official marketing organization for tourism related economic development; leading the production of over $850 million in direct visitor spending annually. The organization aims to strengthen the positive awareness of the City of Syracuse and Onondaga County as a convention and visitor destination; to increase revenues and stimulate economic development and growth for the community.
Contact:
Nikita Jankowski
Communications Director
315.470.1903 direct line
315.706.4443 mobile