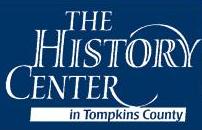 Ithaca, N.Y.
-- Check out some great upcoming events and programs at The History Center in Tompkins County: 
Dramatic Dialogs: A Conversation about the Musical "Titanic"
July 15, 1pm at The Hangar Theatre   The History Center and Hangar Theatre present a discussion of daily life in the age of the passenger liner Titanic. The event is part of a pre-show production on July 15 at 1 p.m. at the Hangar Theatre. Speaking on the daily life of passengers and crew of the ill-fated ship will be David Flaten, professor of History at Tompkins Cortland Community College. Facilitating the conversation will be Mr. Jesse Bush, Associate Artistic Director at the Hangar Theatre. Dr. Flaten, who is a recipient of the SUNY Chancellor's Award for Excellence in Teaching, will also take audience questions. The event is free and open to the general public.   For more information, please contact The History Center, 607.273.8284, ext. 3, or
education@thehistorycenter.net
.   
Dream Big ---READ!
  July 24, 2 - 3pm   at the Rush Public Library, Rochester     Dream Big --- READ! is the theme for this year's Summer Reading at New York Libraries. In conjunction with this theme, The History Center's Youth Educator, Carole West, will present a program for children in the style of Native American Dreamcatcher's at the Rush Public Library (South of Rochester) on Tuesday, July 24th. Utilizing natural materials such as grapevines, feathers and sinew, as well as beads, dreamcatcher's are hung by the bed and used by various Native American tribes as a way to protect the dreamer, especially infants and children, from bad dreams.
Ithaca by Mary Williams:  
200 Vintage Images of Ithaca's Past 
July 26, 2012 at The History Center, 5.30 - 7pm On July 26, local author Mary Williams will narrate a presentation of rare photographs from her newly-released book, Ithaca, at The History Center. Many of the evocative photographs from Ms. Williams' book are being published for the first time. A quiz of local landmarks and question and answer session will follow the presentation. Finally, Ms. Williams will sign copies of her book, which will be available for purchase at The History Center bookstore.  The event, free and open to the general public, is from 5:30 to 7:00 p.m.   Formerly the research librarian at The History Center in Tompkins County, Mary Williams combed The History Center's photograph collections to select more than 200 vintage images and memories of days gone by. Photographs were compiled in evocative chapters such as "Ithaca is Gorges", "Made in Ithaca", "City on the Lake", "A College Town" or "An Enlightened City", which, she hopes, will inspire an increased interest in local cultural and natural history, and testify of a sense of place for both newcomers and longtime Ithacans.   
Brick Making is Fun! 
July 28, 1 - 4pm  at The Eight Square Schoolhouse Upper Hanshaw Road, Dryden, approximately 1/4 mile East of the Tompkins County Regional Airport  Scott Callan, The History Center's Director, will be demonstrating how to make bricks out of clay, sand, and water at the renovated Eight Square Schoolhouse. We hope you'll join him. It's fun - and dirty - work, perfect for children (and adults) who don't mind a little grit underneath their fingernails. Please feel free to drop in at any point. We guarantee that there's more to humble bricks than you might think! For more information on this event, please contact The History Center at 607 273 8284 x 0.    
Quilt Appraisals by Eugenia Barnes
August 18, by appointment only  at The History Center  Ms. Eugenia Barnes will appraise quilts for the general public. Ms. Barnes is a nationally certified appraiser. She is one of the first 5 people certified in the US to appraise quilts and quilted items including quilted clothing. Clients will receive a written, certified appraisal. The fee is $35.00 for the first piece and $30.00 for each additional piece from same owner.  Part of the proceeds from each appraisal will fund future programs at The History Center. Appraisals are by appointment only. Please contact Catherine Duffy, Visitor Services   Manager, at 607.273.8284 x0 or
welcome@thehistorycenter.net
to schedule a confidential appraisal.  
###
About The History Center in Tompkins County...
The History Center in Tompkins County helps people use the tools of history to understand the past, gain perspective on the present, and play an informed role in shaping the future. In order to accomplish this mission:
we preserve and encourage access to The History Center's unique collections;
seek out the diverse needs and interests of our community;
design learning experiences and provide services that respond to those needs;
create opportunities for people to learn about themselves and their place in the world;
and provide a neutral environment for public discussions that bring historical perspective to current issues.
Press Contact
:  Laetitia de Freslon, Operations Manager       The History Center in Tompkins County 401 East State Street, Suite 100 Ithaca, NY, 14850 Tel: 607.273.8284 x6 E-mail:
community@thehistorycenter.net
Open hours: Tue, Thu and Sat 11am-5pm and by appointment. For more information visit:
http://www.thehistorycenter.net/
Our blog Subscribe to our e-newsletter "History Happenings"