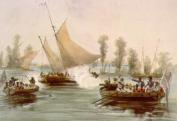 Oswego, N.Y.
- An Akwesasne Mohawk author and a maritime archaeologist will add unique perspectives to the Oswego County War of 1812 Symposium Saturday, March 31 at the American Foundry in Oswego. The symposium features several noted historians and guest speakers who will discuss the colorful dynamics of the War of 1812 along the New York - Canadian frontier. The Iroquois nations played a vital role in the War of 1812. Doug George-Kanentiio, an award-winning journalist, lecturer, author and film-consultant, will present the Mohawk perspective and its aftermath. As with the American Revolution, the Iroquois nations divided their loyalties with many electing to fight alongside their former American opponents, while others, particularly the Mohawk, held to their alliance with the British.  The Mohawks took part in several key battles which turned aside the American intrusion into Upper and Lower Canada, ensuring the survival of the Canadian colony.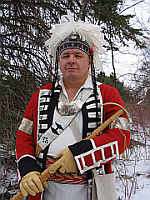 George-Kanentiio is nationally recognized as a primary source of information on Iroquois politics and culture. He is a columnist for News from Indian Country and Indian Time, a former columnist with the Syracuse Herald-Journal, and the author of "Iroquois on Fire: A Voice from the Mohawk Nation," and "Skywoman: Legends of the Iroquois." He is chairman of Round Dance Productions, a non-profit cultural foundation on Oneida Territory, and lives in Oneida Castle with his wife, Joanne Shenandoah. Dr. Benjamin Ford, assistant professor specializing in historic preservation, maritime and historical archaeology at Indiana University of Pennsylvania, will present his fascinating research into the sunken ships of the rival naval commodores Isaac Chauncey and Sir James Lucas Yeo. "Naval power was central to controlling the Great Lakes, and by extension, the interior of North America during the War of 1812," said Dr. Ford. On Lake Ontario, the naval conflict took the form of an arms race with no major engagements. Although few ships were lost during the war, several were wrecked or abandoned throughout Lake Ontario following the war. Many of the 1812 naval vessels have been located and studied over the past 40 years. Dr. Ford's paper, "The Sunken Ships of Chauncey and Yeo," will review the ships that have been studied, discuss what can be learned from these vessels, and identify some of the ships that are still to be found. Dr. Ford has authored and edited several archaeological publications. His current research focuses on a Revolutionary War era town in Pennsylvania and the maritime cultural landscape of Lake Ontario. Other presentations will feature Dr. Gary Gibson, Dr. John Grodzinski, Col. Clayton Nans, Anne Davis and Beverly Sterling-Affinati of the U.S. Daughters of 1812, and Susan Gibson. The Oswego County War of 1812 Symposium is sponsored by the Friends of Fort Ontario, Sackets Harbor Battlefield Alliance, Oswego County Tourism Advisory Council, and Fort Ontario State Historic Site with support from the Daughters of the War of 1812, City of Oswego, The Palladium-Times, H. Lee White Marine Museum, Heritage Foundation, Oswego County Historical Society, Half-Shire Historical Society and Oswego County Department of Community Development, Tourism and Planning. Registration is $25 per person and $15 with valid student ID and includes lunch and workshop materials. Advance registration is required and may be paid by credit card through the Fort Ontario State Historic Site. Contact Jon Zella at
315-343-4711
on Monday, Wednesday, and Friday from 9 a.m. to 4 p.m., or by e-mail at
fortontariointern@gmail.com
. Checks should be made payable to Friends of Fort Ontario Inc. and mailed to Fort Ontario State Historic Site, 1 East Fourth Street, Oswego, N.Y. 13126. For accommodations and visitor information, go to
http://www.visitoswegocounty.com/
or contact the Oswego County Tourism Office at
315-349-8322
. To follow War of 1812 commemoration activities or to learn more about the history of Oswego County, go to
http://visitoswegocounty.com/historical-info/war-of-1812/
.
###
Photo captions:
Doug George-Kanentiio, award-winning journalist, author and lecturer, will discuss the role of the Mohawks at the Oswego County War of 1812 Symposium Saturday, March 31 in Oswego.
'GUNBOAT ENGAGEMENT IN THE 1000 ISLANDS' --
Dr. Ben Ford will present his paper "The Sunken Ships of Chauncey and Yeo" and share his research into naval ships of the War of 1812 at the March 31 symposium in Oswego.
Contact
: Janet Clerkin Oswego County Tourism and Public Information Coordinator
315-349-8324
http://www.visitoswegocounty.com/