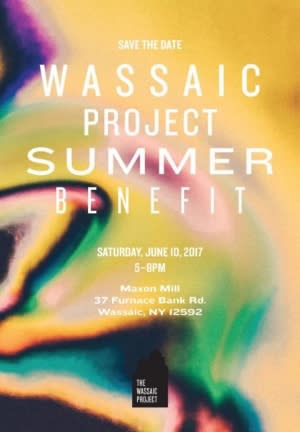 Wassaic, N.Y. - Come and support the Wassaic Project at their annual Summer Benefit, happening Saturday, June 10 from 5-8pm at Maxon Mills. Tickets to the event include food catered by Trough Catering, specialty cocktails and local booze, and an Art Darts raffle with 50 amazing art prizes to be won.

On view during the event is their Summer Exhibition, Vagabond Time Killers,  which will be shown inside their 7-floor gallery space in Maxon Mills. Over 50 artists will be exhibiting their work on these floors. The name of the exhibition is inspired by a vintage photograph, dated June 21, 1901, and taken in Wassaic.The photograph was found on eBay by Wassaic Project co-director, Jeff Barnett-Winsby. The picture features men and women "dressed-up" as Vagabonds.  Handwritten on the back of the photograph is the inscription: "Vagabond Time Killers".

Advance tickets are on sale through Eventbrite, and individual tickets will also be available for purchase the evening of the event. The Wassaic Project summer benefit is one of the major ways they're funded.

The Wassaic Project Summer Benefit is made possible through the generosity of their wonderful underwriters and committee members. They're honored to have the benefit underwritten by: David & Robyn Rosenberg, Matthew Schnepf & Munawar Ahmed, Richard Berry & Lucy Commoner, Dan Sternberg & Debbie Cooper, David & Janet Offensend, Jason Smith & Pawling Corporation, John & Heather Holmes, Osama Aduib, and Ray Learsy.

To purchase tickets ahead of time and for more information, visit http://wassaicproject.org/programming/events/summer-benefit-2017/
 
THE WASSAIC PROJECT is a 501(c)(3) non-profit organization founded in 2008 in the heart of the historic hamlet of Wassaic, NY. The Project is an incubator for artists, community, kids and their connections providing an intimate context for art-making and strengthening local community through the creation and promotion of contemporary visual and performing art. Programming is year round and features an annual Summer Exhibition in the Maxon Mills, a repurposed seven-story grain elevator; a year-round free drop-in arts space for kids, the Art Nest; an artist-in-residence program with monthly open studios open; and ongoing community and education programs. In addition, the Wassaic Project partners with local public schools and community organizations to further engage with its communities.

For further information and to make a contribution, please connect with the Wassaic Project at wassaicproject.org, facebook.com/TheWassaicProject, twitter and instagram @wassaicproject or contact:  

The Wassaic Project
37 Furnace Bank Road (mailing PO Box 220)
Wassaic NY 12592
CONTACT: Paloma Hutton, paloma@wassaicproject.org (914) 960 - 7861