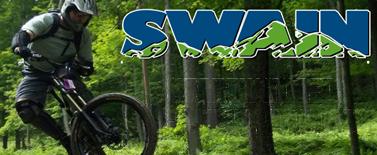 Swain, N.Y
. - Swain Resort is scheduled to reintroduce lift-accessed mountain biking to its slopes beginning June 5.  On select weekends, the lift at Swain Ski & Snowboard Center will carry mountain bikes and their riders to the top of the mountain to access the slopes and wooded trails on Swain's 265 acres.  Trails range from easy to extremely difficult, including various terrain features, known as North Shore.  Scenic lift rides, for those who simply wish to ride the lift, are also available during the lift-accessed mountain biking schedule. Previous management introduced lift-accessed mountain biking to Swain in 2008, but the announcement of Swain's closure last spring resulted in the mountain being barren of summer activities in 2009.   The goal of the new operators is to convert Swain Resort into a year-round recreation destination and lift-accessed mountain biking is just one aspect of that master plan. Swain Resort's sister ski area, Ski Denton, also provides lift-accessed mountain biking for downhill and cross-country mountain bike enthusiasts.  Scott Carts, one of Swain's new operators commented, "We're very excited about this schedule that we have developed between Swain Resort and Ski Denton to offer a full summer of lift-serviced mountain biking opportunity in the region". The Shawmut Pub, located in the lodge at Swain Resort, will also increase its hours of operation offering food and beverage anytime during the summer recreation schedule. Swain Resort's lift-accessed mountain schedule:  June 5-6, 19-20; July 17-18; August 21-22; September 4-5, 25-26; October 9-10.  Hours are 10am-6pm and 8-hour lift tickets are $25.  Scenic lift rides are $5. www.swain.com 607-545-6511
# # #
Lift- Accessed Mountain Biking
As new management strives to transform Swain Resort into a four-season recreation destination, lift-accessed mountain biking will kick off the 2010 Summer/Fall schedule June 5 & 6.  Swain proudly offers miles of maintained mountain biking trails and various terrain features such as teeter-totters and bridges to provide a dynamic mountain biking experience.   
Lift-Accessed Mountain Bike Schedule: 
June 5-6, 19-20 July 17-18 August 21-22 September 4-5, 25-26 October 9-10 Swain's sister ski area, Ski Denton, also offers lift-accessed mountain biking on the following weekends:  May 29-30, July 3-4, October 2-3, 9-10. 
MotoCross
New this year...motocross descends upon the slopes of Swain!  Racing will be open to amateur and pro classes and spectators are welcome.  
Race Schedule:
August 7 September 11 October 2 *Weeknight practice dates TBA*