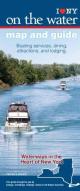 New map & guide highlights things to see & do on, in or near the waterways of Central New York
Syracuse, N.Y.
- The
Syracuse Convention & Visitors Bureau
, in partnership with tourism offices in
Skaneateles
and
Cayuga
,
Oswego
,
Seneca
and
Wayne
Counties have produced '
ON THE WATER
,' a brand-new map and guide highlighting the abundance of central New York's waterways available for visitors to enjoy. This free brochure will help visitors find things to see and do on, in or near the waterways of central New York.  "Central New York is a treasure chest and our waterways are our gems, said SCVB President David Holder. "Our lakes are used year-round  for boating, swimming and ice fishing, as well as for special events such as B.A.S.S. tournaments and triathlons.  This new guide will serve as an excellent resource for people who want to navigate our natural treasures, and experience the hospitality of our tourism industry partners surrounding the waterways." The 'ON THE WATER' guide includes an easy to read fold out map that covers Lake Ontario, the Finger Lakes, Oneida Lake, the Erie Canal and many of the smaller lakes and waterways such as Cross Lake, Lake Neahtahwanta, and Green Lakes. Boating services and marinas are listed in grid format with amenities such as restrooms, showers, on-site dining, overnight slips and much more. In addition, accommodations, attractions, campgrounds, restaurants, parks and wineries within easy walking distance and/or views of and from waterways are highlighted. "The Skaneateles Chamber of Commerce was proud to be part of the collaborative effort to produce the 'ON THE WATER' Guide," said Sue Dove, executive director of the Skaneateles Chamber of Commerce.  "Boating enthusiasts and those who just love to be near the water will now have a tool to guide them through our region to enjoy one waterway to another." Tourism in the Finger Lakes region is a $2.6 billion industry, supporting 57,650 jobs. Onondaga County produces 29 percent of the region's tourism sales, totaling nearly $724 million in travel spending. Money spent by visitors to the region not only benefits accommodations, attractions, and restaurants - it also reduces Onondaga County household tax bills by nearly $500. The '
ON THE WATER' Map & Guide
can be downloaded in a printer -friendly format by visiting http://visitsyracuse.org or http://www.skaneateles.com or you can call any of the tourism offices listed above for a FREE copy.   For more information, please contact SCVB Communications Manager Danica Bryant Kaltaler at
DKaltaler@VisitSyracuse.org
or (315) 470-1903.
###
About theSyracuse Convention & Visitors Bureau
The Syracuse Convention & Visitors Bureau (SCVB) headquartered in Syracuse, N.Y. is Onondaga County's accredited destination marketing organization for tourism related economic development leading the production of nearly $724 million in direct visitor spending annually. For more information, visit
http://distribution.mymediainfo.com/lists/lt.php?id=fB8JA1ZRD1wCBk8AUwNXCk9WUVEDCg4%3D
.
Contact:
Danica Kaltaler (315) 470-1903 - Direct Line
DKaltaler@VisitSyracuse.org