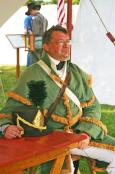 Oswego, N.Y. -
Come to the Lake Ontario Conference and Event Center on East First Street in Oswego for a compelling series of lectures and exhibits about the War of 1812 along the New York-Canadian Frontier. The symposium runs from 9 a.m. to 5 p.m. on Saturday, April 5 and from 9 a.m. to noon on Sunday, April 6. The symposium opens with a student presentation competition, a meet-and-greet social with cash bar, and early registration from 6 to 9 p.m. on Friday, April 4. Twelve speakers discuss a variety of War of 1812 topics, including battle analysis and military archeology; amphibious warfare and soldiers; British strategy and division; flag conservancy; the war's effect on soldiers and society; and shaping and memorializing the war. On Saturday, April 5, the symposium welcomes award-winning author and historian Alexander Craig to the podium. His presentation, "Britons, Strike Home!" offers an inside look at amphibious warfare during the War of 1812. His lecture is based on an article he published in the Journal of the Royal Marines Historical Society in 2013. It begins with a brief history of amphibious warfare from the Greco-Roman period to the late 18th- and early 19th-centuries before focusing on the War of 1812, including the battles of Oswego, Bladensburg-Washington, and the campaign on the Chesapeake Bay. The Royal Navy Flying Squadrons were deployed to North America to protect British shipping and neutralize the U.S. Navy," said Craig. "Carrying the fight to the United States was meant to destroy the U.S. economy and pull American forces away from the Canadian frontier." Craig added, "The Royal Marine battalions, complete with their own artillery and rocket companies, along with British Army regiments, were transported and supported by the Royal Navy to reach into the very heart of the United States." Alexander Craig was born and raised in Glasgow, Scotland. A graduate of Langside College, he served in the Royal Marines Reserve in the late 1960s. In 1970, he emigrated to Canada and found a successful career in the automotive and industrial lubrication industries. A contributing member of the Royal Marines Historical Society since 1985, Craig has been the assistant curator of the Princess of Wales Regimental Museum in Kingston, Ontario, and is presently a volunteer tour guide at the Hastings and Prince Edward Military Museum in Belleville, Ontario. In 2013, he published "Rockets, Bombs and Bayonets: A Concise History of the Royal Marines and Other British and Canadian Forces in the Defence of Canada 1812 - 1815," which went on to win the Royal Marines Historical Society's 2013 Literary Award. Major General Julian Thompson CB OBE RM, president of the society and commander of 3 Commando Brigade in the Falklands War, presented the award to him last October in the Mountbatten Room of the Royal Marines Museum in England. The book's cover features an engraving of the 1814 Battle of Oswego drawn by Royal Marine Lt. John Hewett. Hewett, despite being wounded three times in the attempt, climbed up and tore the American flag from the pole where it had been nailed by the determined Americans. On Sunday, April 6, Dr. Timothy Abel, archeologist and adjunct professor of anthropology at both Jefferson Community College and SUNY Canton, returns to the Oswego War of 1812 Symposium with a new presentation, "I Wish You Could See the Style in Which We Live: Archeology of a Soldier's Cabin at Cantonment Saranac, Plattsburgh, New York." This year's discussion highlights the findings of excavations performed over the last two summers by archaeologists and students from Clinton Community College at the Zagreb site, part of Colonel Zebulon Pike's 1812-1813 winter cantonment in Plattsburgh, N.Y. "These excavations revealed a modest cabin structure with several architectural features apparent," said Dr. Abel. "Artifacts found inside the cabin provide details about the lives of the soldiers who lived there and corroborate the record of the camp's destruction in the summer of 1813. This evidence, combined with historical accounts, paints a picture of misery for the army that camped there 200 years ago." Dr. Abel worked in the cultural survey program at Fort Drum in Watertown, N.Y. before launching a private consulting business. He earned his Doctor of Philosophy in anthropology from the University of Albany and served as executive director of the Jefferson County Historical Society. Currently, Dr. Abel works as an adjunct professor of anthropology at Jefferson Community College and SUNY Canton. As a student and professional, Dr. Abel has conducted archaeological research for over 30 years. He has been involved in hundreds of survey, testing, and excavation projects ranging from 10,000-year-old pre-historic Native American sites to early 20th century American farmsteads. Over the last decade, he has been involved in eight projects directly related to both the military and associated domestic sites of the War of 1812 in northern New York. The symposium is sponsored by the Friends of Fort Ontario, Sackets Harbor Battlefield Alliance, Oswego County Tourism Advisory Council, The Lake Ontario Event and Conference Center, Pathfinder Bank, SUNY Oswego Office of Business Relations, IHeartOswego, The Palladium-Times, H. Lee White Marine Museum, Man in the Moon Candies, WCNY-TV, Dot Publishing, Oswego County Today, City of Oswego, and the Oswego County Department of Community Development, Tourism and Planning. Registration for both days is $75 per person or $35 for students with a valid ID. The registration fee includes Saturday's lunch, refreshment breaks on Saturday and Sunday and workshop materials. One day registration is also available: $50 for Saturday, including lunch or $25 for Sunday. For students with a valid ID, one day rates are $23 for Saturday, including lunch or $12 for Sunday. Advance registration is required and may be paid by check or credit card through the Friends of Fort Ontario. Contact Paul Lear at 315-343-4711 for credit card payments Monday through Friday, from 10 a.m. to 5 p.m. Checks should be made payable to "Friends of Fort Ontario - 1812" and mailed to the Fort Ontario State Historic Site, 1 E. Fourth St., Oswego, N.Y. 13126. Special room rates for symposium attendees are available at the Best Western Plus Captain's Quarters Hotel, 26 E. First St., Oswego. Please call the hotel at 315-342-4040 and mention the Oswego War of 1812 Symposium. For more visitor information, go to
http://www.visitoswegocounty.com/
or contact the Oswego County Tourism Office at 315-349-8322.
###
PHOTO CAPTION:  (DR. TIMOTHY ABEL)
DR. TIMOTHY ABEL RETURNS TO OSWEGO SYMPOSIUM - Dr. Timothy Abel, archeologist and adjunct professor of anthropology at Jefferson Community College and SUNY Canton, returns to the Oswego War of 1812 Symposium with a presentation about his findings at the excavation of a soldier's cabin that was part of Col. Pike's 1812-1813 Winter Cantonment. The Oswego War of 1812 Symposium returns to the Port City from Friday, April 4 to Sunday, April 6. For more information or to register, call Fort Ontario State Historic Site Superintendent Paul Lear at 315-343-4711.