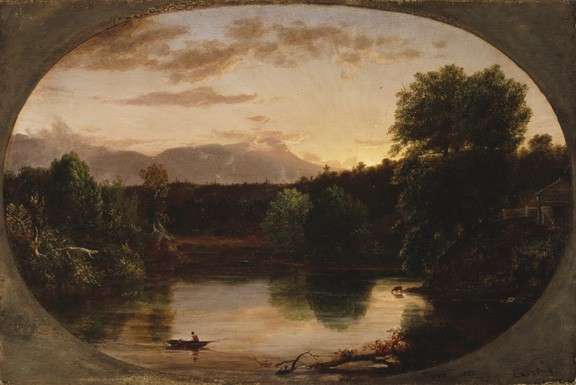 New Paltz, NY
- The State University of New York at New Paltz is hosting a daylong symposium focusing on the art featured in the Samuel Dorsky Museum of Art's exhibition, "The Hudson River to Niagara Falls: 19th Century American Landscape Painting from the New-York Historical Society," on Saturday, Nov. 7.Professor Kerry Dean Carso of the college's Art History Department organized the symposium, which will be held from 8:30 a.m. to 5 p.m. in Lecture Center, room 102. The lectures will cover a wide range of topics relating to the Hudson River School of Art, including discussions of notable artists Thomas Cole and Frederic Church; landscape painting in the Shawangunks; and architecture found along the Hudson River. Lecturers include art history scholars and professionals from colleges, historical sites and museums from the East Coast.  In addition to the lectures, guided tours of the museum's successful exhibition, "The Hudson River to Niagara Falls," which is on display through Dec. 13, will be available between 11 a.m. to 1 p.m. The event is a continuation of The Samuel Dorsky Museum's "Art and The River" project - a six-month series of exhibitions, lectures and events celebrating the Hudson River's Quadricentennial. The symposium is free and open to the public and was made possible through the generous support of The Hudson River Valley National Heritage Area.  For more information and a schedule, visit
/wp-admin/www.newpaltz.edu/museum/programs/symposium.html
or call (845) 257-3875. Pictured:
"Sunset, View on the Catskill"
Oil on Wood Panel, 1833, by Thomas Cole 
###
The State University of New York at New Paltz was named "Hottest Small State School" in the 2008 Kaplan/Newsweek How To Get Into College Guide, which identifies America's 25 Hottest Schools. The guide features schools that all offer top academic programs and are making their mark in the competitive world of higher education.
New Paltz is a highly selective college of about 8,000 undergraduate and graduate students located in the Mid-Hudson Valley between New York City and Albany. Degrees are offered in the liberal arts and sciences, which serve as a core for professional programs in the fine and performing arts, education, healthcare, business and engineering.
Contact
: Eric Gullickson (845) 257-3245