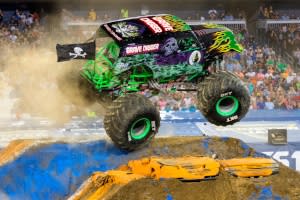 The most family-friendly, action-packed motorsport in the world races into the Carrier Dome on April 7
Syracuse, N.Y. – Feld Entertainment, the worldwide leader in live family entertainment, announced today that tickets for the Syracuse Monster Jam® show on April 7 are now on sale. This marks the eighth consecutive year Monster Jam has been held at the Carrier Dome. The new season will bring motorsport fans to the edge of their seats with adrenaline-charged, high-flying, four-wheel excitement that is fun for the entire family. Monster Jam events are affordably priced for the whole family, with seats starting at $16. For more information and to purchase tickets, visit monsterjam.com.
Monster Jam is one of the only sports where male and female world-class drivers, some generational rivals, are equals competing for the same championship on the same track. In 2018, for the first time, fans in every city will have the chance to vote for the truck winner in the two-wheel and freestyle competitions with real-time, in-stadium fan voting on their smartphones.
Event Details:
Saturday, April 7, 2018
Carrier Dome: 900 Irving Ave., Syracuse, N.Y. 13244
Event gates open at 5:30 p.m.; show starts at 7 p.m.
Featured Monster Jam Trucks and Drivers:
Grave Digger driven by Adam Anderson
Max-D driven by Neil Elliott
Mutant driven by Todd LeDuc
VP Racing Fuels' Mad Scientist driven by Lee O'Donnell
Whiplash driven by Brianna Mahon
Great Clips Mohawk Warrior driven by Bryce Kenny
Hooked driven by Bryan Wright
Stone Crusher driven by Steve Sims
Jester driven by Matt Pagliarulo
Xtermigator driven by J.R. McNeal
Ice Cream Man driven by Roy Pridgeon
Bad News Travels Fast driven by Brandon Derrow
Bad Company driven by John Gordon
Xtreme Diesel driven by Dave Radzierez
The Party in the Pits:
The "Party in the Pits" will be held Saturday, April 7, from 2:30-5:30 p.m. on the Carrier Dome floor. The Pit Party gives fans the opportunity to get a view of the trucks up close and meet the drivers of the massive Monster Jam trucks. Attendees can get autographs from Monster Jam drivers until 5 p.m.
Additionally, a limited number of Pit Party Early Access Passes are available this year for fans. The upgraded pass provides one-hour early entry into the Pit Party from 1:30-2:30 p.m., in addition to entry to the regular Pit Party 2:30-5:30 p.m.
Both the Pit Party Early Access Pass and Pit Party passes need to be accompanied by an event ticket.
Pricing Information:
Tickets start at $16. Pit Party passes are $10. A limited number of Pit Party Early Access Passes are available for $30.
Tickets and Pit Party passes can be purchased online at monsterjam.com, at the Carrier Dome Box Office, at all Ticketmaster retail outlets, or by phone at 1-800-745-3000. Ticket prices could change based on market demand.
For more information on a Monster Jam near you, please visit MonsterJam.com or follow us via our social channels: Facebook, Twitter, Instagram and YouTube.
About Feld Entertainment, Inc.
Feld Entertainment is the worldwide leader in producing and presenting live touring family entertainment experiences that uplift the human spirit and bring people together. Properties include Monster Jam, Monster Energy Supercross, AMSOIL Arenacross, Disney On Ice, Disney Live!, Sesame Street Live! and Marvel Universe LIVE! Across the brand portfolio, Feld Entertainment has entertained millions of families in more than 75 countries and on six continents. Visit feldentertainment.com for more information.
###
Kimber Doolittle
Public Relations Account Manager
Pinckney Hugo Group
760 West Genesee Street, Syracuse, NY 13204
T 315-478-6700
C 315-882-1864
F 315-426-1392
On behalf of Feld Entertainment