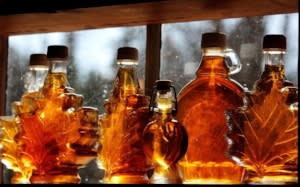 Seventeen sugarhouses, the American Maple Museum, pancake breakfasts, and the 4th Annual Maple Sap Run and Walk are set to offer visitors sweet enjoyment on the March 17-18 and March 24-25, 2018 New York State Maple Weekends. The tours and tastings are free.
 
Participating maple producers in Jefferson, Lewis, Oneida, Oswego counties include one started in 1844 and still using draft horses to draw sap to another operating approaching its 100th maple season to newly-built sugarhouses and a student-run maple market business.
 
Visitors are invited to bring the family, dress appropriately for weather and walking on sugarbush tours, and be prepared to purchase a diverse array of pure maple products. See the listings below for dates and hours for each participating sugarhouse and sites with pancake breakfasts.
 
More details and directions to sites are posted at www.mapleweekend.com, go to browse local brochures. A brochure is available by mail; send a self-addressed, stamped envelope to Steve Rogers, Bear Creek Farm, PO Box 853, Pierrepont Manor, NY 13674 no later than March 9, 2018.
 
Sites participating in the 2018 NYS Maple Weekends with the dates they will be open follow:

JEFFERSON COUNTY: All sugarhouses open both days, both weekends
Black River: Widrick Maple, 21243 Staplin Road, 315-775-4964. One of the more modern sugarhouses in the area.
 
Dexter:  Farmhouse Maple, 22341 State Route 180, 315-486-5981, 315-486-8432. Wagon rides, face painting, lots of family fun.
 
Mannsville:  Methodist Church Pancake Breakfast, Lorraine Street. 8am-12 pm, Sat. March 24 only.
 
Mannsville:  Rudd's Family Maple Syrup, 16370 Balch Place, 315-405-1479, 315-408-8525. Taste the traditions and experience the heritage of maple, since 1921.
 
Mannsville:  4th Annual Sap Run & Pancake Breakfast, Sat. March 24, 9 am, South Jefferson Mannsville Elementary School, US Route 11: timed event plus fun family run/walk. Pancake breakfast at Methodist Church. Benefits school, church, historical society. More info: 315-222-8126; registration: 315-489-5257
 
Watertown:  Massey Ranch, 20605 Combs Road, 315-786-5939, 315-783-5586. See how maple syrup is made the traditional way.
 
LEWIS COUNTY: Hours vary by site
Castorland: Swiss'er Sweet Maple, 6242 Swiss Road, 315-346-1034, 315-286-1095. Easy access sugar shanty, free tours and samples. Open both days, both weekends.
 
Copenhagen: Moser's Mapleridge Farm, 3981 Wilson Road, 315-688-2518, 315-486-3248. Maple: a family tradition for more than 35 years. Open Saturdays only.
 
Croghan: American Maple Museum, 9756 State Route 812, 315-346-1107. Three-floor museum and gift shop: all about Maple Syrup. Pancake breakfast 7am-12pm. Open both days, both weekends.
 
Croghan: Moser's Maple, 9609 Croghan Reservoir Road, 315-346-6628, 315-486-7933. Where modern syrup production meets traditional candy making. Open both days, both weekends.
 
Croghan: Pierce's Sugar Spigot, 11603 Route 812, 315-543-2980, 315-286-7999. See how boiling raw sap from maple trees becomes sweet maple syrup. Open both days, both weekends.
 
Croghan: Sterling Valley Maple, 9610 Croghan Reservoir Road, 315-346-6400. Three generations making quality maple products. Open Saturday March 25 only.
 
Croghan: Yancey's Sugarbush, 7981 Long Pond Road, 315-346-6356. Draft horse maple production and old-fashioned family fun since 1844. Open both days, both weekends.
            
ONEIDA COUNTY: All sugarhouses open both days, both weekends
Clinton: Shaw's Maple Products, 7945 Maxwell Road, 315-725-0547. Watch us make fresh maple cotton floss. Free samples.
 
New Hartford: Tibbitts Maple, 8874 Tibbitts Road, 315-793-3114, 315-794-2752. Four generations of sugarmakers and growing.
 
Verona: V.V.S. FFA Maple Market and Pancake Breakfast, Vernon-Verona-Sherrill High School, 5275 State Route 31, 315-335-0887, 315-829-2520. Free wagon rides and guided tour by student-run group. Pancake breakfast 7:30am-12pm.
 
OSWEGO COUNTY: All sugarhouses open both days, both weekends
Fulton: Red Schoolhouse Maple LLC, 2437 County Route 4, 315-243-1024. Pancake breakfast 8am-12pm. Free maple tours.
 
Hannibal: Maple Hill Farm, 86 Guernsey Road, 315-593-2396. Making maple syrup, maple cream, and molded sugar.
 
Hannibal: Maple Hollow Farm, 1309 County Route 85, 315-564-7133. Free samples of pure maple syrup, maple cream, and maple fluff.
 
Mexico: Yardley Maple, 524 County Route 64, 315-380-1416. Tour sugarhouse, see entire process of sap being made into pure maple syrup.
Contact: Maple Weekend Coordinator Steve Rogers, 315-232-2825
Publicist Kara Lynn Dunn, 315-465-7578, karalynn@gisco.net
Note:  These counties are in the Adirondacks, Thousand Islands and Central New York regions of NYS