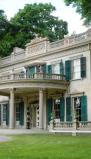 Curator of Education Accompanies Travelers  
Glens Falls, NY
- The Hyde Collection's Volunteer Travel Committee invites its members and the public to travel with Hyde Curator of Education June Leary for a day trip on Thursday, July 18  to New York's mid-Hudson River Valley. Beginning with a visit to Storm King Art Center, enjoy one of the world's leading sculpture parks with more than 100 sculptures by some of the most acclaimed artists of our time. Founded in 1960, every work has been sited with consideration of both its immediate surroundings and distant views.  There will be a docent tour followed by a boxed lunch in the Pavilion. Montgomery Place was built in 1804 by the widow of Richard Montgomery, the first general officer killed in the Revolutionary War. Undergoing reconstruction by Alexander Jackson Davis later in the century, this now Classical Revival mansion's open porch on the north side is considered the first outdoor room in America. The grounds comprise 434 acres of trails, gardens and an arboretum. Our visit includes a 45-minute house tour and free time to explore. Please note:  This trip involves an intensive amount of walking outdoors and will take place rain or shine, except for extreme or dangerous weather conditions.  Travelers are advised to be appropriately prepared (footwear, rain gear, sun protection, bug spray, as needed). Depart I-87: Exit 19 at 7:30 am, Exit 15 at 8 am, Exit 8 at 8:30 am; return I-87: Approximately 5 pm, 5:30 pm, 6 pm, respectively. Cost per person: Hyde members $107; all others $132. Includes group transportation, admissions, tours, boxed lunch, and driver's gratuity. Reservations open to non-members beginning June 6, 2013. All reservations must be received by July 3, 2013. For detailed information and to register for our upcoming trips, please visit
http://www.hydecollection.org/
or call Dede Potter, membership manager, 518-792-1761, ext. 313. The Hyde is dedicated to expanding appreciation of the fine arts through travel programs that explore a diversity of cultural institutions and experiences. On Thursday, September 12, The Hyde visits Simon Pearce and the Marsh-Billings-Rockefeller National Historic Park, Quechee and Woodstock, Vermont. 
Photo:
Image of Montgomery Place courtesy of Historic Hudson Valley.
The Hyde Collection is a historic house and art museum complex with a distinguished collection consisting of works by American and European artists such as Botticelli, Rubens, Rembrandt, Picasso, Homer and Eakins, as well as important decorative arts and antique furnishings. The Museum provides changing exhibitions in two gallery spaces, lectures, concerts, family activities and school programming. For information visit
www.hydecollection.org
or call 518-792-1761.
Contact:
Alice Grether Director of Marketing, Communication & Visitor Services The Hyde Collection 161 Warren Street Glens Falls  NY  12801
www.hydecollection.org
               p   518  792  1761 ext  328 f    518  792  9197