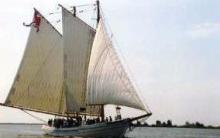 6:30 - 9:00 PM
Fundraiser for Beczak Environmental Education Center a rare chance to sail aboard the
A. J. Meerwald
, New Jersey's official Tall Ship
Yonkers, N.Y.
- Sail the Hudson River for two and a half hours on the
A. J. Meerwald
, a beautifully restored schooner and New Jersey's official Tall Ship, Thursday, July 12, 6:30 - 9:00 PM. Tickets are $50 per person and support the work of Beczak Environmental Education Center. There are limited spots available:  register at
beczak.org
. Children are welcome with parents. Bring your own refreshments; beer and wine are permitted onboard. Parking is at Beczak Environmental Education Center, 35 Alexander Street, Yonkers, NY. The ship departs from the Yonkers Pier, a short walk away. For more information contact
weekends@beczak.org
/ (914) 377-1900, ext. 13. Sit back and relax. Watch the majestic Palisades and New York skyline glide by. Or take a turn steering the ship, raising and furling the sails, and handling the lines.  "The ship brings people back to a simpler time," says Captain Jesse Briggs, a native of Virginia who has been working on boats since he was ten years old. "There's no engine sound, and you travel at a leisurely pace. People relax and enjoy the scenery. How far we go depends on the wind and tide."  Sailing on the
A. J. Meerwald
is an authentic living-history experience. Participants can participate in a discussion about the New York Harbor's rich maritime heritage and the history of the
A. J. Meerwald
and the oyster industry. Or have two-and-a-half hours of sea breezes and unwinding.  The
A. J.
Meerwald
is an 85-foot schooner with over 3,500 square feet of sail. It's a Tall Ship in demand-with music, art, and discussion sails for all ages. This summer her itinerary ranges from New London, Connecticut's
OpSail 2012
festival to programs in Philadelphia, Delaware and Atlantic City.  Launched in 1928, the
Meerwald
was one of hundreds of schooners built along South Jersey's Delaware Bayshore for oystering and clamming. Governor Christine Whitman added the
A. J. Meerwald
to the National Register of Historic Places in 1995. On Earth Day, 1998, the
Meerwald
was designated New Jersey's official Tall Ship.  Since 1989, the ship has been owned by the Bayshore Discovery Project, a nonprofit organization dedicated to motivating people to take care of the environment, history, and culture of New Jersey's Bayshore region through education, preservation, and example.
HUDSON RIVER VALLEY ENVIRONMENTAL EDUCATION INSTITUTE
(HRVEEI) Hudson River Valley Environmental Education Institute, with classrooms and beach access in Yonkers and Sleepy Hollow, is the lower Hudson's hub for river education. It offers many programs that involve all ages in learning about nature and enjoying the outdoors.
Learn to love your river!
HRVEEI staff work with approximately 20,000 children and families each year in river-based programming. In addition to ongoing weekday classes for students, weekend public programs include
River Explorers
and
Fish Tales
for children,
RiverTalks
lectures and
Urban H20
concerts for adults,
Lunchtime Learning
for seniors
, Summer Adventures
camp, and professional development for educators. 
Beczak Environmental Education Center
HRVEEI's flagship site is Beczak Environmental Education Center, located on the banks of the Hudson in the City of Yonkers. It celebrated its 20
th
anniversary of incorporation in 2010. This spacious interpretive center, named after Yonkers environmentalist Joe Beczak, is an adaptive re-use of the former social club for Habirshaw Cable & Wire Co. Its two-acre park features a welcoming riverfront lawn, an easily accessible tidal marsh, and a beach used for river exploration. 
Kathryn W. Davis RiverWalk Center
HRVEEI offers river education at the Kathryn W. Davis RiverWalk Center in Sleepy Hollow, NY, which opened in 2011. Scenic Hudson spearheaded the renovation of the historic 1926 Kingsland Point Park bathhouse into a center for river-based education and recreation, named for philanthropist Kathryn W. Davis. This facility features a sandy beach used for river exploration and indoor/outdoor classroom space.
# # #
CONTACT:
Lenore Person: Director of Development (914) 420-6864 cell
LPerson@beczak.org
High res photos and interviews available upon request