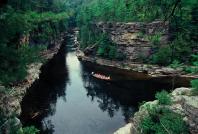 Get More Smiles Per Gallon with I LOVE NEW YORK'S affordable New York State travel itineraries
Albany, N.Y.
- It's the largest natural wilderness area in the eastern United States; it has 46 majestic high peaks, over 3,000 lakes and ponds, and 2,000 miles of hiking trails. It's a haven for art, distinctly regional crafts and antiques as well as outdoor adventures like hiking, fishing, whitewater rafting, and swimming in cool mountain lakes. Scenic drives, gondola rides and steamboat cruises take you to awesome views, while family-friendly attractions such as world-class museums, historic forts and Olympic sports venues offer fascinating glimpses of the past, present and future. It's New York's Adirondacks region and its six million acres of fun, adventure and learning! And, by visiting
http://www.iloveny.com/
, you can choose and plan an adventure through this breathtaking region accessible on a single tank of gas! Check out the Adirondack destinations you'll be visiting and connect with local tourism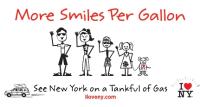 professionals to find out more about dining, lodging, events, packages and promotions. On the site, you'll also find 13 additional
More Smiles Per Gallon
single tankful excursions through nine New York State travel regions. "The Adirondack Region is within a day's drive for more than 60 million people," said Adirondack Regional Tourism Council President Neil Seymour. "From the incredible cultural and artistic centers, to the outdoor recreation opportunities that abound in this area - it's a great place to get away to. In the Adirondack lakes region alone, there are more than 600 lakes and ponds, perfect for paddling, kayaking, boating and swimming." With six million acres, no single trip can do the Adirondacks region justice, so I LOVE NEW YORK has created two routes to get you started. 
Eastern Adirondacks Route
Start with a Splash! -
The fun starts in Lake Luzerne with a wild ride down the Sacandaga River on a guided whitewater rafting trip or a relaxing float via tube on a more peaceful section of the river. 
Adirondack River Outfitters
will supply everything you need, including a support boat. 
The Heart of Art -
As you head east, get inspired by world-class art at the
Hyde Collection
. Set in an 18th-century Florentine villa as well as modern galleries, works span nearly six thousand years of art history, from antiquities to Old Masters such as Rembrandt and Rubens, to Modern Artists like Picasso and Renoir.  There's still time to check out the Collection's major summer exhibition -
New York, New York!
This amazing show features over sixty New York City-centered paintings, photographs, sculptures, and works on paper dating from 1889 to 2009.
Make a Splash - Whenever you feel like it! -
Choose from over 135 rides, attractions and shows at
Six Flags Great Escape & Splashwater Kingdom
. Kids (and the young at heart) love to cool off in the giant outdoor waterpark. And whatever the weather, you can make a splash at
Six Flags Great Escape Lodge & Indoor Waterpark
. The 200-room lodge features plush family suites to please the grownups and a hugely wonderful indoor water park with a lazy river and slides and chutes to make every age group smile.
Explore Lake George's Storied Past, By Land or Water -
Just a few miles to the north, explore
Fort William Henry
to learn about Lake George's key role in American history. The restored fortress on the edge of the village recreates Colonial days with living history demonstrations, cannon and musket drills, and guided tours. For an other-worldly adventure, sign up for the spooky ghost tour. In the late 19th and early 20th centuries, Lake George was an enclave for North America's and Europe's rich and famous. By that time, steamboats had been long established as the premier mode of sightseeing on the lake.  Today you can take a scenic cruise on the jewel-toned lake aboard a steamboat with the
Lake George Steamboat Company
. Cruise on the Minne-Ha-Ha, an authentic paddlewheeler, the Mohican or the lake's largest ship, the Lac du Saint Sacrement. Trips range from one-hour sightseeing cruises to history and dinner cruises. Ask about specials that include fireworks and fine dining. 
Lakeside Elegance, History and Adventure -
Just north of Lake George is Bolton Landing, home to the magnificent and historic
Sagamore
historic lakeside resort. Poised on its own private island (you cross a small bridge to get there), this elegant and active resort offers a host of activities and amenities along with stunning views of the mountains, lake and islands that grace its waters. Up for a lofty challenge? Want to discover your inner monkey? Then try Bolton Landing's
Adirondack Extreme Adventure Course
. Experience your tree-top adventure--securely suspended between trees that are 10 to 50 feet off the ground--on this elevated obstacle course set amid the beautiful Adirondack Mountains.
Colonial Time Trip
- Northeast to Ticonderoga,
Fort Ticonderoga
, an 18th-century fort that played a key role in the American Revolution, waits. Explore the fort's museum and talk with costumed interpreters who re-create history, as fife & drum corps march and play songs of the era.
Naturally Wonderful!
Ausable Chasm
is so naturally wonderful the town it's located in was named after it. Open since 1870, it's one of North America's oldest and most exciting attractions. Follow nature trails along the gorge to see sparkling waterfalls and other breathtaking vistas.  Along with hiking trails, there's rafting, tubing, horseback riding, biking and a great family-friendly campground. 
Head West - to the North Pole!
A legendary local attraction operating since 1949, the
North Pole
puts you in a holiday mood late June through mid December. Children love to visit Santa's Workshop to meet the reindeer, busy elves, and a certain jolly old gentleman. Kids of all ages love the rides, shows, crafts and entertainment. 
Where Winter Sports History is Made -
In Lake Placid explore the legacy of the 1932 and 1980 Winter Games at and learn about the great athletes that made history here. Be sure to visit the
Winter Olympic Museum
. For a great view and a new perspective on ski jumping take a summer chairlift or elevator ride to the sky-deck atop the 120-meter ski jump tower at the Olympic Sports Complex.
All aboard! -
For an old-fashioned trek through the wilderness, board the historic
Adirondack Scenic Railroad
. You can ride through the splendid mountain scenery in a climate-controlled coach or take in the fresh mountain breezes riding in an open-air car. Breathe in the magnificent beauty of the six-million-acre Adirondack Park as your train runs through remote forests, past sparkling streams and tranquil ponds, and over bridges. 
Go Wild in Tupper Lake
- Conclude your trip in Tupper Lake with a visit to the wonderfully popular
Wild Center
, where family-friendly activities include guided wildlife walks and hands-on exhibits. Nature trails crisscross 31 scenic acres. Indoors, the main exhibit hall follows the course of an Adirondack river from a marsh to the summit of a High Peak.
Western Adirondacks Route
How Sweet it Is! -
This Adirondack route starts off with something sweet, a visit to the
American Maple Museum and Hall of Fame
. Discover the history of maple syrup and sugar making and watch demonstrations of various techniques and equipment, ranging from traditional Native American methods to modern methods using plastic tubing and stainless steel evaporators. 
Family Fun in Old Forge
- Make a splash at the
Enchanted Forest/Water Safari
in Old Forge. With over 50 rides and attractions, this giant Waterpark is fun for the whole family. And don't worry if it seems a bit chilly; 32 of the water rides are heated, just to keep you comfy! For spectacular views of the Fulton Chain of Lakes and high peaks rising beyond, enjoy the elevating experience of the
McCauley Mountain Scenic Chairlift Ride
. On a clear day, you can see Whiteface Mountain and Mt. Marcy.
Relaxing on Raquette Lake -
You'll marvel at
Great Camp Sagamore
, an architectural treasure in the wilderness setting of Raquette Lake. The National Historic Landmark was the summer estate of the Vanderbilt family from 1901 to 1954 and includes 26 historic buildings along with the main lodge. Cruise and dine on beautiful Raquette Lake with the
Raquette Lake Navigation Company
. Tours highlight local history and the sites of the magnificent Great Camps where JP Morgan and the Vanderbilt and Huntington families summered. 
"The Best of its kind in the world" -
In Blue Mountain Lake, explore the
Adirondack Museum
, called "the best of its kind in the world" by The New York Times. Through exhibits and fine art you'll trace the natural and cultural heritage of the Adirondack Park, while seeing Adirondack boats, baskets, furniture such as the famed Adirondack Chair, and other regional crafts as well as wildlife and nature exhibits. Nearby you can choose from a full schedule of concerts, theater, art shows, workshops and classes for adults and children at the
Adirondack Lakes Center for the Arts
.
Learn and Stretch -
The
Adirondack Interpretive Center
in Newcomb features exhibits highlighting the Adirondack region's natural history and cultural and recreational resources. After you're refreshed your mind, stretch your legs on the Center's 3.5-mile trail system. 
Amazing Caves and a Mine! -
In Pottersville you'll want to see the amazing
Natural Stone Bridge and Caves Park
. Your self-guided tour takes you through the largest marble cave entrance in the East. All caves have lighted surfaces, and above-ground trails lead to scenic waterfalls.  Nearby in North River, learn about mining history and gemstone geology with
Garnet Mine Tours
. See the open-pit garnet mine and rock exhibits and pick up some sparkly souvenirs in the mineral shop. 
Upcoming Events -
Battle of Plattsburgh Commemoration
(Sept. 9-11) - Join in the Commemoration, enjoy vintage dining and entertainment at the Israel Green Tavern on the 9
th
then take a walking tour of Eliza Mooers Historic District. Complete schedule:
http://www.battleofplattsburgh.org/blog/?page_id=180
.
The Struggle For Liberty: The Revolutionary War Reenactment at Fort Ticonderoga
(Sept. 10-11) - Experience life during the Revolutionary War at Fort Ticonderoga and witness colonial trade demonstrations, interpretive vignettes, camp life and a daily battle reenactments.
Cream Cheese Festival
(Lowville, Sept. 17) - Live music, food and local artists make this free event fun for all. At the home of the "World Largest Cheesecake," you'll see the cream cheese mural and enjoy the scarecrow contest, cream cheese bingo, tractor pull and more.  
Harvest Festival & Civil War Encampment
(Malone, Sept. 24-25) Taking place at the Almanzo Wilder Farm, family activities
include
pumpkin painting, scarecrow making, 19th century games, chapter readings from Farmer Boy, and more.
Great Adirondack Moose Festival
(Indian Lake, Sept. 24-25) - 'Moose see' events and activities include guided hikes, scenic driving tours, fly-fishing & fly tying demonstrations, Antique Classic Car Show, Back Country Safety Programs, Indian Lake Museum Open House, Adirondack Quilt Show and demonstrations, North Country Sidewalk Sales, "Kimberly Akimbo" theater production and the Big Moose Tent. There are also many activities planned for children.
The Frederic Remington Arts Festival
(Canton, Sept. 26-27) - Celebrate the life and works of North Country artist Frederic Remington, who was born in Canton, and was a noted illustrator and sculptor. Special events are also held at the
Remington Art Museum
in Ogdensburg.
For more Adirondacks Travel Information:
The Adirondacks
Adirondack Coast Visitors and Convention Bureau
Franklin County Tourism
Hamilton County Department of Planning, Tourism and Community Services
Lake Placid CVB
Lewis County Chamber of Commerce
Warren County Tourism Department
Town of Webb/Herkimer County
St. Lawrence County Chamber of Commerce, Inc.
NYS Office of Parks, Recreation & Historic Preservation
NYS Hospitality & Tourism Association (NYSHTA)
NYS Department of Environmental Conservation
Campground Owners of New York (CONY)
The Adirondacks
Adirondack Coast Visitors and Convention Bureau
Franklin County Tourism
Hamilton County Department of Planning, Tourism and Community Services
Lake Placid CVB
Lewis County Chamber of Commerce
Warren County Tourism Department
Town of Webb/Herkimer County
St. Lawrence County Chamber of Commerce, Inc.
NYS Office of Parks, Recreation & Historic Preservation
NYS Hospitality & Tourism Association (NYSHTA)
NYS Department of Environmental Conservation
Campground Owners of New York (CONY)
About New York State
New York State features 11 beautiful vacation regions.  New York's attractions span from landmarks such as Niagara Falls to the wine trails of Hudson Valley and treasures like the Baseball Hall of Fame in Cooperstown.  Whether it's wide-ranging outdoor activities for the whole family like fishing, hiking and boating; culinary wonders and farm-to-table fresh foods; or the rich history and culture of one of the 13 original colonies, New York State offers diverse activities for all travelers. For more information visit
http://www.iloveny.com/
. Media can find press releases and more at
http://www.thebeat.iloveny.com/
. You can also get I LOVE NEW YORK updates and information on Twitter: 
twitter.com/I_LOVE_NY
Facebook: 
www.facebook.com/iloveny
Flickr: 
www.flickr.com/photos/officialiloveny
YouTube:  
www.youtube.com/OFFICIALILOVENY
About Empire State Development
Empire State Development is New York's chief economic development agency and administrator of the statewide business resource portal New York First (
http://www.nyfirst.ny.gov/
).  The mission of Empire State Development is to promote business investment and growth that leads to job creation and prosperous communities across New York State.  ESD also oversees the marketing of "I LOVE NY," the State's iconic tourism brand.  For more information on Empire State Development, visit
http://www.esd.ny.gov/
.   ###