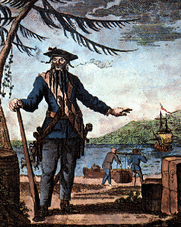 Aargh, matey! Calling all landlubbers and scallywags!
Rochester, NY
- Sail over for some swash-bucklin' adventures during
Talk Like a Pirate Weekend
at Strong National Museum of Play Saturday, September 12 from 11:00 a.m. to 5:00 p.m. and Sunday, September 13 from 1:00 to 5:00 p.m. (presented in conjunction with Talk Like a Pirate Day, September 19). Prepare to drop anchor for a weekend of fun on the high seas. . .
Gary the Happy Pirate
: Join Rochester's favorite singing buccaneer for performances on Saturday at 11:30 a.m. and 1:30 p.m. and on Sunday at 1:30 p.m. Meet Gary in person at the
Everything for Play
! shop after each performance and collect his autograph.
Interactive Storytelling (with improvisational actors)
: Someone stole the booty! Take part in a pirate adventure with Beardless Jack and Biscuit McGee to reclaim a lost treasure Saturday at 12:30, 2:30, and 4:00 p.m. and Sunday at 2:30 and 4:00 p.m. You'll be needin' keen eyes and sharp wits to follow the clues to where X marks the spot! On the way, you'll learn how to use a map and prepare for a long ship's journey. And if the treasure be found, ye might just get a piece of eight for doin' yer part!
Cardboard Artistry
: Check out a pirate ship, treasure chest, and sea creatures made almost entirely of cardboard. Then get your creative juices flowing and make a pirate hat or miniature treasure chest for your loot.
Puppetry:
Act out your own pirate adventure with Folkmanis puppets.
Pirate Toy Fund:
Bring a new, unwrapped toy to Strong National Museum of Play to donate to the Pirate Toy Fund, founded by Gary the Happy Pirate in 1996 to provide toys year-round to children in need. All weekend activities are included with general museum admission fees.
About International Talk Like a Pirate Day
: This parodic holiday was invented in 1995 by John Baur and Mark Summers of the U.S. who proclaimed September 19 as a day when everyone in the world should talk like a pirate. At first just an inside joke between two friends, the holiday took off when humor columnist Dave Barry promoted the day in his syndicated column. Media coverage snowballed from there, and the event is now celebrated internationally. (Source: Wikipedia)
###
Strong National Museum of Play®, located in downtown Rochester, New York, is the only museum in the world devoted solely to the study of play as it illuminates American culture.
Museum Hours:
Monday-Thursday, 10:00 a.m. to 5:00 p.m.; Friday and Saturday, 10:00 a.m. to 8:00 p.m.; Sunday, 12:00 noon to 5:00 p.m.
Admission Fees:
General Admission (does not include admission to
Dancing Wings Butterfly Garden
®): Adults $10.00; Seniors $9.00; Children (2-15) $8.00; Children younger than two free; Strong members free.
Admission to Dancing Wings Butterfly Garden®:
General Admission fee plus $1.50 for members, $3.00 for nonmembers; Children under 2 free. Entry is by timed ticket only. Please call 585-263-2700 to reserve and purchase tickets.
Contact
: Susan Trien (585) 410-6359
strien@museumofplay.org