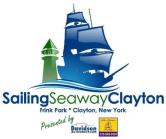 Coffee with the Captain Takes Place June 18
Clayton, N.Y.
-
Sailing Seaway Clayton presented by Davidson Auto Group and Lake Ontario Realty,
along with Lyric Coffee House & Bistro has announced details of "Coffee with the Captain" set to take place on Saturday, June 18. Coffee with the Captain will take place at Lyric Coffee House & Bistro located at 246 James Street in Clayton beginning at 8 a.m. on Saturday, June 18. Patrons will have the opportunity to enjoy their morning coffee and pastry with Captain Jamie Trost of the tall ship
Lynx
, as he discusses his sailing adventures and experiences on the high seas. Trost will sit among those interested in speaking with him, helping to provide a more intimate and casual "round table" setting. In addition, a video of
Lynx
will be played on the big screen television. Captain Trost, who has an extensive background in War of 1812 maritime history, began sailing small boats at an early age and has been working aboard and commanding traditional vessels for 12 years. In 2010 he commanded
Pride of Baltimore II
for the entire Great Lakes Tall Ships' Challenge Series, an international four-race contest.
Pride II
placed First Overall in the Series, earning her the Perry Bowl for a record-tying third time. Captain Trost holds a USCG 500 Ton Masters License Power and Sail as well as numerous other certifications. He will split time in 2011 at the helm of both
Lynx
and
Pride II
. "We are excited about the opportunity to be a part of Sailing Seaway Clayton and this very unique promotion. We welcome Captain Trost and the community to come and make that typical Saturday morning cup of coffee an interesting one with us," said Kathy Danielson, owner of Lyric Coffee House & Bistro. Lyric Coffee House & Bistro offers a wide range of coffees, including espresso and lattes, smoothies and tea. Cakes, muffins and pastries are made on site as well. In addition, Lyric serves lunch and dinner. The Coffee with the Captain event kicks off Seaway Day on June 18.
Sailing Seaway Clayton presented by Davidson Auto Group and Lake Ontario Realty
officially kicks-off on Tuesday, June 14 at 12 Noon with the Grand Arrival of
Lynx
hosted by The Ship Watcher. Beginning on Wednesday, June 15 and running each day through Monday, June 20 the ship will be open to the public for deck tours and sailing excursions to benefit the Lynx Educational Foundation. Deck tours are a $5.00 donation (children 12 and under are free), while daily 2-hour sailing excursions are only $55.00 per person (seniors and military are $45.00 and children 12 and under are $30.00). Excursions can be booked in advance by visiting www.theshipwatcher.com or by simply visiting the ship during the week. Sailing excursion space is limited. Additional events continue to be planned for the weekend of June 17-19 and will be announced at a later date. Sponsorship opportunities still remain for businesses interested in being a part of this unique event.
###
Contact:
Michael J. Folsom (315) 374-5273
theshipwatcher@yahoo.com