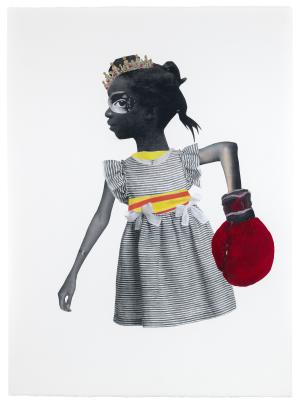 Explore, make, and share during five Zoom sessions from Sept. 25 to Nov. 20
Saratoga Springs, NY (September 17, 2020) — The Frances Young Tang Teaching Museum and Art Gallery at Skidmore College announces the fall 2020 Tang at Home Studio series. This series will be conducted online to ensure the health and safety of our audiences and our staff. The Museum building is closed to the public for now, but we are open online to bring the Tang experience into your home.
Tang at Home Studio gives kids the chance to explore their creativity, make new things, and share their artwork with peers online! Each session, which occurs every other Friday at 5:00 PM from September 25 to November 20, includes an at-home looking and exploration of an artwork, instructions for project preparation and a real-time online gathering led by Sunny Ra,  The Laurie M. Tisch Educator for K-12 and Community Programs, with assistance from Skidmore College student interns. Learn how to take part and read the description of all five sessions below.
How does it work?
On Monday morning of each week there is a session, we will open up registrations on the Tang Teaching Museum website. You will have all week to explore, learn, and prepare materials. Then on Friday from 5:00 to 6:00 PM, we will gather online via Zoom to discuss our ideas about the artwork, engage in an art-making activity, and share our creations!
To ensure a fun sharing environment, registration is required. The live Friday sessions are best suited for kids ages 5-12 and a parent or guardian, but everyone is welcome! For the best experience, we recommend logging in via computer instead of a mobile device, if possible. This will enhance each participant's ability to view artwork and videos, and to engage in community conversations with one other.
How do I register?
A link to register will be posted on the Tang Teaching Museum website on Monday for that week's session. Registration is free. To register, you will be asked for your name, email address, the number of participants, the name or names of your child or children, their ages and your ZIP code. Once you register, you will receive project instructions, a list of materials, and a link to Friday's Zoom meeting. Register early, as space is limited.
Questions?
Contact Tang Museum Educator Sunny Ra via email at sra@skidmore.edu.
TANG AT HOME STUDIO SCHEDULE
Session 1, September 25: Landscape of Discovery
We dive into the vertical landscape created by artist Yun-Fei Ji titled, Bon Voyage to discover such things as people wearing hazmat suits, giant grasshoppers, and other surprises. There's a lot to uncover in this work on paper that connects traditional Chinese landscape painting to art practices of today. Look closely and investigate Bon Voyage at home and come ready with your ideas and art materials to make your own landscape filled with discovery at our session on Friday, September 25.
Session 2, October 9: Self-Portrait Remix
This week, we explore Glass Castles, a mixed-media work by artist Deborah Roberts in the exhibition Never Done: 100 Years of Women in Politics and Beyond. Roberts explores identity in this work, composing this portrait of a young Black girl with different elements that hold different meanings. Take some time to think about this work, gather your collage art materials, and be ready to share and create your own self-portrait at our session on Friday, October 9.
Session 3, October 23: Get Up and Move!
Tschabalala Self's work Vanity in the exhibition Never Done keeps the viewer thinking and rethinking. Where is this figure in space? Is there more than one figure? What kind of pose and distortion are we seeing? Take a close look and think about these elements, wear something comfortable to move in, and be ready to contribute to our collaborative movement session on Friday, October 23.
Session 4, November 6: Art in Action
We will explore Julie Mehretu's work Untitled from the exhibition Never Done. Small in scale and filled with explosive energy and action, Mehretu's mark-making seems to go far beyond the edges of the paper! This week, take a look at the lines, shapes, and design in this drawing. Does anything look familiar? Be ready to share your ideas about this work and gather your art materials to make your own energetic drawing in an action-packed art-making session on Friday, November 6. 
Session 5, November 20: Future Visions
What will the future look like? In Saya Woolfalk's print The Four Virtues (Prudence) from the exhibition Never Done, the artist shows us her vision of the future. Woolfalk's work explores a future of genetic mutations, where science fiction becomes reality that, in turn, reflects the artist's own multiracial and multicultural heritage. Explore the colors and diverse imagery that the artist draws upon. Collect images you find in magazines or online that are fantastical or imaginary. Be ready to share your ideas and muster up the courage to create a collage that dares to imagine a future where anything is possible on Friday, November 20.
About the Tang Teaching Museum
The Tang Teaching Museum at Skidmore College is a pioneer of interdisciplinary exploration and learning. A cultural anchor of New York's Capital Region, the Tang's approach has become a model for university art museums across the country—with exhibition programs that bring together visual and performing arts with interdisciplinary ideas from history, economics, biology, dance, and physics to name just a few. The Tang has one of the most rigorous faculty-engagement initiatives in the nation, and a robust publication and touring exhibition program that extends the museum's reach far beyond its walls. The Tang Teaching Museum's award-winning building, designed by architect Antoine Predock, serves as a visual metaphor for the convergence of art and ideas. The Tang building is closed to the public, due to the coronavirus, but is open online. For updates, please visit http://tang.skidmore.edu.
Media contact
Michael Janairo
Head of Communications
Tang Teaching Museum
Image caption: Deborah Roberts, Glass Castles, 2017, Mixed media on paper, 30 x 22 inches, Tang Teaching Museum collection, purchased with generous funding from Ann Schapps Schaffer '62 and Melvyn S. Schaffer, 2017.52