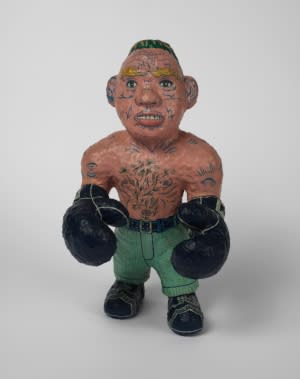 $100,000 from Terra Foundation, $60,000 from Warhol Foundation
Funds will support fall 2018 exhibition at Skidmore Colleges, The Imagist Object: New Dimensions in Chicago Art, 1964-1980
Saratoga Springs, N.Y. (July 19, 2017) — The Frances Young Tang Teaching Museum and Art Gallery at Skidmore College has received two major grants totaling $160,000 from The Andy Warhol Foundation for the Visual Arts and the Terra Foundation for American Art in support of the fall 2018 exhibition and catalogue The Imagist Object: New Dimensions in Chicago Art, 1964-1980.
The Imagist Object, on view from September through December 2018 at the Tang, will explore the sculptural work and dimensional paintings by Chicago artists who invented their own kind of pop art, Chicago Imagism, a warm, personal, humorous strain with a contrasting feel to the cooler, more neutral varieties in New York and London. The exhibition will be the first in-depth exploration of the overall affinity of Imagist artists for the object, and bring the Imagist's legacy to audiences beyond Chicago.
The Imagist Object will be organized by Tang Museum's Dayton Director Ian Berry and Chicago-based curators John Corbett and Jim Dempsey. Corbett and Dempsey are longtime Chicago art scholars and curators, having organized shows at the Smart Museum of Art at the University of Chicago, the School of the Art Institute, Chicago, and the Chicago History Museum, among others. They are also the co-owners of the Corbett vs. Dempsey Gallery.
The Terra Foundation for American Art has awarded $100,000 for the exhibition and catalogue as part of Art Design Chicago, a year-long initiative in 2018 to explore Chicago's role as a catalyst and incubator for innovations in art and design through more than 25 exhibitions, hundreds of public programs, as well as scholarly publications and a four-part documentary—many of which are being developed specifically for Art Design Chicago. The Andy Warhol Foundation awarded $60,000 for the exhibition.
About the exhibition
The Chicago Imagists worked individually, crafting unique approaches, and shared some influences, such as Surrealism and the Surrealists' love of objects. Objects under consideration for the exhibition range from interventions in mass-produced materials—like Suellen Rocca's painted purses, or reworked thrift-store finds, like Ray Yoshida's decorated crutches, or Roger Brown's shelf works, which included ceramics bought by the artist—to finely crafted artworks like Ed Flood's multilayered back-painted Plexiglas boxes. Several artists used materials associated with craft: Karl Wirsum, Christina Ramberg, and Philip Hanson, for instance, made extensive use of papier mâché, and Barbara Rossi used sewn fabrics in her printmaking. Some artists, including Art Green and Eleanor Dube, painted on shaped canvases, and most incorporated their frames into the heart of their paintings, like one that Sarah Canright made with nails facing outward. In addition to members of the original Imagist groups, the exhibition plans to include work by Don Baum, the chief curator of the Imagist moment; Yoshida, the teacher with whom many Imagists studied at the School of the Art Institute of Chicago; as well as H.C. Westermann, arguably the point of origin for the Imagist Object.
About Art Design Chicago
Art Design Chicago is a wide-ranging initiative to explore the breadth of Chicago's role as a catalyst and incubator for innovations in art and design. Spearheaded and funded by the Terra Foundation, with significant support from The Richard H. Driehaus Foundation, Art Design Chicago was developed in partnership with more than 40 cultural organizations to celebrate Chicago's artists, designers, and creative producers. Focusing on the period between the 1871 Great Chicago Fire and the turn of the 21st century, the initiative reveals little-known narratives of ingenuity and perseverance and provides new insights on Chicago's enduring influence on fine and decorative arts, graphic and commercial design, product development, and film. Art Design Chicago will feature more than 25 exhibitions and hundreds of public programs, presented throughout 2018, as well as the creation of several scholarly publications and a four- part documentary. Together, these activities shine a light on Chicago's art and design legacy, and its continued impact on contemporary practice. www.artdesignchicago.org #ArtDesignChicago
About Terra Foundation for American Art
Since it was established in 1978, the Terra Foundation for American Art has been one of the leading foundations focused on the historical art of the United States. Headquartered in Chicago, it is committed to fostering exploration, understanding, and enjoyment of American art among national and international audiences. To further cross-cultural dialogue on American art, the foundation supports and collaborates on innovative exhibitions, research, and educational programs. Implicit in such activities is the belief that art has the potential both to distinguish cultures and to unite them. Recognizing the importance of experiencing original works of art, the foundation also provides opportunities for interaction and study through the presentation and ongoing development of its own art collection in Chicago. www.terraamericanart.org
About The Andy Warhol Foundation for the Visual Arts
The Andy Warhol Foundation for the Visual Arts' objective is to foster innovative artistic expression and the creative process by encouraging and supporting cultural organizations that in turn, directly or indirectly, support artists and their work. The Foundation values the contribution these organizations make to artists and audiences and to society as a whole by supporting, exhibiting and interpreting a broad spectrum of contemporary artistic practice.
The Foundation is focused primarily on supporting work of a challenging and often experimental nature, while noting that the interpretation of those terms may vary from place to place and culture to culture. In this regard the Foundation encourages curatorial research leading to new scholarship in the field of contemporary art.
The Foundation is committed to the precept that the arts are essential to an open, enlightened democracy. It therefore seeks to advance an inclusive cultural dialogue by providing resources to organizations that support artists reflecting a diverse society and by affirming that freedom of artistic expression is fundamental to such a society and must be vigorously protected. To advance these values, grants are awarded to not-for-profit organizations in the United States and occasionally abroad under specific guidelines.
About the Tang Teaching Museum
The Frances Young Tang Teaching Museum and Art Gallery at Skidmore College is one of the country's foremost teaching museums. It defines itself as a space for the interdisciplinary exploration of ideas and representation, particularly with regard to humanistic and sociopolitical concerns, and is a key space in which to address Skidmore College's strategic goals in the areas of diversity, integrative learning, and community engagement. This project provides the Museum with the opportunity to realize its values of teaching and experimenting with modes of object-based learning; thinking critically about artists and artworks, and how meaning is created; and reintroducing under-represented artists and archives to our community, the larger world of art, museums, and the history of art.
Caption for Attached Image 
Mighty Might in the Green Trunks (yellow trunks), 1968, by Karl Wirsum, papier-maché, acrylic, 13 1/2 x 7 1/4 x 5 1/2 inches
MEDIA CONTACT
Michael Janairo
Assistant Director for Engagement
Tang Teaching Museum at Skidmore College
815 North Broadway
Saratoga Springs, NY 12866
518-580-5542 | mjanairo@skidmore.edu