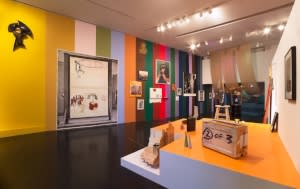 Tang Teaching Museum celebrates #518Day with free public event
Saratoga Springs, NY—The Frances Young Tang Teaching Museum and Art Gallery at Skidmore College invites the public to join in celebrating #518Day with a unique series of 5 tours that are 18 minutes each starting at 1 pm on Friday, May 18.
The tours will be led by museum curators and give visitors insights into newly opened exhibitions as well as a final guided look of exhibitions that will be closing soon.
The tours will be:
Dayton Director Ian Berry on the Tang Teaching Museum building, designed by Antoine Predock
Curatorial Assistant Molly Channon on Dona Nelson: Stand Alone Paintings, which opens May 11 and runs through August 12
2017-18 Eleanor Linder Winter Intern Rachel Rosenfeld '18 on the 2018 Skidmore College Art Major Senior Thesis Show, which opens May 11 and runs through May 19
Mellon Collections Curator Rebecca McNamara on Elevator Music 35: Ephraim Asili — Jazz Salt, which closes May 20
Dayton Director Ian Berry on Rose Ocean: Living With Duchamp, which closes May 20
#518Day is an annual celebration on May 18 of the arts in the 518 area code that occurs mostly on social media. During the day people post about the great cultural offerings in the region using the hashtag #518Day. The Tang is expanding upon that by creating an event in the spirit of #518Day. Visitors are encouraged to use social media to share their experiences.
This event is free and open to the public. For more information, call 518-580-8080 or visit http://tang.skidmore.edu.
About the Tang Teaching Museum
The Tang Teaching Museum at Skidmore College is a pioneer of interdisciplinary exploration and learning. A cultural anchor of New York's Capital Region, the institution's approach has become a model for university art museums across the country-with exhibition programs and series that bring together the visual and performing arts with fields of study as disparate as history, astronomy, and physics. The Tang has one of the most rigorous faculty-engagement initiatives in the nation, the Mellon Seminar, and robust publication and touring exhibition initiatives that extend the institution's reach far beyond its walls. The Tang Teaching Museum's building, designed by architect Antoine Predock, serves as a visual metaphor for the convergence of ideas and exchange the institution catalyzes. The museum is open from noon to 5:00 p.m. on Tuesday through Sunday, with extended hours until 9:00 p.m. on Thursday, and is closed on Mondays and holidays. More information at http://tang.skidmore.edu.
Caption info for attached image
Installation view, Rose Ocean: Living With Duchamp, 2018, Frances Young Tang Teaching Museum and Art Gallery at Skidmore College, photograph by Arthur Evans
Media contact
Michael Janairo
Assistant Director for Engagement
Tang Teaching Museum and Art Gallery
at Skidmore College
mjanairo@skidmore.edu
518-580-8080