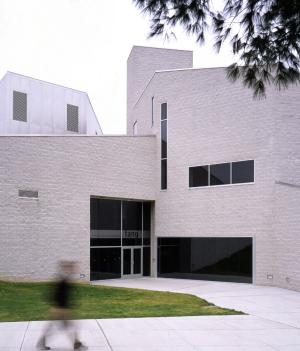 Saratoga Springs, NY (August 25, 2020) — The Frances Young Tang Teaching Museum and Art Gallery, in accordance with Skidmore College guidelines, will reopen for the fall semester for Skidmore students, faculty and staff only with limited hours and new protocols.
While the Museum building is closed to the public, the Tang continues to be open online for everyone. Since the COVID-19 closure started in March, the Tang has expanded its exhibitions online, opened new digital exhibitions, created a new page of at-home art-making activities, and presented many online programs that have included Tang at Home Studio family art-making projects, student musical, dance, and poetry performances, and special events with artists Tim Davis and Liz Collins, both celebrating the publication of their new exhibition catalogues.
The Museum is preparing a slate of online initiatives for the fall, including Tang at Home Studio, Tang Live (a weekly student led Instagram series), enhanced online exhibitions, artist talks, and more. Visit the Tang website for updates about upcoming events at http://tang.skidmore.edu.
"The last few months have shown off the amazing dedication of the Tang staff as they create new ways to make transformative moments with artwork and artists possible in this time of social distancing," said Dayton Director Ian Berry. "I am grateful for their ingenuity and hard work and for the ongoing support and understanding of our friends, colleagues and visitors as we open our doors to the campus community only at this time.  The Museum as classroom is truly in action this Fall with several classes, from Math to Arts Administration, from Religion and Classics to Management and Business all meeting in our large open Wachenheim Gallery —perfectly designed for generously spaced seating."   
The goal of slowly opening to the Skidmore community only is to protect the health and safety of faculty, staff, and students who are participating in the College's rigorous COVID-19 health and safety program, which includes training in social distancing protocols, daily health screenings, and weekly COVID-19 testing. For more information about the College's Reopening Safety Action Plan, please visit https://www.skidmore.edu/fall-planning/reopening-safety-action-plan.php.
Upcoming Exhibitions
·         Never Done: 100 Years of Women in Politics and Beyond will open online September 17 and be on view through June 6, 2021. The exhibition takes the occasion of the 100th anniversary of the 19th Amendment and the 2020 U.S. elections to explore issues and challenges women in the United States have faced, and continue to face, in politics and society. The online exhibition will feature images of 100 artworks by women and non-binary artists along with statements by each artist that reflects on their work in relation to women's rights, feminisms, justice and representation, and the legacy of the suffrage movement. This exhibition webpage will also include curatorial writing, student reflections, and a feminist reading and online resources list. The opening date, September 17, is Constitution Day, the anniversary of the 1787 ratification of the U.S. Constitution.
·         We've Only Just Begun: 100 Years of Skidmore Women in Politics will also open online September 17. Created in conjunction with Never Done, the exhibition explores the history of Skidmore women in politics, drawing on materials from the Scribner Library Archives and Special Collections. Organized by Skidmore Political Science Professors Kate Graney and Natalie Taylor and their Spring 2020 class PL364 "Never Done," with Rachel Seligman, Malloy Curator.
·         Energy in All Directions is scheduled to open online October 10 and be on view through May 17, 2021. The exhibition celebrates the life and legacy of artist and gallerist Hudson (1950–2014) by bringing together work in the Tang collection by a community of contemporary artists Hudson promoted in dialogue with important objects from the Shaker Museum | Mount Lebanon, such as furniture, baskets, and textiles. Community, spirituality, creativity, and craft are common themes connecting Hudson and the Shakers. 
Online Initiatives
·         Tang at Home: Art-making activities and coloring pages that bring the Family Saturdays experience into people homes at http://tang.skidmore.edu/education/tang-at-home
·         Tang at Home Studio: A series of family-friendly art-making activities conducted over Zoom https://tang.skidmore.edu/education/tang-at-home#studio
·         Tang Live: Skidmore students present a live program at 7 p.m. every Thursday on the Tang Instagram account at http://instagram.com/tangteachingmuseum
·         Art& Ideas: The Tang is expanding its interdisciplinary teaching mission through thematic pages to inspire new pedagogy and dialogue. These pages aim to inspire scholars, educators, and students with artwork, writing, video, and creative assignments from faculty, students, artists, and curators about the Tang collection. https://tang.skidmore.edu/education/art-and-ideas
For the latest information, please visit http://tang.skidmore.edu or email the Tang at tang@skidmore.edu.
About the Tang Teaching Museum
The Frances Young Tang Teaching Museum and Art Gallery at Skidmore College is a pioneer of interdisciplinary exploration and learning. A cultural anchor of New York's Capital Region, the Tang's approach has become a model for university art museums across the country — with exhibition programs that bring together visual and performing arts with interdisciplinary ideas from history, economics, biology, dance and physics to name just a few. The Tang has one of the most rigorous faculty-engagement initiatives in the nation, and a robust publication and touring exhibition program that extends the museum's reach far beyond its walls. The Tang Teaching Museum's award-winning building, designed by architect Antoine Predock, serves as a visual metaphor for the convergence of art and ideas. http://tang.skidmore.edu.
Media Contact:
Michael Janairo
Head of Communications
Tang Teaching Museum at Skidmore College
Caption for attached image: Tang Teaching Museum photograph by Tom Jenkins.