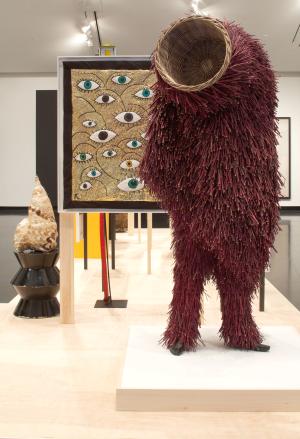 Nick Cave, Kay Rosen, Cary Smith, Endia Beal, Forrest Gander among featured speakers
Saratoga Springs, NY (February 18, 2021) — The Frances Young Tang Teaching Museum and Art Gallery at Skidmore College invites the public to a stellar series of online talks, including the fourth annual Winter/Miller Lecture with acclaimed artist Nick Cave, who will be in conversation with the 2020-21 Eleanor Linder Winter '43 Intern Nathan Bloom '21.

·         Friday, February 26, Noon: Dunkerley Dialogue on the exhibition Energy in All Directions with poet Nickole Brown, painter Cary Smith, Shaker Museum Director Lacy Schutz, and Jeff Bailey. More info: https://tang.skidmore.edu/calendar/1401-dunkerley-dialogue-energy-in-all-directions
·         Monday, March 1, 12:30 PM: Artist talk, in collaboration with GW202: Lived Feminism, with Endia Beal, whose work from the Tang collection is featured in Never Done: 100 Years of Women in Politics and Beyond. More info: https://tang.skidmore.edu/calendar/1403-artist-conversation-with-endia-beal
·         Tuesday, March 9, 7:00 PM: Saratoga Springs Arts Commission Town Hall on Performing Arts with Lisa Kolosek, Independent Curator, and Jason Ohlberg, Professor of Dance, who will moderate a community discussion with arts leaders about the current state of performing arts in the city. More info: https://tang.skidmore.edu/calendar/1333-saratoga-springs-arts-commission-performing-arts
·         Thursday, March 11, at 7:00 PM: The fourth annual Winter/Miller Lecture features acclaimed artist Nick Cave. Cave will be in dialogue with the 2020-21 Eleanor Linder Winter '43 Intern Nathan Bloom '21. More info: https://tang.skidmore.edu/calendar/1402-winter-miller-lecture-nick-cave
·         Friday, March 12, Noon: Dunkerley Dialogue on the exhibition Energy in All Directions with poet Forrest Gander, artist Kay Rosen, and Skidmore Professor April Bernard. More info: https://tang.skidmore.edu/calendar/1405-dunkerley-dialogue-with-kay-rosen-forrest-gander-and-april-bernard
Dunkerley Dialogues are made possible by a generous gift from Michele Dunkerley '80. The Winter/Miller Lecture is made possible through a generous gift by the family of Eleanor Linder Winter '43.
All events will be online and are free and open to the public.
For more information, please visit the Tang website at http://tang.skidmore.edu.
About the Speakers
Nickole Brown received her MFA from the Vermont College, studied literature at Oxford University, and was the editorial assistant for the late Hunter S. Thompson. She worked at Sarabande Books for ten years. Her first collection, Sister, a novel-in-poems, was first published in 2007 by Red Hen Press and a new edition was reissued by Sibling Rivalry Press in 2018. Her second book, a biography-in-poems called Fanny Says, came out from BOA Editions in 2015, and the audio book of that collection became available in 2017. She was an Assistant Professor at the University of Arkansas at Little Rock for four years until she gave up her beloved time in the classroom in hope of writing full time. Currently, she is the Editor for the Marie Alexander Poetry Series and teaches periodically at a number of places, including the Sewanee School of Letters MFA Program, the Great Smokies Writing Program at UNCA, and the Hindman Settlement School.
Cary Smith's hard-edged, abstract paintings find their individual character from highly intuitive color interactions, boldly direct paint application, and hand-painted precision. Smith's paintings are made freehand with a variety of small sable brushes without the use of tape to mask the edges of the areas of color. This precision creates an energy that is highly experiential and like the paintings as a whole creates a believable space that is familiar yet completely new to the eye. Smith was born in 1955 in Puerto Rico. He lives and works in Connecticut. Smith has had numerous solo shows. His most recent was at the Aldrich Museum, Ridgefield, Ct. His group exhibitions include The Jewel Thief curated by Ian Berry and Jessica Stockholder at the Tang Teaching Museum, The Geometric Tradition in American Art at the Whitney Museum of American Art, and 1989 Biennial Exhibition, also at the Whitney.
Lacy Schutz is Executive Director of Shaker Museum and has overseen a period of growth and evolution for the institution since joining in 2016. She previously served in various senior management roles at the Museum of the City of New York, including Director of Collections, and began her career as the founding Archivist at the Clark Art Institute in Williamstown, MA.
Jeff Bailey is the former Owner and Director of Jeff Bailey Gallery (2003-2018), established in New York City in 2003 and relocated to Hudson, New York in 2014. He has been a Trustee of Shaker Museum since 2012, and currently serves as Chair of the Exhibitions Committee and Secretary.
Endia Beal is a North Carolina based artist, curator, and author who uses photography and video to reveal the often overlooked and unappreciated experiences unique to people of color. Beal's first monograph, Performance Review, brings together work over a 10-year period that highlights the realities and challenges for women of color in the corporate workplace. She lectures about these experiences, which also addresses bias in corporate hiring practices. Beal is featured in several online editorials including the New York Times, NBC, BET, Huffington Post, and National Geographic; she also appeared in TIME magazine, the Financial Times Weekend magazine, VICE magazine, Essence, Marie Claire and Newsweek. Her work has been exhibited in several institutions including the Nasher Museum of Art at Duke University in Durham, NC; The Charles H. Wright Museum of African American History in Detroit, MI, and Aperture Foundation in New York, NY. Beal's photographs are in private and public collections, such as The Studio Museum in Harlem in New York, NY, Museum of Contemporary Photography at Columbia College Chicago in Chicago, IL, and Portland State University in Portland, OR.
Lisa Kolosek is an art historian, curator, writer, and editor with a particular interest in design, architecture, photography, and dance. She earned a master's degree with honors in the History of Design and Curatorial Studies from Parsons School of Design and Cooper Hewitt, Smithsonian Design Museum. She writes and lectures on art and design and most recently served as Curator at the National Museum of Dance for which she developed, researched, and wrote more than twenty exhibitions.
Jason Ohlberg is an Assistant Professor in the Dance Department at Skidmore College in Saratoga Springs. Originally from Fresno, California, he attended the State University of New York at Purchase in the early 1990s. Following an eighteen-year professional dance career, he graduated summa cum laude with his B.F.A. in dance from Cornish College of the Arts in Seattle, Washington. In 2015 he earned his MFA from the University of Washington and was awarded the prestigious Dean's Graduate Medal from the College of Arts and Sciences. He has been a certified classical Pilates teacher for well over a decade. 
Nick Cave (b. 1959, Fulton, MO; lives and works in Chicago, IL) is an artist, educator and foremost a messenger, working between the visual and performing arts through a wide range of mediums including sculpture, installation, video, sound and performance. Cave is well known for his Soundsuits, sculptural forms based on the scale of his body, initially created in direct response to the police beating of Rodney King in 1991. Soundsuits camouflage the body, masking and creating a second skin that conceals race, gender and class, forcing the viewer to look without judgment. They serve as a visual embodiment of social justice that represent both brutality and empowerment. Throughout his practice, Cave has created spaces of memorial through combining found historical objects with contemporary dialogues on gun violence and death, underscoring the anxiety of severe trauma brought on by catastrophic loss. The figure remains central as Cave casts his own body in bronze, an extension of the performative work so critical to his oeuvre. Cave reminds us, however, that while there may be despair, there remains space for hope and renewal. From dismembered body parts stem delicate metal flowers, affirming the potential of new growth. Cave encourages a profound and compassionate analysis of violence and its effects as the path towards an ultimate metamorphosis. While Cave's works are rooted in our current societal moment, when progress on issues of global warming, racism and gun violence (both at the hands of citizens and law enforcement) seem maddeningly stalled, he asks how we may reposition ourselves to recognize the issues, come together on a global scale, instigate change, and ultimately, heal.
Kay Rosen was born in 1943 in Corpus Christi, Texas and earned a B.A. from Tulane University in Linguistics, Spanish, and French before attending graduate school at Northwestern University, studying Linguistics and Spanish. Language highly informs Rosen's work as a painter, and her works typically feature colorful blocks of text subverted by scale, spacing, or compositional arrangement. She is a three-time recipient of the National Endowment for the Arts Visual Arts Grant and is a former professor at the School of the Art Institute of Chicago, where she taught for twenty-four years. Rosen's work has been shown recently at solo exhibitions including atOsmos Station, Stamford, New York (2019); Alexander Gray Associates, NewYork City (2018); Lora Reynolds Gallery, Austin, Texas (2017); Helga Maria Klosterfelde Edition, Berlin, Germany (2017); and Barbara Krakow Gallery, Boston, Massachusetts (2017).
Poet Forrest Gander earned degrees in both geology and English literature, abackground that now strongly informs his work. His Pulitzer-prize winning collection of poetry, Be With (2019), draws from his background traveling across North America with the late poet CD Wright, where he spent time in California, Mexico, Arkansas, and Rhode Island. Gander's work is often characterized as "ecopoetry", and he has taught on the subject matter at Providence College, Harvard University, and now Brown University where he serves as the The Adele Kellenberg Seaver Professor of Literary Arts and Comparative Literature. Gander is also a prolific translator, most recently translating the works of Gozo Yoshimasu, Alfonso D'Aquino, and Pablo Neruda.
April Bernard is a poet, novelist, and essayist. Her most recent books are Brawl & Jag (poems) and Miss Fuller, a novel. Her previous books of poems are Romanticism, Swan Electric, Psalms, and Blackbird Bye Bye. Bernard is a regular contributor to The New York Review of Books and other journals, is Professor of English and Director of Creative Writing at Skidmore College, and also teaches in the Bennington College MFA Writing Seminars. 
About the Tang Teaching Museum
The Tang Teaching Museum at Skidmore College is a pioneer of interdisciplinary exploration and learning. A cultural anchor of New York's Capital Region, the Tang's approach has become a model for college and university art museums across the country—with exhibition programs that bring together visual and performing arts with interdisciplinary ideas from history, economics, biology, dance, and physics, to name just a few. The Tang has one of the most rigorous faculty-engagement initiatives in the nation, and a robust publication and touring exhibition program that extends the museum's reach far beyond its walls. The Tang Teaching Museum's award-winning building, designed by architect Antoine Predock, serves as a visual metaphor for the convergence of art and ideas. The Tang building is closed to the public, due to the pandemic, but is open online. For updates, please visit http://tang.skidmore.edu.
Media contact
Michael Janairo
Head of Communications
Tang Teaching Museum
Caption for attached image: Soundsuit by Nick Cave in the exhibition Affinity Atlas, Tang Teaching Museum, 2015, photo by Arthur Evans