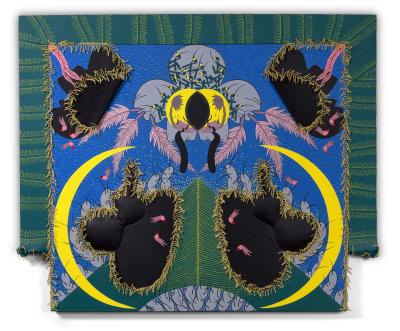 Exhibition inspires new ways of thinking about our relationship to the environment through art
Saratoga Springs, NY (May 28, 2020) — The Frances Young Tang Teaching Museum and Art Gallery at Skidmore College announces the opening of Lover Earth: Art and Ecosexuality, a student-curated online exhibition that encourages viewers to think critically about their bodies and the planet. The exhibition opens Saturday, May 30, on the Tang website.
Organized by Caroline Coxe '20, Lover Earth draws on the ideas of Elizabeth Stephens and Annie Sprinkle, collaborative performance artists who coined the term "ecosexuality" to describe an erotic connection to nature. Instead of "Mother Earth," they opt to use the phrase "Lover Earth" to denote a reciprocal relationship between humans and Earth.
"I came across Annie Sprinkle and Beth Stephens and their ecosex movement last summer, and I was really struck by the ways it embraced environmental activism, art, and sex positivity all at once," Coxe said. "It's a really fresh, exciting perspective on environmental justice. It's rare to see museums tackling environmental issues through their exhibitions, so I thought by using ecosexuality as a framework, I could get viewers to think critically about their relationship with the earth through art."
Through a selection of paintings, prints, photographs, and moving images, Lover Earth recontextualizes artworks from the Tang collection—many being shown by the Museum for the first time—to create a diverse ecology that celebrates nature, sexuality, and the ways in which these ideas intersect.
Franklin Williams's A Beautiful Dark Moment, 1973, combines acrylic paint, twine, yarn, and fabric to create abstract shapes and hairy tendrils that conflate human, animal, and plant sexual anatomy. Frank Moore and Jim Self's video Beehive, 1985, explores the sexuality of honeybees through dance, beginning with a bee's role in pollinating (fertilizing) flowers, and culminates in a mating dance between a drone and the queen. Paula Wilson's video Salty & Fresh, a recent acquisition to the Tang collection being shown by the Museum for the first time, pays homage to feminine creativity by telling the creation myth of an artwork while alluding to fertility and birth as they symbolically relate to bodies of water.
Other artists with work on view in the exhibition are Steven Arnold, Atong Atem, Dorothy Dehner, Naomi Fisher, Flor Garduño, Corita Kent, Ana Mendieta, John O'Reilly, Olivia Parker, Clare Richardson, and Dasha Shishkin.
Lover Earth continues the Museum's tradition of Skidmore College students curating their own exhibitions. Coxe, a studio art major, is the 2019–20 Eleanor Linder Winter '45 Intern, and the exhibition is the capstone project of her internship.
For more information, visit https://tang.skidmore.edu/exhibitions/281-lover-earth-art-and-ecosexuality.
About the Tang Teaching Museum
The Frances Young Tang Teaching Museum and Art Gallery at Skidmore College is a pioneer of interdisciplinary exploration and learning. A cultural anchor of New York's Capital Region, the Tang's approach has become a model for university art museums across the country — with exhibition programs that bring together visual and performing arts with interdisciplinary ideas from history, economics, biology, dance and physics to name just a few. The Tang has one of the most rigorous faculty-engagement initiatives in the nation, and a robust publication and touring exhibition program that extends the museum's reach far beyond its walls. The Tang Teaching Museum's award-winning building, designed by architect Antoine Predock, serves as a visual metaphor for the convergence of art and ideas. Though the building is closed to the public due to the COVID-19 pandemic, the Museum is open online at http://tang.skidmore.edu. 
Media Contact
Michael Janairo
Head of Communications
Tang Teaching Museum, Skidmore College
(working remotely; email is best form of contact)