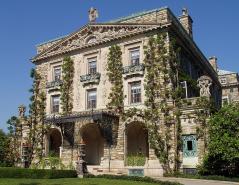 Kykuit tour features six-story mansion, terraced sculpture gardens, artwork, classic cars and spectacular scenery
Tarrytown, N.Y.
- The Tarrytown House Estate's new "Kykuit/Estate of Mind" Package is offering an inexpensive getaway that includes a tour of one of the most opulent estates in the nation.  Starting at just $169, guests can enjoy deluxe accommodations, a sumptuous breakfast for two, and a tour of Kykuit, the legendary Rockefeller estate in Tarrytown. Stroll the grounds of the beautiful Tarrytown House Estate, managed by Destination Hotels & Resorts, enjoy a full American Breakfast buffet in the majestic Biddle Mansion, then, visit the nearby Rockefeller Estate, Kykuit, the premier Hudson Valley landmark for architecture, remarkable gardens, art, history, and spectacular scenery.  The two-hour tour at this hilltop paradise will also feature the history of the estate that was home to four generations of the Rockefeller family, beginning with the philanthropist John D. Rockefeller, founder of Standard Oil.  Now an historic site of the National Trust, this extraordinary landmark has been meticulously maintained for almost 100 years. The tour will wind through the main rooms of the six-story stone house, then to the  expansive, terraced gardens featuring Governor Nelson A. Rockefeller's exceptional collection of 20th-century sculpture. Artists represented include Pablo Picasso, Henry Moore, Alexander Calder, Louise Nevelson, and David Smith, among many others. You'll also experience the private, underground art galleries with Governor Rockefeller's collection of Picasso tapestries, and the Coach Barn, with its collections of classic automobiles and horse-drawn carriages. Each tour begins at the Visitor Center at Philipsburg Manor, where you'll board a shuttle bus for a short ride to the estate. Located just 25 miles from midtown Manhattan, The Tarrytown House Estate offers a spectacular Lower Hudson Valley getaway that blends historical charm with modern conveniences.  Set on 26 acres overlooking the Hudson River Valley, the Tarrytown House features impressive 19th Century mansions, as well as a contemporary atrium-style building that houses conference facilities and guest rooms. Perfect for business and leisure, The Tarrytown House offers extensive leisure and recreational facilities such as a fitness club, indoor and outdoor swimming pools, and tennis courts.  For more information on the "Kykuit/Estate of Mind" Package, please call the Tarrytown House Estate at (914) 591-8200 or visit their Website at
http://www.tarrytownhouseestate.com/
.
###
The Tarrytown House Estate and Conference Center is one of more than 30 independent, upscale hotels, resorts and conference centers by Destination Hotels & Resorts, the fourth largest independent hospitality management company in the country.
Contact
: Vicky Hochman Thompson & Bender (914) 762-1900, ext. 22
vicky@thompson-bender.com