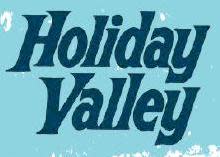 Ellicottville, N.Y. – Sky High Aerial Adventure Park at Holiday Valley Resort will be celebrating the premiere of their new feature, the Tarzan Swing, at 10AM on Friday, May 18. "Tarzan and Jane" will demonstrate the element at 10AM as they zip line across on a Tarzan rope and catch on to a cargo net which they must climb to reach the next platform. The Tarzan Swing is part of the intermediate level "blue" course, Rip Tide.
Sky High is New York State's largest Aerial Park, and the third largest of its kind in the US. It features 13 courses of varying difficulty with 174 obstacles and 43 zip lines. All kinds of people enjoy climbing at Sky High including families, scouts, corporate groups, sports teams, and bachelor and bachelorette parties. Because there are 5 levels of difficulty, all you really need is a modest level of athletic ability and a sense of adventure.
Holiday Valley is also constructing a Gem Mining feature at Sky High Park that will open in mid-June. Younger children can try panning for treasures at the new Mr. Happy Gem Mine located at the base of the Climbing Forest.
Sky High Park also includes the Sky Flyer Mountain Coaster, a thrilling ride that zigs, zags and spirals down the mountain where you control the speed, and the Climbing Forest, a series of 9 trees outfitted with climbing holds that create a 3-D climbing wall.
Sky High is currently open Fridays, Saturdays and Sundays plus Memorial Day Monday and will be open daily starting June 15. More information is available and reservations for the Aerial Park can be made at www.holidayvalley.com.
Media who would like to photograph the opening of the Tarzan Swing can arrange for transportation from the Tannenbaum Lodge parking lot at the west end of Holiday Valley. Please contact Jane Eshbaugh at 716-498-6416 or email jeshbaugh@holidayvalley.com. The shuttle will depart at 9:45AM.
About Holiday Valley Resort
Holiday Valley is Western New York's largest year 'round resort featuring 60 slopes and trails, 13 lifts, 3 base lodges, slope side lodging and dining, conference facilities, an 18 hole golf course, a tree top aerial adventure park, a mountain coaster and a summer pool complex.  Holiday Valley is New York State's most visited ski resort.
Holiday Valley Resort in Ellicottville is on the web at www.holidayvalley.com. 
Ellicottville is located on Route 219, three hours south of Toronto and one hour south of the Peace Bridge.
Detailed media information is available at www.holidayvalley.com/media.
For further information, please contact:
Jane Eshbaugh
Marketing Director
Tel: 716.699.3904
E-mail: jeshbaugh@holidayvalley.com