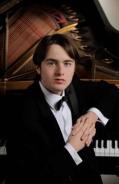 Prizewinning Pianist Set to Perform Rachmaninoff's Piano Concerto No. 2
Saratoga Springs, N.Y.
- Daniil Trifonov, a 21-year-old Russian piano prodigy who won medals at three of the world's most prestigious international music competitions, will make his debut at Saratoga Performing Arts Center on August 22, performing Rachmaninoff's powerful Piano Concerto No. 2 in a program with The Philadelphia Orchestra. The young virtuoso electrified the international music scene in 2011 when he won back-to-back gold medals at the Tchaikovsky and Arthur Rubinstein International Competitions just weeks after winning a bronze medal at the Chopin Competition. Since then, he has been on a whirlwind tour across the globe, debuting with the world's leading orchestras and earning glowing critical praise.  "Daniil Trifonov is leaving audiences and classical music reviewers across the globe speechless with performances of technical genius, overwhelming energy and interpretive brilliance," said Marcia J. White, SPAC's President & Executive Director. "The world's foremost symphonies and concert halls have been competing against each other to get him on their stages; we feel fortunate and thrilled to have the opportunity to showcase this phenomenal young talent who is poised for greatness."    The international spotlight found Daniel Trifonov in 2011 when he won gold medals at the Rubinstein Competition in Tel Aviv and the Tchaikovsky Competition in Moscow (First Prize and Grand Prix), just weeks after taking a bronze medal at the Chopin Competition in Warsaw. Valery Gergiev personally awarded Trifonov the 'Grand Prix' at the Tchaikovsky Competition, an additional award given to the best overall competitor in any category of the Competition. Following his competition wins, Trifonov has been sought after for solo appearances with the world's leading orchestras and concert halls. The  2012/13 season marks the pianist's debuts with New York Philharmonic, Chicago Symphony, Boston Symphony, Cleveland Orchestra, Philharmonia Orchestra, Royal Philharmonic, Orchestre Philharmonique de Radio France, Budapest Festival Orchestra and Orchestra Nazionale di Santa Cecilia as well as return appearances with the London Symphony and Mariinsky Orchestra, Russian National Orchestra and Warsaw Philharmonic. He has also won the admiration of critics worldwide, and many of the masters of piano, including Emanuel Ax and Martha Argerich. In an interview with the
Financial Times
Argerich said
:   "Last night I listened to him again on YouTube - he has everything and more. What he does with his hands is technically incredible. It's also his touch - he has tenderness and also the demonic element. I never heard anything like that." A native of the Russian city of Nizhniy Novgorod, Daniil Trifonov began his musical studies at the age of five. He studied at Moscow Gnesin School of Music until 2009 when he came to the US to study piano at the Cleveland Institute of Music in the class of Sergei Babayan.     Trifonov will be performing Rachmaninoff's Piano Concerto No. 2, one of the composer's most popular works and a composition renowned for its difficult virtuoso solo part and lush orchestral writing. Composed after a bout with depression following his poorly received first symphony, the success of this work revitalized Rachmaninoff's composing career and cemented his fame as both a composer and pianist.   Also announced as part of SPAC's Building of a Season were the following:
Aspen Santa Fe Ballet: Over Glow
July 24, 25
Set to music by Mendelssohn and Beethoven, "Over Glow" is a lush and dramatic work choreographed specifically for Aspen Santa Fe Ballet and reflective of Elo's style for contrasting contemporary movement with classical music.
Saratoga Chamber Music Festival: The Versatile Davyd Booth
August 13
Davyd Booth, a musician of extraordinary skill and uncommon versatility, will display his mastery of both the violin and piano in a unique program that will feature him performing with the Wister Quartet for two works and in a duet with pianist Andre-Michel Schub for a rare performance of Schubert's
Fantasia in F minor for piano four-hands
, the composer's last and greatest contribution to the four-hand repertory. Full profiles including videos, photos and reviews are available at
spac.org
.  Tickets for this program and all SPAC events will go on sale online to SPAC members at
spac.org
in late February and to the general public in mid-March.
###