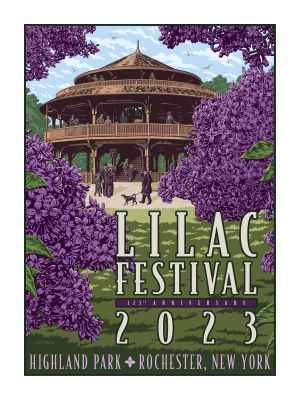 Monroe County, City of Rochester and Visit Rochester Unveil Official Poster and Welcome Visitors  
Rochester, N.Y. (May 12, 2023) – This morning at 10:00 a.m., organizers officially kicked off the 125th Annual Rochester Lilac Festival, which will run through Sunday, May 21, 2023. During the opening day ceremony, Monroe County Executive Adam Bello, Visit Rochester CEO Don Jeffries and Festival Producer Jeff Springut unveiled this year's official poster and welcomed visitors to Highland Park for the 10-day event.  
This year's poster was designed and illustrated by local artist Jeremy Sniatecki, a freelance illustrator and graphic designer residing in the North Winton Village area of the city with his wife Brenna and their family.   
"As a fan of the Rochester area and of our shared rich history, it's been an exceptional honor to be part of this year's Lilac Festival poster design process. The more I learned about the original 1890 Children's Pavilion and the recent plans to reconstruct it, the more I realized it would be the perfect centerpiece for this design celebrating 125 years of the Lilac Festival. I kept thinking about looking through those legendary lilacs to see the past and the present. I hope everyone enjoys it as much as I loved designing and illustrating it." 
"The Lilac Festival combines the beauty of nature with great food, live music, and family fun. I encourage everyone to come to Highland Park for 10 days of celebrating our legacy festival," said County Executive Adam Bello. "Thank you, Jeremy Sniatecki, for the beautiful poster and to our incredible Monroe County parks staff, City of Rochester and Visit Rochester for making the 125th Lilac Festival one of the best yet." 
"The Rochester Lilac Festival is not only our signature festival, it's an essential component of our identity as the Flower City," said Mayor Malik D. Evans. "I want to thank Monroe County Executive Adam Bello, Rochester Events President Jeff Springut, and everyone who helps produce the Lilac Festival for their efforts in making the 125th anniversary an event to remember. I encourage everyone to come and enjoy the festival's world-class talent and the spectacular beauty of Highland Park." 
"The entire Greater Rochester region is filled with excitement for the 125th Rochester Lilac Festival," said Visit Rochester President & CEO Don Jeffries. "The beloved Lilac Festival marks the unofficial start to Rochester's annual festival season. We are so excited to welcome thousands of visitors to admire the flowers, food and entertainment that will fill Highland Park for the next ten days." 
GENERAL FESTIVAL INFORMATION 
Duration: Friday, May 12 – Sunday, May 21 
Hours: 10:30 AM – 8:30 PM daily  
Location: Highland Park (Festival Map) 
Parking & Shuttle information 
WEEKEND ONE ACTIVITIES 
Festival Sponsors: Bob Johnson Auto Group, Bully Hill Vineyards, MGM Associates of Rochester, Rentals To Go, Evans Bank, Whole Foods, Wright Beverage, Zweigles, Wilkins RV, Pepsi, Louis-Wolk JCC of Greater Rochester, United Business Systems, Casa Larga, Community Bank, Greenspark Solar, Fidelis/WellCare, MVP Health Care, Dunkin', Spectrum News 1, Angels in Your Home, Medved, United Health Care, Country-Inn & Suites- Pittsford, Top Seedz, Spin Drift, Over Easy, Syracuse University Athletics, and Trader Joe's. 
About the Rochester Lilac Festival: The Rochester Lilac Festival is an award-winning time-honored tradition celebrated every spring since 1898, in accordance with the blooming of the most extensive collection of lilacs in the Northeast. On average, more than 500,000 visitors from across Western and Upstate NY, the tri-state area, and Canada attend the 10-day free festival each year.  
In 2023, the festival will return with spectacular unique special events, 120+ musical performances, 320 juried arts & craft vendors, kids' activities, and the star of the show – the fragrant lilac blossoms. The annual event is hosted by Monroe County, the City of Rochester, and Visit Rochester and produced by The Springut Group|Rochester Events.  
For more information, visit www.lilacfestival.com.   
Media Contact 
PR@Rochesterevents.com  
585.683.5439 
###