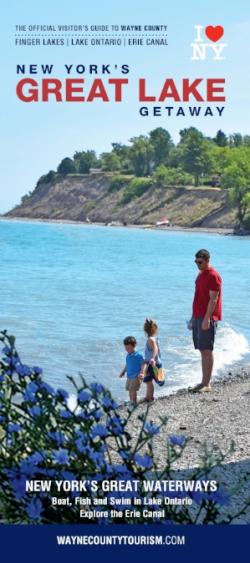 Wayne County, N.Y. – The new 2017 Wayne County Visitor Guide has just been delivered and is ready to be mailed or picked up by you. The guide is an all inclusive brochure containing information on accommodations, outdoor recreation, restaurants, attractions, historical sites, charter boats, fishing and more.
The Wayne County Visitor Guide is produced by the Wayne County Office of Tourism. We have printed 60,000 guides to be distributed throughout the United States and Canada in response to our advertising campaign. The guides are also distributed at local and regional information centers, travel/trade shows, literature exchanges and Triple A Associations.
To obtain your free Visitor guide just call our office at 800-527-6510 or e-mail us at tourism@co.wayne.ny.us.
Contact:
Mary Mastracy
Tourism Assistant
Wayne County Tourism
Suite 3, 9 Pearl St.  Lyons  NY  14489
Phone: 315.946.5467
Fax:     315.946.5460