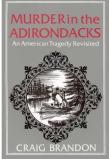 Blue Mountain Lake, N.Y.
- Join the Adirondack Museum for the 2012 Cabin Fever Sunday series. The first program, "Chester Gillette: The Adirondacks' Most Famous Murder Case" will be held on Sunday, January 15, 2012.  It's the stuff movies are made of: a secret relationship, a pregnancy and a murder. Over a century after it happened in Big Moose Lake, N.Y., the Chester Gillette murder case of 1906 is the murder that will never die. The murder of Grace Brown and the case following was the subject of Theodore Dreiser's 1925 book An American Tragedy, and the Hollywood movie "A Place in the Sun." The story continues to be told today with a 1999 Opera at the Metropolitan Opera in New York and in a 2011 documentary "North Woods Elegy." Author Craig Brandon, the world's foremost expert on the case, and author of Murder in the Adirondacks, will present and lead a discussion. Craig Brandon is a national award-winning author of six books of popular history and public affairs and a former award-winning reporter. He resides in Keene, N.H. For more information, visit
http://www.craigbrandon.com/
. Held in the Auditorium, the program will begin at 1:30 p.m. Cabin Fever Sundays are offered at no charge to museum members or children of elementary school age and younger.  The fee for non-members is $5.00.  The Museum Store and Visitor Center will be open from noon to 4 p.m. For additional information, please call (518) 352-7311, ext. 128 or visit
http://www.adirondackmuseum.org/
. Cabin Fever Sunday programs are sponsored by the New York Council for the Humanities, and the Glenn and Carol Pearsall Adirondack Foundation dedicated to improving the quality of life for year-round residents of the Adirondack Park:
http://www.pearsallfoundation.org/
. The Adirondack Museum, accredited by the American Association of Museums, shares the history and culture of the Adirondack region in 22 exhibits on a 32-acre campus in the Central Adirondacks.  The museum is supported in part by public funds from the New York State Council on the Arts, a State Agency. For additional information, visit
http://www.adirondackmuseum.org/
or call (518) 352-7311.
###
Contact
: Kate Moore, Marketing Manager (518) 352-7311, ext. 109
kmoore@adkmuseum.org