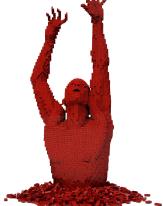 Rochester, NY
- Some artists use paint. Others use bronze. But lawyer-turned-artist Nathan Sawaya builds whimsical, awe-inspiring masterpieces with plastic bricks-LEGO® bricks, to be exact! Marvel at thirty eye-popping sculptures-giant heads, bodies, wall portraits, and more-created by Sawaya from nearly one million colorful LEGO bricks at the new exhibit
The Art of The Brick
opening at Strong National Museum of Play on Saturday, December 5.
Strong is the ONLY stop in upstate New York for this extraordinary touring art show. Sawaya's life-sized human figures emerge from LEGO bricks in provocative and sometimes disturbing poses, bringing LEGO brick building to a high art form. His vividly-colored renditions of everyday objects are exuberant and expressive including a Monopoly® box, globe, a sunflower, and a six-foot-tall yellow pencil that has, written in the big pad it is standing on, the word that describes the entire exhibit: -fun. According to Sawaya, -I use this as a medium because I enjoy seeing people's reactions to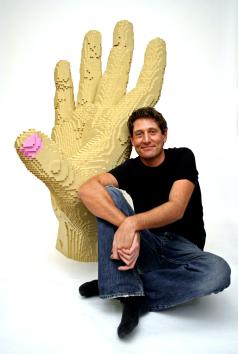 artwork created from something with which they are familiar. Everyone can relate to it since it is a toy that many children have at home. I want to elevate this simple plaything to a place it has never been before. I also appreciate the cleanliness of the medium. The right angles. The distinct lines.? Sawaya says that the fundamental purpose of his art is -to captivate people for as long as I can keep their attention. I strive to create artwork that is interesting and that is unlike anything they have seen before. Sawaya, who has been featured on CBS's
Late Show
with
David Letterman,
NBC's
Today Show
, and the Discovery Channel's
MythBusters
also builds custom pieces including work he did for Donald Trump's new hotel in Dubai.
The Art of the Brick
exhibit is a prelude to, and complements, an upcoming children's exhibit,
LEGO® Castle Adventure
, which opens Saturday, January 23, 2010. Sawaya will be at Strong National Museum of Play on Saturday, January 23 from 11 a.m. to 4 p.m. and on Sunday from 1:00 to 4:00 p.m. to provide museum guests with an interactive art experience.
The Art of the Brick
remains on view through March 14, 2010 and is included with general museum admission fees. To learn more about Nathan Sawaya, visit
http://www.brickartist.com/
.
Want to show off your master brick-building skills? Become a Strong National Museum of Play® Fan on Facebook.com and enter the Best of the Brick conteset.
===================================================================== Strong National Museum of Play®, located in downtown Rochester, New York, is the only museum in the world devoted solely to the study of play as it illuminates American culture.
Museum Hours:
Monday-Thursday, 10:00 a.m. to 5:00 p.m.; Friday and Saturday, 10:00 a.m. to 8:00 p.m.; Sunday, 12:00 noon to 5:00 p.m.
Admission Fees:
General Admission (does not include admission to
Dancing Wings Butterfly Garden
®): Adults $10.00; Seniors $9.00; Children (2-15) $8.00; Children younger than two free; Strong members free.
Admission to Dancing Wings Butterfly Garden®:
General Admission fee plus $1.50 for members, $3.00 for nonmembers; Children under 2 free. Entry is by timed ticket only. Please call 585-263-2700 to reserve and purchase tickets.
Parking:
Free parking is available at the museum for all guests on a first-come, first-served basis. Please note that, on high visitation days, the museum lot may reach capacity early in the day. If space is not available on site at the time of your visit, you will be directed to additional parking at neighboring municipal garages (fees may apply). Contact: Susan Trien 585-410-6359
strien@museumofplay.org