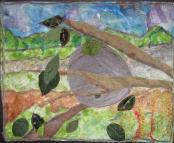 Exhibit on Display at the Albany Heritage Area Visitors Center through March 31
Albany, N.Y.
  -- An exhibit featuring more than 50 works of art by members of Q.U.I.L.T., Inc., a Delmar-based quilt guild, is on display at the Albany Heritage Area Visitors Center, corner of Broadway and Clinton Avenue, through March 31.  The display includes never-seen-before "slice quilts"  --  one of Albany and one of Troy.  These pieces are comprised of segments created by 12 quilt artists.  To celebrate Albany New York's Quadricentennial, these quilters collaborated to reproduce in fabric two photographs:  the Albany Skyline and Troy at Low Tide.  Each photo was enlarged and divided into six slices measuring 42" x 11".   Apart from two small squares of fabric shared by all, each artist was free to select the fabric, embellishment and method used to create her slice.  In the display, visitors can see how two quilters dealt with loss and grief.  "Storm" by Angie Wright and "For Joanna" are both tributes to friends who passed away. Ms. Wright says of her quilt, "I designed it after losing my friend to cancer.  It was completed over two summers, and became a therapeutic piece. As I stumbled with the challenges of design, I was forced to reflect, rest and then eventually return to solve them. It took time, in much the same way healing after losing someone does," she said.  "For Joanna" by Susan Rivers depicts her friend Joanna (printed on organza) overlaying the music of "Funeral for a Friend" by Elton John and the Mourner's Prayer in Hebrew.  Barbara Quackenbush's quilt, "Empty Nest", celebrates life.  She describes her work as  "This beautiful nest, hanging from a branch, begged to be photographed.  It stands as a statement of a home waiting for bees, so essential to local farmers of nearby orchards."  The exhibit will be open on 1
st
Friday, Feb. 5, from 5 to 8 PM as an opportunity for the public to meet the artists, see their work and hear their stories. The Albany Heritage Area Visitors Center is located at the corner of Broadway and Clinton Avenue in downtown Albany.  Public parking is accessible via Spencer Street off Broadway, and is reimbursable at the Visitors Center.  Visitor Center hours: are M- F:  9:00 AM - 4:00 PM; Sat.: 10:00 AM - 3:00 PM; and Sun.:  11:00 AM - 3:00PM For more information visit
http://www.albany.org/
or call 518-434-0405.
ABOUT THE ACCVB
The Albany County Convention & Visitors Bureau, Inc. was established in 1976 to promote the civic and commercial progress of the community through increased development of conventions and tourism. ACCVB currently represents more than 300 member businesses and assists each year in hundreds of regional meetings. ACCVB also operates the Albany Heritage Area Visitors Center, Henry Hudson Planetarium and the Albany International Airport Information Center. For more information, call 518-434-1217 or 800-258-3582 and/or visit
http://www.albany.org/
.
ABOUT Q.U.I.L.T.
Q.U.I.L.T., Inc.  is a not-for profit 501 (c) (3) organization.  The acronym stands for "Quilters United in Learning Together". The Guild offers workshops, the opportunity to collaborate on service projects for the community, and a congenial atmosphere of camaraderie.   Q.U.I.L.T. meets on the second Friday of each Month (September - June) at the  Delmar Reformed Church, 386 Delaware Ave., Delmar, NY  9:45 - about noon ( Doors open at 9:15 am).  Guests are welcome. For more information on Q.U.I.L.T., Inc, please visit
http://www.quiltinc.org/
. 
###
CONTACT: 
Kathy Quandt, Director of Operations Albany County Convention & Visitors Bureau 518-434-1217 x 213,
kquandt@albany.org