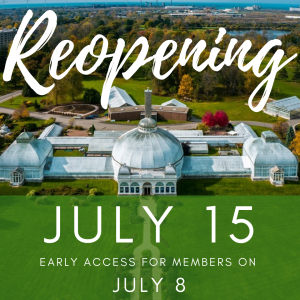 The Botanical Gardens Reopens to the Public on July 15 With Early Access for Members on July 8
Buffalo, NY - The Buffalo and Erie County Botanical Gardens announced today they will reopen to the public on July 15, 2020 with early access to members on July 8. They can't wait to be #BackUnderTheDome! The COVID-19 health crisis is rapidly evolving and the health and safety of all visitors, staff, volunteers and the extended community is extremely important.
The President/CEO, David Swarts states, "Public gardens are indispensable to community healing, offering much-needed places for respite and connection with nature.  The loss of revenue due to the COVID-19 situation is devastating and with 94% of our budget coming from membership, admission and fundraising efforts, the community's support of the Botanical Gardens is important now more than ever."
A task force, comprised of a cross section of staff members was created to develop a plan to reopen the Botanical Gardens in the safest way possible. The comprehensive reopening plan and sanitization strategies are designed to mitigate the spread of COVID-19.
Cleaning and sanitizing are a top priority, and with the recommendations provided by the CDC, the Botanical Gardens has created a high standard of cleaning and disinfecting on its campus to ensure everyone is safe.  Touchable surfaces, with particular attention given to high-touch areas, will be cleaned and sanitized with a CDC approved cleaner/disinfectant several times per day including but not limited to: before the Botanical Gardens opens to the public, at mid-day and at the close of business. Touchless hand sanitizer dispensers have been installed throughout the Botanical Gardens and signage will be placed throughout the Botanical Gardens to remind visitors to wash their hands often, use the sanitizer dispensers, avoid touching surfaces and plants, wear face coverings and maintain safe social distancing.
To provide an orderly transition while maintaining safety, the Botanical Gardens' transparent and flexible reopening plan is organized into three phases: Phase One: Initial, many restrictions; Phase Two: Modified, some restrictions lifted; Phase Three: New Normal operations.
At this point, Phase One is planned to run for four weeks. Phase One, week one, will take place July 8 through July 12 and will welcome current Botanical Gardens members to visit the Botanical Gardens with reserved, timed e-tickets from 11am to 3pm, Wednesday through Sunday with early access to high-risk members from 10am to 11am on Wednesdays and Fridays.  Phase One, week two will welcome the public back to the Botanical Gardens with pre-purchased, timed e-tickets and will follow the same open scheduled hours as week one. Phase One, weeks three through four will follow the same hours of operation as weeks one and two however, timed admission tickets are available at the door if capacity has not been reached at the time of purchase.
For everyone's safety, visitors and staff must follow the Botanical Gardens' Safety Etiquette Guidelines. Individuals not following these guidelines will be asked to leave the Botanical Gardens in accordance with Governor Cuomo's New York State Executive Order.  Visitors must wear face coverings at all times when inside all Botanical Gardens' buildings and when safe social distancing cannot be maintained outside.  Children 2 and under are not required to wear a face covering. Visitors are required to wash their hands and utilize hand sanitizing stations.  Maintaining 6-foot social distancing from others is also required and visitors are asked to follow a one directional path through the Botanical Gardens and limit touch of all surfaces and plants.
Amenity restrictions included in Phase One will include but are not limited to: online, pre-purchased e-tickets will be required for the first two weeks of phase one and are recommended for the foreseeable future.  The following amenities will be closed during Phase One: the rear entrance, the Wegmans Family Garden, the Outdoor Children's Garden, the drinking fountain (visitors are encouraged to bring their own water in a reusable container) and the Gift Shop will be closed for only week one. The following amenities will be unavailable in Phase One: wheelchair borrowing, audio tours and coat racks.  There will be limited indoor seating and congregating should be avoided.
Extra precautions include: partitions as a barrier between visitors and staff have been installed at the admission counters and in the Gift Shop; brochures and literature were removed from the admission areas to limit touching.  Every other sink and stall in the restrooms will be closed and some tables and chairs will be removed from inside the conservatory.  Only one entrance and exit, the front entrance, will be designated for public use and brightly colored markers will indicate safe social distancing when arriving at the admission desk.  Brightly colored markers were also installed to establish a set, one-way direction of foot traffic through the Botanical Gardens for visitors to follow. Signage was also installed to remind visitors of their Safety Etiquette Guidelines.
The leadership and staff at the Botanical Gardens is monitoring the situation closely and following the recommendations and guidelines set forth by New York State and the Center for Disease Control (CDC).  They have also made a pledge to the Buffalo Cares: Stay Safe Pledge through Visit Buffalo Niagara.  It is a shared commitment between local hospitality and tourism organizations to take precautions to keep everyone stay safe.
The Botanical Gardens will continue to prioritize the safety of all visitors, staff, and volunteers throughout the reopening process and will continue to provide public updates as the situation changes.  More information regarding Phase Two and Phase Three of their plan can be found at buffalogardens.com.
Use #BackUnderTheDome, #BuffaloCares and @Buffalogardens when posting and tagging on social media. Proceeds benefit the Buffalo and Erie County Botanical Gardens Society Inc., a 501(c)(3) not-for-profit organization with a mission to inspire curiosity and connect people to the natural world through its historic living museum.
###