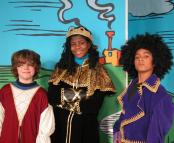 February 2nd and 3rd and February 9th and 10th, 2013 @ 3:00 - 4:00pm
Peekskill, N.Y.
- C
elebrating its Seventh consecutive season, The Children's Theatre Company of Peekskill, will present an original musical at The Ford Theatre in Peekskill two consecutive  Saturdays and Sundays - Feb. 2
nd
and 3
rd
and Feb. 9
th
and 10 at 3:00pm. The musical treat, appropriate for children and adults, is an original musical that tells a story of the land of Kunka Bunka, which is ruled by a kind and benevolent Queen, who is consumed with worry as she discovers that none of her children have the leadership qualities suited to govern the land. The musical is written by Mehr Mansuri with Music & Lyrics by Frank Sanchez & Mehr Mansuri in collaboration with  Lory Lazarus. The Ford Theatre, Peekskill Admin Building, is located at 1031 Elm Street, Peekskill NY. Tickets are $10 per person and can be purchased prior to each performance at The Ford Theatre. For information, call (914) 930-6600 or 914-325-1053.  For more information about The Children's Theatre (CTC), log onto   
http://www.ctcpeekskill.org/
With the mission of "Building Character Onstage," the Children's Theatre Company, a non-profit organization based out of New York City, is dedicated to introducing children and youth to the incomparable magic of theatre, with a commitment to develop in each child a keen sense of citizenship alongside their artistic achievements.  CTC promotes theater as a tool for active and analytical learning (rather than prescribed and passive), combining a character and ethical education curriculum that emphasizes a culture of inclusivity and service through arts -- fostering in young performers a profound conviction that they are the voices of positive change in society. The Children's Theatre Company also serves over 400 children a day through public schools in-school and after-school, as well as has been implemented into 6 national communities producing the CTC Community Development Model (Satellite Productions) in Peekskill NY, Boston MA, Fairfield CT, Vienna Virginia, Gaithersburg MD and soon re-opening in Los Angeles, London, UK and Cape Town South Africa. To learn more the Children's Theatre Company visit 
http://www.childrenstheatrecompany.org/
Summary of show: QUEEN KUNKA BUNKA & THE ROTTEN ROYAL RASCALS An original musical with rousing music and dance, is the story of the land of Kunka Bunka which is ruled by a kind and benevolent Queen, who is consumed with worry as he discovers that none of his rotten royal rascal children are suited to govern the land. There are the three Princess sisters, Proudeska, Jealousina and Chatterina and their Prince brothers, Rudekov, Slackoff, and Coughkof - the sickly one, with the glum disposition. To discover which child might be best as the royal heir, the Queen asks each of her children to wear the magical 'see-through spectacles' that allows them to see 'inside themselves'.  As none of the rotten royal rascals are fit to fill royal shoes, the despondent Queen banishes her children from the palace assigned to work as common citizens, until they have learned the secret to happiness.
###
Interviews available; contact Ridvan Foxhall, 914-325-1053;
rfoxhall@gmail.com
http://www.ctcpeekskill.org/