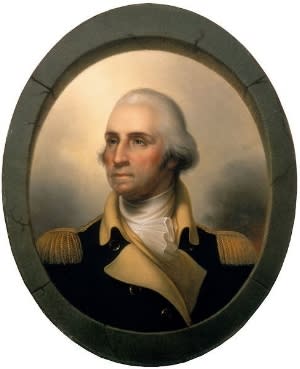 Newburgh, N.Y. – Come to Washington's Headquarters State Historic Site, during Path History weekend, Saturday, June 16th, at 2:00 PM, for a special presentation, "The Circular Letter: Washington's Legacy." This talk will explore the hopes General Washington had to guarantee how the government should work effectively; how the states should be united and how the protection of that new and fragile nation would be of paramount importance.
Consider the time: last days of the Revolutionary War.
Picture the place: Headquarters Newburgh.
Perceive the action: a 17-page letter written by General Washington to the Governors of a new nation.
Listen to the reason: the ideas and ideals of a man who after fighting for a cause, now wants that fight to culminate in the establishment of a new and wonderful country.
Circular letters were written to convey the same information to recipients in different locations. In this famous one Washington composed while in Newburgh he felt it was necessary to communicate the spirit of "good intention" for all the citizens of this new and evolving country.
He outlined this in the letter he sent to the State Governors, envisioning a country that needed some nurturing in order to provide a strong and enduring future.
This special presentation is free with standard admission, which includes a guided tour of the historic Headquarters and the freedom to explore the Museum, which houses the multi award-winning exhibit, Unpacked & Rediscovered: Selections from Washington's Headquarters' Collection. The exhibit features over 1,300 objects highlighting Washington's Headquarters' diverse collections and is navigated by an electronic catalog system.
For further details, call 845-562-1195.
Washington's Headquarters State Historic Site is a registered national historic landmark. It is located at the corner of Liberty and Washington Streets within the city of Newburgh's East End Historic District. The site is one of 35 historic sites within the New York State Office of Parks, Recreation and Historic Preservation and is one of 28 facilities administered by the Palisades Inters Park Commission in New York and New Jersey. For further information contact: (845) 562-1195.  For more information about New York State Parks, please visit our website at www.nysparks. com.   For more information call 845-562-1195 or visit us on Facebook at www.facebook.com/washingtonsheadquarters.
###
Contact:
Elyse B. Goldberg | elyse.goldberg@parks.ny.gov | 845-562-1195