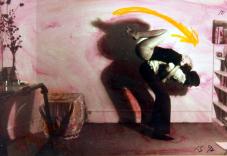 New Paltz, N.Y.
- The Samuel Dorsky Museum of Art at the State University of New York at New Paltz will hold the opening reception for its winter/spring 2010 exhibition from 5-7 p.m. on Friday, Feb. 5, in The Dorsky Museum. The headlining exhibit, Carolee Schneemann: Within and Beyond the Premises, is the sixth exhibition in the Dorsky Museum's Hudson Valley Masters series and will feature 75 works spanning the career of pioneering painter, filmmaker, writer and performance/installation artist Carolee Schneemann. The exhibition will be on display from Feb. 6 - July 25. Schneemann has lived in New Paltz for more than 40 years while sustaining an
international career. This selective but extensive overview of Schneemann's entire body of work, organized to highlight connections between the artist's life and art, includes paintings, drawings, photography, installations, video projections and writings. From the mid-1950s to the present, Schneemann's work helped to transform the definition of art, especially art related the body, sexuality, and gender. Her work is crucial to an understanding of abstract expressionism, politicized and personal feminisms, performance art, body art, collaborative practices, drawing, post-documentary photography, film as art, printmaking, installation art and many other developments in art since the latter half of the 20th Century. The exhibition will be accompanied by screenings of selected films and digital videos, a performative lecture by the artist, a panel discussion with internationally recognized scholars and artists, and other public programs. The exhibition will also be accompanied by an illustrated catalogue incorporating new scholarship on the foundational role of painting in Schneemann's work and an extensive interview with the artist on the ways in which her home has informed the production of her work. Museum Curator, Brian Wallace, said "Carolee Schneemann has produced an extensive body of artwork that investigates the connections between the activities of the mind and those of the body. Her research takes the form of writings, performances, films and videos, objects, installations, images, and hybrids thereof, accomplished within and beyond the premises in which she has lived and worked."
Carolee Schneemann Biography
Schneemann is a multidisciplinary artist.  Her video, film, painting, photography, performance art and installation works have been shown at the Los Angeles Museum of Contemporary Art and the New Museum of Contemporary Art in New York City, as well as in Europe.  The new multi-channel video installation "Precarious" was presented at the Tate Liverpool "Abandon Normal Devices" Festival in September 2009. Her most recent solo exhibitions in New York-"Painting, What it Became," at PPOW Gallery and "Performance Photographs from the 70s" at Carolina Nitsch-opened in March, 2009. "Correspondence Course," edited by Kristine Stiles, is forthcoming from Duke University Press 2010.   Across the hall in the Alice and Horace Chandler Gallery and the North Gallery, two exhibitions will be on view from January 30 - April 11: Body, Line, Motion: Selections from the Permanent Collection and Renée C. Byer: "A Mother's Journey" and Selected Photographs. Body, Line, Motion, part of an ongoing series of reinterpretations of the museum's collections, includes works depicting human and animal forms that emphasize movement, dance and ritualistic activity. Independent curator, scholar and Ecoartspaceny director Amy Lipton has designed this exhibition to give a broad context to the concurrent exhibition of works by Schneemann while providing an introduction to the broad geographical, temporal and stylistic range of this diverse collection. Drawn from the museum's collection of over 5,000 objects dating from 2,000 BC to the present day, this exhibition focuses on works representing human and animal forms that incorporate or exemplify archetypal imagery, radical self-expression and the presence of art history in recent and contemporary art.  Highlights of the exhibition include an Egyption bronze cat, a pre-Columbian terra-cotta jaguar relief, a standing female figure from the Ancient Near East and 20th-Century works on paper by Alberto Giacometti, Lee Krasner and Robert Rauschenberg. As a part of this exhibition, Lipton will offer a free gallery talk at 3 p.m. on Feb. 27.
Renée C. Byer
In the North Galley, Pulitzer Prize-winning photojournalist and James H. Ottaway Visiting Professor Renée C. Byer presents her "A Mother's Journey" series, along with other early and recent photographs. This exhibition is organized in collaboration with the Department of Communication and Media's annual James H. Ottaway Visiting Professor program. Byer, whose works exemplify recent developments in photography, political activism  and journalism, is the senior photojournalist at The Sacramento Bee. Byer is the recipient of numerous international awards, exhibitions and publications, and her photographs and photo-series on biotechnology, disease, the environment and women at war have been published in Business Week, Paris Match, Marie Claire, El Mundo, Photo District News, View Magazine and the Seattle Post-Intelligencer. Byer was born in Yonkers, N.Y., but grew up in nearby Rosendale where her father, Walter, was chief of police. She is a 1976 graduate of Rondout Valley High School. Her interest in photography began when she studied at Ulster County Community College, where she graduated in 1978.
Greg Miller
Held over from last season and reopening for exhibition will be the Panorama of the Hudson River: Greg Miller, on view from Feb. 6 - March 28.  The exhibition presents a complete photographic panorama of the Hudson River, including both banks, and stretching from Manhattan to Albany. Comprised of recently created photographs by Monroe, N.Y.-based landscape photographer Greg Miller, the exhibition is paired with a 1912 photographic panorama developed for the Hudson River Day Line Steamer company.          Suggested admission to The Dorsky Museum is $5. For more event details, reservations, accessibility or directions, visit www.newpaltz.edu/museum or call (845) 257-3844. The Dorsky Museum is open from 11 a.m. to 5 p.m. Wednesday through Sunday.
###
The Samuel Dorsky Museum of Art, located at SUNY New Paltz, is gaining recognition as "the premier public showplace for exhibition, education, and cultural scholarship about the Hudson Valley region's art and artists from yesterday, today, and the future." The museum's educational mission is also dedicated to collecting, researching, interpreting, and exhibiting works of art from diverse cultures; and it has built an extensive permanent collection including works by Hudson Valley artists and works in the areas of metals, painting, world study and photography.
Visit the Samuel Dorsky Museum of Art website, www.newpaltz.edu/museum, or call 845-257-3844 for information about free gallery tours and other programming.
The State University of New York at New Paltz was named "Hottest Small State School" in the 2008 Kaplan/Newsweek How To Get Into College Guide, which identifies America's 25 Hottest Schools. The guide features schools that all offer top academic programs and are making their mark in the competitive world of higher education.
New Paltz is a highly selective college of about 8,000 undergraduate and graduate students located in the Mid-Hudson Valley between New York City and Albany. Degrees are offered in the liberal arts and sciences, which serve as a core for professional programs in the fine and performing arts, education, healthcare, business and engineering.
CONTACT:
Eric Gullickson (845 257-3245)
Note to editors: High resolution photographs of the winter/spring 2010 exhibition series are available on the New Paltz Web site at www.newpaltz.edu/news/images/winterspring2010.html.