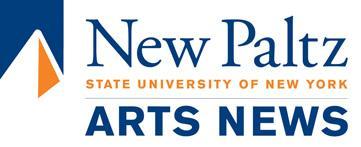 New Exhibition:   From Huguenot to Microwave
Continuing Exhibitions:   Thoughts of Home     Binary Visions      
Illustrious Mr. X, Vol. 2
New Paltz, N.Y. -
The Samuel Dorsky Museum of Art (The Dorsky) opens an exhibition of work by artist Marco Maggi on Friday, Feb. 11 with a curator's gallery talk from 4 - 5 p.m. and a preview reception on from 5 - 7 p.m. The exhibition
From Huguenot to Microwave: New and Recent Works by Marco Maggi
, curated by Dorsky Museum curator Brian Wallace, will run from Feb. 12 - April 15. This event is the first in a series of events and exhibitions celebrating the museum's tenth anniversary year. Formerly known as the College Art Gallery, The Dorsky first opened to the public in April 2001 and was officially dedicated on Oct. 20, 2001. The Tenth Anniversary Year exhibition program will highlight The Dorsky's focus on the art and artists of the Hudson Valley, a unique region that has served as a source of inspiration and nourished artistic creation and innovation since the time of the Hudson River School painters.
About Marco Maggi
Marco Maggi's obsessively minimal yet coolly detailed artworks are studies in perception that reflect back, metaphorically and physically, on the viewer. This exhibition includes recent Plexiglas-and-paper objects, altered rulers and straight edges, aluminum-foil drawings, dropped-paper works, a video projection, and a new, large-scale installation work that intervenes in the gallery space itself. Maggi's use of materials, techniques, and references evokes, but never makes explicit, the connections between culture, power, and the image that are the subject of much recent contemporary art. Surveillance mirrors are decorated - and their ostensible users' gazes disrupted - by skeins of tiny lines. Eyeglass lenses are augmented with - and compromised, functionally, by - similar webs of spidery cuts. A long series of stacks of paper cut with elaborate care divides one half of the gallery from the other while it mimics the operation of a printing press and, at one metaphorical remove, the production of art itself - and at another remove, that of artists themselves. Time-lapse video collapses the life-cycle of an apple - a humble New Paltz specimen (and visual simile for the town) - into a cosmically concise epigraph for life itself. The artist's works reveal the attention to detail, focus on process, and openness to chance developments and accidental outcomes that are so common (and so necessary) to printmaking, Maggi's primary focus as a student and a continued thread in his work to date. Visual and physical swapping, the employment of support materials as central components, the leakage of imagery onto peripheral sections, an intensity of production that is too well-organized to be obsessive but too extensive to be immediately believable: these are the hallmarks of an artist who has both submitted to and mastered the rich technical and metaphorical landscape of the print medium. Maggi has made several new works for the exhibition and lent other, recent, works; a private collector from the Boston area and the artist's New York gallery have lent the remaining works. Born in Montevideo, Uruguay, in 1957, Maggi lives and works in New Paltz, N.Y., and Montevideo. His work has been exhibited extensively throughout the United States, Europe, and Latin America. Maggi earned an MFA at SUNY New Paltz in 1998. Maggi represented Uruguay at the 25
th
Bienal de São Paulo; he has been the subject of solo exhibitions at Josée Bienvenu Gallery, New York; Hosfelt Gallery, San Francisco; Kemper Museum of Contemporary Art, Kansas City; Centro Cultural Reina Sofia, Montevideo, Uruguay; Centro Colombo Americano, Bogota, Columbia; and Syracuse University's Lubin House Gallery, New York. His work is in numerous private collections as well as the Museum of Modern Art, New York; El Museo del Barrio, New York; The Whitney Museum of American Art, New York; The Museum of Contemporary Art, Los Angeles; The Hirshhorn Museum and Sculpture Garden, Washington, D.C.; Museo de Arte Contemporáneo, São Paolo; and Museo Tamayo Arte Contemporáneo, Mexico City.
Continuing Exhibitions
The opening event on Feb. 11
th
will also celebrate the re-opening of three exhibitions continuing from 2010:
Thoughts of Home:
Photographs from the Center for Photography at Woodstock Permanent Collection
Curated by Wayne Lempka
Through March 18
Binary Visions: 19th-century Woven Coverlets from the Collection of Historic Huguenot Street
Curated by Leslie LeFevre-Stratton and Brian Wallace
Through March 18      
The Illustrious Mr. X: Museum Collection as Character Study, Volume II
Curated by Greg Slick and Karlos Carcamo
Through July 17
  For more information about The Dorsky Museum and its programs, visit
www.newpaltz.edu/museum
, or call (845) 257-3844.
###
About SUNY New Paltz
Located in the heart of a dynamic college town, ninety minutes from metropolitan New York City, the
State University of New York at New Paltz
is a highly selective college of about 8,000 undergraduate and graduate students. One of the most well-regarded public colleges in the nation, New Paltz delivers an extraordinary number of majors in
Business
,
Liberal Arts & Sciences
,
Engineering
,
Fine & Performing Arts
and
Education
. New Paltz embraces its culture as a community where talented and independent minded people from around the world create close personal links with real scholars and artists who love to teach.
Contact
: Suzanne Grady, Interim Director Communication & Marketing (845) 257-3245 Sara Pasti, Director Samuel Dorsky Museum of Art (845) 257-3846