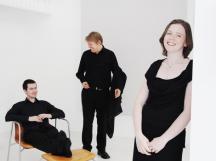 New Paltz, N.Y.
- The Davenport Residency Program presents the electrifying Fidelio Trio in concert, February 22 at 8:00 p.m. in McKenna Theatre on the campus of the State University of New York at New Paltz.  Before the concert, at 6:30 p.m. in the same theatre, the trio will give a pre-concert performance and discussion. Both concert and discussion are free and open to all. A critique from
The Journal of Music in Ireland (
March/April 2008) states, "...compelling listening, not least in performances as dramatically bold and incisively detailed as on offer here from a Fidelio Trio on lucid and keenly expressive form."The Fidelio Trio (Darragh Morgan, violin, Robin Michael, cello and Mary Dullea, piano) perform extremely diverse repertoire internationally. Their concert at New Paltz includes Donnacha Dennehy's
Bulb
; Laura Kaminsky's
Vukovar Trio
, Chick Corea's
Addendum
, and Maurice Ravel's Piano Trio. The Trio's broadcasts include regular appearances on BBC Radio 3 as well as RTÉ Lyric FM, WNYC and Radio New Zealand. In 2010, they were featured in a documentary on Sky Arts with broadcaster Katie Derham entitled
First Love
. Since their South Bank debut they have appeared at Wigmore Hall, Kings Place and Royal Opera House, London, festivals including Huddersfield Contemporary Music Festival, Brighton Festival and Fuse Leeds, West Cork Music, Belfast Festival at Queens and National Concert Hall, Dublin, Shanghai Oriental Arts Centre, Casa da Musica (Porto), Centre Culturel Irlandais (Paris), Contemporaneamente Festival, Lodi and Palazzo Albrizzi, Venice (Italy). CD releases include
Bulb
on NMC featuring trios by Kevin Volans, Donnacha Dennehy, Deirdre Gribbin and Ed Bennett,
Metamorphoses
, the chamber music of Icelandic composer Haflidi Hallgrimsson, on Delphian Records,
Bartlebooth
, the music of Joe Cutler, on NMC and most recently,
The Piano Tuner
for Delphian Records (premiere recordings of Scottish trios by Judith Weir, Nigel Osborne and Sally Beamish). Forthcoming are
From Vienna
(Schoenberg, Korngold and Zemlinsky) for Naxos, the complete Michael Nyman Piano Trios for MN Records, a Piers Hellawell portrait disc and a Robert Keeley portrait disc for NMC. 2011 highlights include their US debut tour with appearances at New York's Symphony Space and MIT, Boston, a tour of South Africa and Botswana, a Moving on Music tour of Ireland, two Scottish tours, multiple UK appearances as well as 2 CD releases. The Davenport Residency program was established to honor the memory of Kenneth and Mary "Whitt" Davenport, great friends and generous philanthropists for the arts at the State University of New York at New Paltz and throughout the Hudson Valley region.  Residencies are designed to connect fine young performing ensembles from today's new music world with New Paltz students and the community.  The residency is administered through the Department of Music.
- 30 -
About SUNY New Paltz
Located in the heart of a dynamic college town, ninety minutes from metropolitan New York City, the
State University of New York at New Paltz
is a highly selective college of about 8,000 undergraduate and graduate students. One of the most well-regarded public colleges in the nation, New Paltz delivers an extraordinary number of majors in
Business
,
Liberal Arts & Sciences
,
Engineering
,
Fine & Performing Arts
and
Education
. New Paltz embraces its culture as a community where talented and independent minded people from around the world create close personal links with real scholars and artists who love to teach.
Contact
: Suzanne Grady (845) 257-3245                                                               
Note to editors:
A photograph of the Fidelio Trio may be downloaded from the SUNY New Paltz Web site at
http://www.newpaltz.edu/news/images/fideliotrio.html