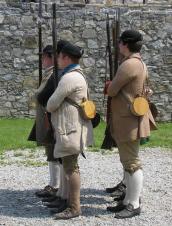 Nov 9th Event Honors Veterans from 1775 and Beyond at Fort Ticonderoga
Ticonderoga, N.Y.
- Fort Ticonderoga, America's Fort
TM
, honors veterans on Saturday, November 9 from 10 am - 4 pm!  The First Call of Duty, Honoring Veterans from 1775 and Beyond living history event will feature Fort Ticonderoga's Fife & Drum Corps at 12:30 pm performing patriotic songs honoring more than two centuries of American soldiers' sacrifice. Other activities will include special guided tours, musket demonstrations, and soldier's life programs highlighting the stories of soldiers at Fort Ticonderoga in 1775, the year that ignited a rebellion into revolution. Veterans, Friends of Fort Ticonderoga and children 4 years old and younger are admitted free of charge. Tickets are $10 and payable at the gate. For event details visit
http://www.fortticonderoga.org/
or call 518-585-2821. "Fort Ticonderoga examines the first American soldiers as the first year of the American Revolution came to a close during this special Veteran's Day living history event," said Stuart Lilie, Fort Ticonderoga Director of Interpretation. "By November of 1775, Colonel Benjamin Hinman's Regiment of Connecticut soldiers garrisoned at Fort Ticonderoga was prepared to be discharged from their colony's seven months of emergency service. Guests attending this event will discover the dangers and discomforts of life on campaign for these soldiers as they rebuilt Fort Ticonderoga in 1775. Hear about the hard-learned lessons of this first military campaign of the American Revolution as citizens figured out how to live as soldiers. Discover what service meant by the fall of 1775 and what prospects these veterans faced on their return home."
Event Schedule:
10 am:  Fort Opens to Visitors
10:15 am, 1:15pm, 3:15pm - Guided Tour:
Learn why American soldiers in 1775 served at Ticonderoga, known as the "Old French Fort." Explore the realities of their service and what challenges they faced when they returned home.
11:15 am, 2pm - Musket Demonstration:
Watch as soldiers practice their manual exercise and firings. Examine the collection of civilian and American made weapons that equipped American soldiers posted at Ticonderoga in 1775.
12:30 pm - Fife and Drum Performance:
Listen to the Fife and Drum tunes that regulated a soldier's day and broadcast the alarm in case of attack. Hear stirring patriotic tunes and remember centuries of American soldiers' sacrifice.
Available 10 am through 4pm
Pork, Pigeon, & Pottery Exhibit
In this exhibit of original artifacts recovered from the ruins of Fort Ticonderoga, explore the meals of soldiers and officers who served at Ticonderoga.
Artificer's Post
Need your shoes repaired? Meet the soldiers detailed to repair shoes for the Continental Army's public store at Fort Ticonderoga in the late fall of 1775.
Officers' Quarters
See the perks of rank living in the quarters of a small mess of junior officers. From beds to brandy, learn about officers' duties and comforts. Discuss the home front and the experience of the first campaign season for American soldiers.
Soldier's Life
Explore the daily duties of the Fort's garrison of citizens turned soldiers. From drilling with their firelocks, to eating, or simply staying warm, learn more about the reality of soldiers' life in November of 1775 at Fort Ticonderoga.
FORT TICONDEROGA
America's Fort
TM
Located on Lake Champlain in the beautiful 6 million acre Adirondack Park, Fort Ticonderoga is an independent not-for-profit educational organization and major cultural destination whose mission is to ensure that present and future generations learn from the struggles, sacrifices, and victories that shaped the nations of North America and changed world history. Welcoming the public since 1909, Fort Ticonderoga engages more than 70,000 guests annually and is dedicated to the preservation and interpretation of Fort Ticonderoga's history.  Accredited by the American Association of Museums, Fort Ticonderoga offers programs, historic interpretation, tours, demonstrations, and exhibits throughout the year and is open for daily visitation May through October and offers special programs throughout the year.. Visit
www.FortTiconderoga.org
for a full list of ongoing programs or call 518-585-2821. Fort Ticonderoga is located at 100 Fort Ti Road, Ticonderoga, New York.   America's Fort is a registered trademark of the Fort Ticonderoga Association. Photo: Fort Ticonderoga will present The First Call of Duty living history event honoring Veterans, November 9
th
.
#       #       #
Contact
: Beth Hill - 518-585- 2821
bhill@fort-ticonderoga.org