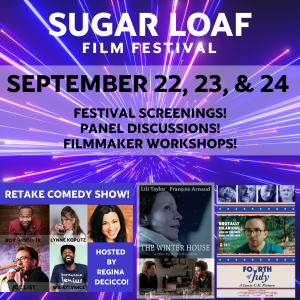 Orange County, N.Y. (Sept. 14, 2022) – Movie fans and filmmakers, get ready for the first-ever Sugar Loaf Film Festival! The three-day event, Thursday, Sept. 22 through Saturday, Sept. 24, will showcase the best of emerging filmmakers, with a focus on the Hudson Valley.
Taking place at the Sugar Loaf Performing Arts Center in Chester, N.Y., the festival will offer screenings of more than 40 films – mostly shorts – plus panel discussions and workshops on screenwriting, acting, cinematography, costume design and hair and make-up. The event will also feature comedy acts and live music with a performance by The Nerds and the "Retake Comedy" show featuring Roy Wood Jr., Wil Sylvince, Lynne Koplitz, and Joe List, hosted by Regina Decicco. Filmmakers will be honored at two awards ceremonies with over 25 awards given for Best Documentary, Best Narrative Feature, Best Pilot, and much, much more! And it's all just an hour from New York City.
"There are many local, great filmmakers out there who are bringing their visions to the screen. The Sugar Loaf Film Festival's mission is to foster these artists and celebrate their works – especially those from the Hudson Valley," said Matthew Matossian, a cinematographer who founded the film festival and serves as its chief executive officer. "We expect to attract movie lovers and filmmakers from around the corner, across the country and throughout the world."
One of the films being showcased, The Winter House, was shot in Orange County, N.Y. Directed by Keith Boynton, the drama was filmed in Newburgh, depicting a grieving woman who rents a remote house in the dead of winter, where her quest for solitude does not go as planned. Screening for this film is scheduled for Saturday September 24th.
"If you love movies – and who doesn't? – come to the newest can't-miss event in Orange County, N.Y.!" said Amanda Dana, Director of Orange County Tourism & Film. "We are thrilled to host, with our partner the town of Chester, such an impressive showcase of filmmaking skill and artistry, especially when some of the artists are our neighbors. Make it a long weekend and enjoy the whole event! You can stay in one of our charming bed and breakfasts or other amazing lodging options."
The featured movies depict intriguing tales of a Cold War-era spy, a suburban mom, two rookies in a gang and many more. The films have been created by new filmmakers and others who are established in the business. Paris Blues in Harlem, a 14-minute entry about a woman struggling to save her grandfather's Harlem jazz club, was directed by Nadhege Ptah and features Tonya Pinkins, whose many credits include appearances in the television shows Madam Secretary and Gotham.
The film festival will include special categories for underrepresented filmmakers and for filmmakers under 21. It should also be noted that the Sugar Loaf Film Festival has partnered with Shift 72 for their online viewing platform.
Each day of the festival will start with a matinee showing of a classic – Casablanca, Jaws and Back to the Future. Then attendees will enjoy the main event – the short films, some with discussions, as well as the workshops. Evenings will be capped with dinner, music and comedy. Awards ceremonies will be held Friday and Saturday evening. There will also be a classic DeLorean available for photo ops!
The events on the first day are free. For the following two days, a standard daily pass gains a holder access to the screenings, question-and-answer sessions and panel discussions, and include lunch and dinner. Daily VIP passes gain entry to the comedy show at no extra charge, provide honorary judge status, and offer access to the red-carpet media area and post-awards cocktail party.
An All-Access Pass includes all VIP perks for Friday and Saturday plus special access to private cast and crew discussions, comedians, a private cocktail party, plus a T-shirt.
"The Sugar Loaf Film Festival promises to be a feast of short works by many great filmmakers," said Dana, of Orange County Tourism & Film. "Some of them are already making names for themselves. Others will gain status with this very special event. We hope to see you there!"
Learn more, including the entire list of movies and ticket purchasing information, at slffny.com.
About Orange County Tourism & Film
Orange County Tourism & Film, based in Goshen, N.Y., is the county's tourism and film headquarters and a participant in the I LOVE NY program. More information about the Orange County Film office can be found at https://www.orangecountynyfilm.org/.  A comprehensive listing of area attractions, lodging, and events can be found at www.OrangeTourism.org. Additionally, a fun, free, 56-page travel guide is available for digital download at https://orangetourism.org/travel-guide/.
###