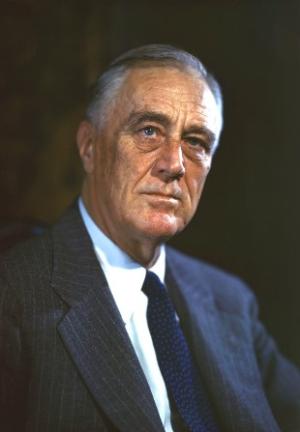 Hyde Park, N.Y. -- The Franklin D. Roosevelt Presidential Library and Museum has added new custom, energy efficient, visitor-activated LED lighting to help illuminate FDR's collection of over 400 ship models on display in the Museum's Behind the Scenes area. Since the Library's major renovation in 2013, one of the chief comments from visitors has been that the low level lighting in the Behind the Scenes area made it difficult to see this popular collection of FDR artifacts. The Library is pleased to announce this important improvement to the visitor experience. Regular Library and Museum admission applies.
FDR's Ship Model Collection
President Roosevelt had a deep interest in the sea that dated back to his childhood, when he heard stories from his Delano relatives about the family's adventures in overseas trade. He spent a lifetime amassing a world-class collection of naval and maritime prints, drawings, manuscripts, rare books, and ship models. A highlight of the Roosevelt Library when it opened in 1941 was the "Naval Room," where FDR showcased selections from his collection of over 400 ship models. Roosevelt purchased some of these. Others were gifts from friends and admirers. During his presidency many were displayed in the White House.
Behind the Scenes Area
A presidential library is much more than a museum exhibit. The Roosevelt Library preserves and protects 35,000 objects and over 17 million pages of documents. Only a small portion of these rich collections can be displayed in the Museum. To make more of them accessible, the Roosevelt Library has opened up the walls of some of its collection storage rooms to give visitors an insider's view in the Behind the Scenes area. In these rooms, visitors can see some of the unique personal collections gathered by FDR including his ship model collection. There are also paintings, furniture (including Val-Kill furniture), sculpture, an archival storage room and one of the Museum's most popular artifacts -- FDR's 1936 Ford Phaeton equipped with hand-controls giving him the freedom to drive despite his disability. Each day, Library staff work with collections in rooms like these.
Franklin D. Roosevelt Presidential Library and Museum
Designed by Franklin Roosevelt and dedicated on June 30, 1941, the Franklin D. Roosevelt Presidential Library and Museum is the nation's first presidential library and the only one used by a sitting president. Administered by the National Archives and Records Administration since 1941, the Library preserves and makes accessible to the American people the records of FDR's presidency. The Roosevelt Library's mission is to foster a deeper understanding of the lives and times of Franklin and Eleanor Roosevelt and their continuing impact on contemporary life. This work is carried out through the Library's archives and research room, museum collections and exhibitions, innovative educational programs, and engaging public programming. For more information about the Library or its programs call (800) 337-8474 or visit www.fdrlibrary.org.
CONTACT: Cliff Laube, FDR Presidential Library, (845) 486-7745
# # #