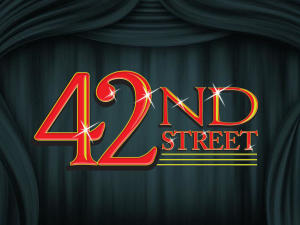 Woodstock, N.Y. – As the Woodstock Playhouse celebrates its 79th Anniversary, you're invited to be one of a limited number of special guests who will be able to step through the doors of the Cucina Historic Barn Private Event Space and back in time to celebrate the Playhouse's historic roots.
This Gala event will take place on Saturday, June 17th, coupled with the quintessential American Musical, 42nd Street.

The evening will also celebrate two other wonderful businesses in Woodstock:  Nancy's Artisan Ice Cream and Woodstock Golf Club. Nancy's Artisan Ice Cream will be sharing their delicious treat during the intermission and The Woodstock Golf Club will be feature a door prize:  a day of golf, for a party 4!
The evening will begin with wine, hors d'oeuvres, and meet-and-greet at 5:15pm, followed by dinner at 6:00pm, and the performance of '42nd Street' at the Playhouse at 7:30pm.   After the performance, you will also join us for a post-performance champagne/chocolate meet-and-greet reception with the cast and directors of the Woodstock Playhouse Production Company. 
The dinner is sponsored by Cucina of Woodstock. The evening and the performance of '42nd Street' are sponsored by High Rocks Charitable Trust and Rondout Savings Bank. 
Join us for this evening of celebration, with world class entertainment and dining.  To learn more about your chefs at Cucina's, and to purchase your tickets, visit us at:  http://www.woodstockplayhouse.org/opening-weekend-gala-dinner-2017- or www.WoodstockPlayhouse.org 
You will also have the option of subscribing to the summer season, with Mary Poppins, Moonchildren (a dramatic comedy) and All Shook Up! Box Office number may be reached at:  845-679-6900.
The Playhouse has been recognized by the Hudson River Valley National Heritage Area, as a historic site of American Theatre and Music History for such landmark historic events as the 1968 last great sound-out concert of Jocko Moffit featuring Richie Havens, which is the generally accepted pre-cursor concert to the Woodstock 1969; the establishment of the  Woodstock Playhouse in 1938 as one of the first Rural Extensions of Broadway, home to an endless cavalcade of internationally known stars of stage and screen; as being the home to the internationally renowned Margaret Webster Shakespeare Company, in partnership with 
Eva LeGallienne - photos and history of which are now archived in the United States Library of Congress; and additionally, for the current return of the Playhouse to a 'Regional House' with company cast members gaining the attention of the NYC and National Theatre community. 

Celebrate with us this summer at the 'stepping-stone to Broadway' and the 'gathering place for great performances at the gateway to Woodstock New York'. Enjoy this year's talented cast at the Woodstock Playhouse and celebrate the historic and contemporary iconic site of American Theatre in our region.