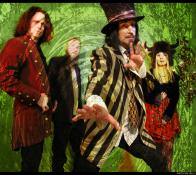 " 'Hillbilly-Pink Floyd'.... folkcountry....warmth and comfort of a mystical Nebraska or poetic Crazy Horse" 
-Sleezegrinder,
UK
Schenectady, N.Y. -
The Grand Slambovians (a.k.a. Gandalf Murphy & the Slambovian Circus of Dreams)
open The Eighth Step's 45th season with their haunting original and seriously magical folk-rock in concert at 7:30 pm, Saturday, October 13, 8th Step at Proctors (GE Theatre), 432 State Street, Schenectady, NY. Joziah Longo (vocals, acoustic guitar, harmonica), Tink Lloyd (accordion, cello, theremin, piccolo, ukelele, backing vocals), Sharkey McEwan (electric guitars, mandolin, backing vocals) & Tony Zuzulo (drums, percussion) are known for electrifying live performances and great original music, and a devoted and growing international fan base. Last year Gandalf Murphy & The Slambovian Circus of Dreams shed its colorful but cumbersome name and came out boldly as 'The Grand Slambovians,' touring the U.S., Canada and the U.K., where they've already spread their contagious brand of quirky Americana from Glasgow to Penzance. Now they unleash their haunting signature songs on the world once again: maniacally melodic, these bold new songs knit into the band's classics like an old paisley quilt wrapped around a very large family. The ultimate DIY'ers, the band records on its own label, under which it has released 4 critically acclaimed studio albums
: The Great Unravel
(2008), 2004's double-disc
Flapjacks from the Sky
,
A Good Thief Tips His Hat
(1998) and their latest self-titled rebirth hit
The Grand Slambovians
(2011). Lead singer/songwriter Joziah Longo describes the latest work as "a more extreme dose of what we've always been - a country-prison-music-meets-British-invasion type of thing." For the uninitiated, the band's all-over-the-map melodic avant-folk conjures Tom Petty, Dinosour Jr and a fuller Buffalo Tom, and boasts an exotic instrumental arsenal in addition to standard rock regalia. Equal parts Washington Irving and Woodstock, the band taps a broad palette of styles ranging from dusty Americana ballads to huge Pink Floydesque cinematic anthems. "The entire root system of Rock Family Trees is embedded in Longo's voice." 
-The Big Issue,
Scotland, UK  Bandleader/songwriter Longo, known for tall tales and philosophizing, debuted his second musical with Broadway legend Theodore Mann; it ran in NYC last March..  Doors open at 7 pm; GE Theatre is wheelchair accessible; free audience parking is available at Metroplex Garage, around the corner on Broadway.  Tickets are $28/$26 advance/$35 Gold Circle (1
st
4 rows center), available through The Eighth Tix/Info Line at (518) 434-1703 (Visa/MC/Disc/AmEx); online at
eighthstep.org
; through Proctors Box Office (518) 346-6204; also in Albany at Book House of Stuyvesant Plaza. For further information call The Eighth Step at (518) 434-1703 or visit online at
http://www.eighthstep.org/
.
###
-         
ABOUT THE EIGHTH STEP: 
The Eighth Step was founded in 1967 along Washington Park in Albany, a youth outreach program by FOCUS churches, located in the basement of historic First Presbyterian Church. It was enormously popular from its inception, a place for older teens and young adults to find coffee, music, poetry and dialogue on issues of the day. Over the years The Step became synonymous with the contemporary singer-songwriter movement, presenting in concert such major talents as Richie Havens, Tom Paxton, Tom Rush, Janis Ian, U Utah Phillips, Ramblin' Jack Elliot, Arlo Guthrie, Dar Williams, Odetta, Greg Brown, Ani DiFranco, Holly Near, Christine Lavin, John Gorka, Patty Larkin - in short, a "Who's Who" of the folk/acoustic music world.  For many years The Eighth Step provided shore support for Pete Seeger's environmental flagship
 Sloop Clearwater,
hosting the big kickoff concert for
Pumpkin Sail,
a two-week celebration of the bounty of the Hudson River Valley. Sonny Ochs presented Phil Ochs Song Nights at The Step annually, which provided generous support that sometimes kept The Step running. Most years Pete Seeger performed several times at The Eighth Step, each and every one memorable. The late local activist Jackie Alper, a long-term board member, mentor and supporter of The Step was a familiar sight in the audience and onstage.  The Eighth Step ranks as the nation's longest, continuously running non-profit coffeehouse. Lena Spencer, proprietor of Caffe Lena (the nation's oldest coffeehouse, which turned non-profit upon Spencer's death in 1990) consulted on stage placement to the original Eighth Step crew, and offered other advice when asked. Eighth Step director Margie Rosenkranz worked with Spencer in Saratoga before coming to The Step in 1987; Spencer occasionally showed up on Eighth Step's stage as a host.  The presence and interrelationship of several strong community-based folk and acoustic organizations, venues, festivals, radio shows and more over the past 30 years made the Capital Region by far one of the nation's most vibrant and thriving folk scenes in the country.  In 2007 The Eighth Step began a continued residency at Proctors, presenting shows in GE Theatre, initially in 440 Theatre, and now also in the more intimate Underground, and sometimes off-site (Holly Near at Cap Rep, Oct 2011). This represents a groundbreaking collaboration between a large arts organization and an independent grassroots collective supported by members and run by a volunteer crew, and we believe it could only have happened at Proctors.