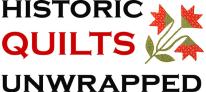 Ithaca, N.Y.
- The History Center and Village at Ithaca will proudly present a panel presentation on the history and artistry of African American quilts. The program will take place on April 26, 2012, at 5:30 p.m. at the History Center.   African American quilts display colorful symbols that vividly tell the history of Africa, reveal secret codes used by slaves on the Underground Railroad, and affirm the resiliency of African American families. Moving stories and several stunning quilts will be shared with the audience.   Panelists include Ms. Maxine Adams, Ms. Andrea Campbell Gibbs, and Ms. Erica Mims. Dr. Constance Graham will moderate. Ms. Adams, whose presentation is titled "Signposts of Freedom," considers herself a quilt hobbyist. Her quilts have been exhibited at the Schweinfurth Memorial Art Center, the Community Folk Art Gallery in Syracuse, and the Harriet Tubman Museum in Auburn. Ms. Andrea Campbell Gibbs is an artist who began quilting in 2000. She has created a collection of quilt blocks from the Adinkra symbols of the Akan people from the African country of Ghana titled, "Symbolic Traditions." Ms. Erica Mims is presently the Family Advocacy Project Coordinator for the Village At Ithaca. She will talk about her family quilt and the importance of community to children. Dr. Constance Graham is a Village At Ithaca board member who has been active in the area of education and school administration for many years in the Ithaca and Rochester City School districts.   For more information on this and other programs, please visit
http://www.thehistorycenter.net/
or call 607.273.8284 ext. 0.   The History Center is located east of the Ithaca Commons, at 401 East State Street, Ithaca, New York.
###