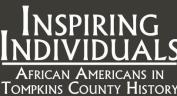 February 1st - February 28th  
Ithaca, N.Y.
- During the month of February, The History Center in Tompkins County will display the children's exhibit
Inspiring Individuals:  African-Americans in Tompkins County History
. Over a dozen people who have made an impact on our community throughout the years are featured in the exhibit, along with a brief timeline of post-Civil War African-American history. Each of the men and women honored in this exhibit has a unique and influential story, such as the first female African-American flight attendant and Cornell University's first African-American football player. Inspiring Individuals will open on Friday, February 1st and will run throughout the month.  
About The History Center in Tompkins County...
The History Center in Tompkins County helps people use the tools of history to understand the past, gain perspective on the present, and play an informed role in shaping the future. In order to accomplish this mission:
we preserve and encourage access to The History Center's unique collections;
seek out the diverse needs and interests of our community;
design learning experiences and provide services that respond to those needs;
create opportunities for people to learn about themselves and their place in the world;
and provide a neutral environment for public discussions that bring historical perspective to current issues.
###
Press Contact
: Scott Callan Executive Director       The History Center in Tompkins County 401 East State Street, Suite 100 Ithaca, NY, 14850 Tel: 607.273.8284 x6 E-mail:
community@thehistorycenter.net