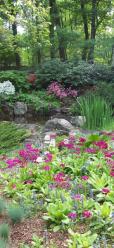 Hudson Valley, N.Y.
- Stop and smell the roses in the Hudson Valley as June bursts forth with all the delightful greenery and floral scents of early summer. Great ideas for home gardens can be found on tours of a number of private green spaces, while public gardens offer acres of gorgeous plantings and a quiet respite. The season begins with the
Garden Conservancy's Open Days Program
on June 5
th
, 6
th
, and 20
th
in Westchester County. Private gardens countywide swing open their gates to the public with self-guided tours that allow visitors to see impressive gardens of outstanding homes featuring roses, flowering shrubs, ferns, wildflowers, perennials and herbs. Take those ideas from your tour and head to
Garden Fair
in Tannersville on June 12
th
. It's a free, day-long event featuring trees, shrubs, herbs, hardy perennials and native plants for sale. Enjoy refreshments while you ask advice of Master Gardeners at the 7-acre Mountain Top Arboretum. Late in the afternoon as the sun is setting on June 14
th
, learn how gardens were planted back in the 1800s at the
Garden Walk
in Hudson. The Hudson River School's Frederic Church planted a flower garden at his Moorish home, Olana, and guides relate the history of this painter's plantings as well as information on the maintenance of your own perennial garden. A short drive will keep you in the same era as the historic Ten Broeck Mansion in Albany hosts a
Garden Talk and Tea Party
on June 23
rd
. Guests will enjoy an elegant afternoon of tea in the beautifully crafted gardens as a storyteller relates "The Secret Language of Flowers," revealing their use in courtship by men and women during the 19
th
Century. A more personal view can be found on June 19
th
at the
Gardens of Goshen
. Six private homes open their garden gates for an intimate look at these well designed spaces that include an English knot garden of boxwood and a beautifully constructed formal garden with reflecting pool next to an 18
th
century home. Robin's egg blue tablecloths will float under the centerpieces of white roses at the gourmet luncheon on the lawn. Intimate also describes the
Dutch Garden
in New City. A profusion of flowers line the brick paths leading to a teahouse, gazebo, arbor, and bandstand. It was the only Depression era project designed and supervised by a woman.
Stonecrop Gardens
in Cold Spring was originally the home of Anne and Frank Cabot,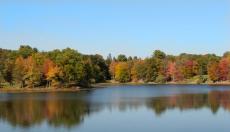 becoming a public garden in 1992. Covering 12 acres, the display gardens comprise a diverse collection of flowers and plants including woodland and water gardens, grass garden, raised alpine stone beds, cliff rock gardens, and an enclosed English-style flower garden. Stop in at the Potting Shed to start your self-guided tour and visit the Conservatory further down the path. A little further north is
Innisfree Garden
in Millbrook, once the private garden of Walter and Marion Beck. Opened in 1960, it features a 1,000 year-old Chinese-style design where special objects are highlighted by surrounding enclosures, allowing for viewing without distraction. Flowers are constantly in bloom amid the streams and waterfalls, and surrounding the glacially formed 40-acre lake. The garden as outdoor classroom is beautifully illustrated at the
Demonstration Garden
in Wynantskill. Designed to show how different plants can create a variety of stylish gardens, some of those featured include a Prairie Garden inspired by the Midwest, and Fragrance Garden highlighting a variety of aromatic scents from delicate to bold. A walk to the gazebo will reward you with a wonderful view of the countryside. Speaking of views, gardening has been a cornerstone of 
Mohonk Mountain House
from the time the Smiley Brothers purchased the land in 1869. Since then, Mohonk has maintained and expanded its award-winning gardens, which reflect formal French and Italian influences, but focus mainly on mid-19th century picturesque landscaping. The spectacular Victorian castle is nestled alongside a mountaintop lake surrounded by carriage ways and walking paths. The environmental movement in the United States started in the Hudson Valley and is beautifully realized in the gardens here that speak of both the past and present. Gardens have been part of the Hudson Valley lifestyle for centuries, and now visitors can experience the wide variety of gardening techniques and designs in both private and public spaces.    Hudson Valley Tourism, Inc. is the 10-county region designated by I LOVE NEW YORK to promote tourism for the area. Counties include Albany, Columbia, Dutchess, Greene, Orange, Putnam, Rensselaer, Rockland, Ulster and Westchester. Regional information can be obtained from any of the county tourism offices, the Hudson Valley Tourism website,
http://www.travelhudsonvalley.com/
, or by calling 845-615-3860. The Garden Conservancy's Open Days Program, Westchester County. 888-842-2442,
http://www.gardenconservancy.org/
  Garden Fair, Tannersville. 518-589-3903,
http://www.mtarbor.org/
Olana State Historic Site, Hudson. 518-828-0135,
http://www.olana.org/
    Ten Broeck Mansion, Albany. 518-436-9826,
http://sites.google.com/site/tenbroeckmansion
Gardens of Goshen, Goshen. 845-294-9004, 845-294-6225.
http://www.stjamesgoshen.org/
Dutch Garden, New City. 845-708-7300,
http://www.rockland.org/
Stonecrop Gardens
, Cold Spring. 845-265-2000,
http://www.stonecrop.org/
         Innisfree, Millbrook. 845-677-8000,
http://www.innisfreegarden.org/
Demonstration Garden, Wynantskill. 518-272-4210,
http://www.ccerensselaer.org/Horticulture-Program/Demonstration-Garden.aspx
Mohonk Mountain House, New Paltz. 800-772-6646,
http://www.mohonk.com/
###
Contact
: Victoria Hochman (914) 762-1900
vicky@thompson-bender.com