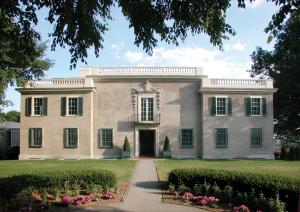 Glens Falls, N.Y. – The Hyde Collection in Glens Falls will temporarily pause public visits to its galleries, exhibits, and historic home beginning Monday, January 4, 2021. It will open its doors to the public again on Saturday, May 1, 2021, with a blockbuster exhibition, The Very Best of The Hyde.
 
The rising numbers of COVID-19 cases, predicted to continue this winter and early spring, led to the decision. "Our first and most pressing priority always is to protect our staff and visitors," said Hyde Chief Executive Officer Norman E. Dascher, Jr.
 
The Hyde will undertake internal improvement and maintenance projects during the period and its offices will remain open, though with reduced hours and staff. Some employees will be furloughed, others will work on limited schedules. The Hyde continues to reduce its operating expenses in response to declines in revenue cause by COVID-related limitations on exhibitions, programs and visits since March.
 
The early months of each year traditionally bring fewer visitors to The Hyde, and for much of 2020 visitation has been lower because of the social-distancing policies the Museum has imposed to protect the health of patrons and staff.
 
"The Hyde's mission is to make art accessible to our community, but we believe the most prudent step we can take right now is to pause public visits and look forward to the better days that we hope will come this spring," said Mr. Dascher.
 
During the next few weeks, The Hyde will welcome visitors by appointment from 10 a.m. to 5 p.m. Friday, Saturday, and Sunday, December 18-20, and from 10 a.m. to 5 p.m. on Saturday, December 26, Sunday, December 27; and on Saturday, January 2 and Sunday, January 3. The Museum will be closed on Christmas Day, New Year's Eve and New Year's Day. Reservations should be made in advance online at hydecollection.org.
 
The Very Best of The Hyde will feature the most popular treasures from the Hyde's permanent collection of nearly 4,000 objects of art. The Hyde will celebrate its 60th year in 2022, and planning for major anniversary exhibitions and celebrations is already underway.
 
Across the United States, museums have temporarily paused public visitation in response to COVID-19. The American Alliance of Museums reported recently that one in three museums in the United States remains closed to the public because of the pandemic. The Smithsonian temporarily closed eight of its Washington-area institutions in November. The New York State Museum, State Library and State Archives are temporarily closed as well as are the National Museum of Dance in Saratoga Springs, the Franklin Delano Roosevelt Presidential Library and Museum in Hyde Park, and the Adirondack Experience in Blue Mountain Lake.
 
Contact:
Norman E. Dascher, Jr
Chief Executive Officer
(518)792-1761, ext. 319
ndascher@hydecollection.org
What is The Hyde?
The Hyde Collection is one of the Northeast's exceptional small art museums with distinguished collections of European, American, Modern, and Contemporary art. Its permanent collection of more than 5,000 works spans centuries and consists of paintings, drawings, prints, sculpture, furniture, and decorative arts. The core collection, amassed by Museum founders Louis and Charlotte Hyde, includes works by such European masters as Sandro Botticelli, Domenikos Theotokopoulos (El Greco), Rembrandt van Rijn, Peter Paul Rubens, Edgar Degas, Georges Seurat, Pablo Picasso, and Pierre-Auguste Renoir, and Americans Thomas Eakins, Childe Hassam, Winslow Homer, and James McNeill Whistler. The Museum's collection of Modern and Contemporary art features works by Josef Albers, Dorothy Dehner, Sam Gilliam, Adolph Gottlieb, Grace Hartigan, Ellsworth Kelly, Sol LeWitt, George McNeil, Robert Motherwell, Ben Nicholson, Robert Rauschenberg, and Bridget Riley. The Hyde Collection presents changing exhibitions in its five galleries, as well as lectures, cultural events, family activities, and school programming in its modern museum complex and historic house at 161 Warren St., Glens Falls.