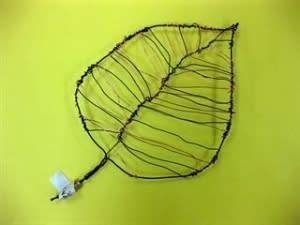 10:30 am to 12:30 pm Tuesdays, July 18 to August 29
Glens Falls, N.Y. — Why does the line in this artwork feel like it is moving? Why does pattern sometimes mess with my eyes? Why do open spaces make me feel alone? This summer, all your children's art questions will be answered at The Hyde Collection's smART Series!
Held from 10:30 am to 12:30 pm every Tuesday from July 18 to August 29, the drop-in series will investigate creative concepts in Modern art, exploring how Contemporary artists express their ideas. Children will examine works on exhibition in the Museum's galleries, learn the concepts, then apply them to their own projects in the Art Studio.
On Tuesday, July 18 — inspired by the Ellsworth Kelly lithographs in Fruits & Flowers — participants will discover how Kelly used contour lines to depict plants in a simple but effective way. Then, they will head to the Art Studio to create wire sculptures of natural shapes. Other planned projects in coming weeks include Create Shape on July 25; Discover Color on August 1; Invent Texture on July 8; Build Value on August 15; Explore Form on August 22; and Elements of Art Lab on August 29. 
Parents and guardians are asked to stay on site as the children experiment, learn, and create. We invite you to sit and read in The Hyde's butterfly garden; explore the Ellsworth Kelly exhibitions, Slow Curve and Fruits & Flowers; rediscover the beauty of Hyde House; and learn more about the Feibes & Schmitt Collection in To Distribute and Multiply, the inaugural exhibition in the newly opened gallery dedicated to Modern and Contemporary art. 
smART Series sessions are geared toward children ages 6 and older. The weekly events are free for members and $5 for each non-member child. RSVP is appreciated, but participants are welcome to drop in. To register in advance, contact Kayla at 518-792-1761 ext. 310 or adminassist@hydecollection.org.
Funding for the smART Series is provided, in part, by the Jordan Schnitzer Family Foundation.
Also at The Hyde
To Distribute and Multiply: The Feibes & Schmitt Gift features more than forty works of art from some of the most influential artists of the twentieth century. The inaugural exhibition in the new Feibes & Schmitt Gallery was selected from the collection of Werner Feibes and the late James Schmitt, who donated their 160-piece collection to the Museum. The exhibition demonstrates who Messrs. Feibes and Schmitt were as art lovers and collectors, and features the works of Jean Arp, Josef Albers, Grace Hartigan, Ellsworth Kelly, Sol LeWitt, Man Ray, Louise Nevelson, George Rickey, and Bridget Riley, among others. The exhibition is open through the end of the year.
Ellsworth Kelly: Slow Curve includes more than sixty lithographs from the collections of Jordan D. Schnitzer and his Family Foundation examining Ellsworth Kelly's use of the curve, perhaps his most iconic shape. Throughout his prolific career, the artist experimented with curved fields of color, from tight ellipses and shapes with rounded corners to broad arcs and segments. The abstracted shapes were grounded in nature, derived from his engagement with the visible world. To bring this relationship into focus, a selection of twenty-six lithographs of Kelly's botanical subjects is the basis of a companion exhibition, Fruits & Flowers. The exhibitions are open through September 17.
For more information, please visit www.hydecollection.org or call 518-792-1761.
###
For More Information: 
Rhonda Triller
Communications Associate
The Hyde Collection
518.792.1761 ext. 320
rtriller@hydecollection.org
Image: Inspired by the Ellsworth Kelly lithographs in Fruits and Flowers, children participating in The Hyde Collection's first smART Series program will create wire sculptures of natural shapes.