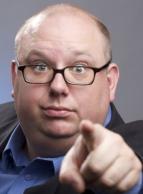 Lucille Ball Comedy Fest provides workshops, stage time, and path to the Gotham in NYC
Jamestown, N.Y.
- The Lucy Desi Center for Comedy has announced that its comedic arts education program will be debuting this year in Jamestown at Lucy Fest 2012. The Lucy Desi Center will be providing comedic workshops that benefit both the experienced comedian and curious first-timer in the areas of improv (
Improv Intensive
), sketch comedy (
Sketch Writing: Page to Stage
) and stand-up (
Stand-Up Shakedown
). "Whether you're an aspiring comedy writer, producer or performer, a working comic, or have ever just wanted to try to write or perform comedy, this is the perfect experience and environment," said Journey Gunderson, Executive Director of the Lucy Desi Center for Comedy. All students completing a workshop will have an opportunity for stage time at Lucy Fest, and students completing the two-day
Stand-Up Shakedown
will earn a six-minute guest spot on stage at The Gotham Comedy Club in Manhattan, named one of the Top Ten Comedy Clubs by
USA Today
. Workshops will be held from July 30 - August 3 to culminate during the festival August 1-5. A youth workshop that includes an introduction to different areas of comedy and participation in a variety show is also available for kids ages 11-17. "Adults and youth can enjoy 'finding their funny' at the Lucille Ball Comedy Fest, and enjoy affordable dorm housing and tickets to headliners like Billy Gardell and Paula Poundstone," Gunderson said.  "Comedy converges in Jamestown that week." The "Lucille Ball Comedy Fest Bootcamp," which is presented in partnership with Jamestown Community College's Center for Continuing Education, will be taught by Bill Chott, T. Faye Griffin, and the directors of Manhattan Comedy School & New Talent at the Gotham.  Chott won the national INNY award for "Best Improv Coach" and toured alongside Tina Fey and Amy Poehler in The Second City Comedy Troupe before re-uniting with former troupe-mates Stephen Colbert and Steve Carell to work on
The Dana Carvey Show
and
Saturday Night Live
.  Griffin is a NAACP Image Award-winning producer and former writer on the show
In Living Color
, a personal joke writer for Steve Harvey, and has been featured on A&E, Fox, TNT, The WB, and BET networks. Registration for youth (ages 11-17) and adults is now open and space is limited to 15 spots per class. Call JCC's Carnahan Center at (716)338-1005 to enroll today and visit
http://www.lucycomedyfest.com/
for info. Single session evening workshops and accommodations are available.  Course descriptions:
Improv Intensive-Led by Bill Chott: featuring the type of comedy made famous by Chicago's Second City and TV's Whose Line is it Anyway, participants will learn about improvisation in a fun and supporting atmosphere.
Sketch Writing: Page to Stage-Led by T. Faye Griffin: discover the method to the madness that makes shows like In Living Color and Saturday Night Live so funny as you experience the process of pitching, writing and producing hilarious comedy sketches like the professionals. Then see your work performed before a live audience in a special showcase.
Stand-Up Shakedown- Led by the directors of Manhattan Comedy School & New Talent at The Gotham: craft material, learn the art of joke-writing, develop a set, find your comedic voice, and come away with the confidence and commitment to deliver a solid, 6-minute demo set. For aspiring pros, complete a demo DVD and get a guest spot at the Gotham. For newbies, test the water of you and a mic on stage.
Youth Comedy-Show your funny side and learn about the different types of comedy with Bill Chott and T. Faye Griffin. Then, showcase your talent in front of a live audience during Lucy Fest 2012 on Aug. 4.
About The Lucille Ball Comedy Festival
The 2012 festival August 1-5 features Billy Gardell of the CBS hit
Mike & Molly
and his own 2011
Comedy Central Special: Halftime
, Paula Poundstone - named Top 100 Comedians of All Time by Comedy Central, Lucie Arnaz, The Story Pirates kids comedy, Live Lucy Radio Plays, Dinner Theater with The Ricardos & Mertzes, museum & town tours, Late Night Comedy in the Tropicana Room, "Party on the Plaza" Friday and Saturday featuring bands, vendors, drinks and the Lucy World Games of grape-stomping, conveyer-belt candy-wrapping,
I Love Lucy Trivia,
a costume contest, and much more.  Tickets and information are available at
http://www.lucycomedyfest.com/
. The Lucille Ball Comedy Festival, or "Lucy Fest," embodies Ball's vision for her hometown legacy: a celebration of the comedic arts held annually on the weekend closest to her birth date, August 6th. According to an economic impact study conducted by Buffalo firm Paradigm Economics, the 2011 five-day festival saw 13,000 in attendance and had a direct impact of $3.6 million on Chautauqua County. The 2011 Lucy Fest featured more than ten comedians from NYC, Boston, Atlanta, San Francisco and Los Angeles performing over five days, and made international news with the setting of a Guinness World Record for "Most People Dressed as Lucy Ricardo" with 916 on Lucille Ball's 100
th
birthday. The Lucille Ball Comedy Festival is the first pillar in a four-pillar Legacy of Laughter vision for the organization including a comedic arts education program, comedy film festival and the establishment of the first national comedy museum and hall of fame. The mission of the Lucy Desi Center for Comedy, a 501(c)(3) non-profit, is to preserve the legacy of Lucille Ball and Desi Arnaz and enrich the world through the healing powers of love and laughter through its commitment to the development of the comedic arts. 
###
Photo: Bill Chott, 2012 INNY Award Winner for Best Improv Coach and founder of The Improv Trick Academies in LA and St. Louis. He has also toured with Amy Poehler and Tina Fey in the Second City Comedy Troupe.
Contact:
Lucy Desi Center for Comedy, 2 W. 3rd St., Jamestown, N.Y. 716.484.0800
sneilans@lucy-desi.com
Instructor interviews and headshots available upon request.