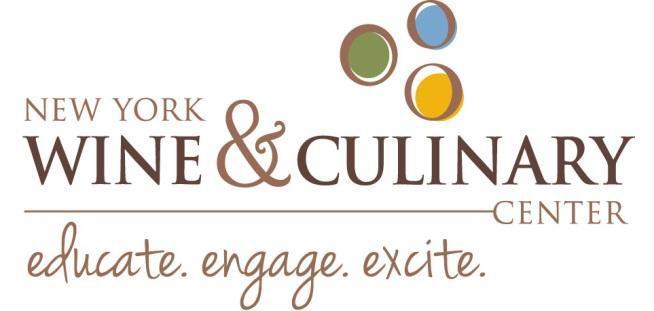 Public Invited to Submit Nominations for Four Awards: Eat NY, Love NY, Grow NY, Drink NY
Canandaigua, N.Y.
-
The New York Wine & Culinary Center (NYWCC), which is dedicated to educating, engaging and exciting New Yorkers and the world about New York State food, wine and agriculture, is launching the first annual New York State of Mind Awards to recognize nominees' attention and devotion to the promotion of New York State. The awards will be presented Saturday, September 28th, at the NYWCC's annual fundraising event. This event, New York State of Mind, is a wine and culinary celebration featuring the finest food and wines from New York, music, andlive auction.
Awards & How to Nominate
The public is invited to submit nominees for people, companies or organizations that "educate, engage and excite" in a celebration of New York wine, food, agriculture and tourism in one or more of the following four award categories:
Eat NY (restaurateur/chef)
Love NY (tourism: visitor center, Chamber of Commerce, hotels, etc.)
Grow NY (grower/producer/processor)
Drink NY (winery/brewery/distiller)
"Wine and agriculture are major economic drivers in our state's economy and significant contributors to our quality of life," said Tom Wahl, Jr., Chairman of the NYWCC Philanthropic Advisory Board and NYWCC Board member. "It is important to recognize the efforts and successes of people across the state who have gone above and beyond to celebrate New York."
Nominations are due no later than 5 PM August 30.
To make a nomination, email info@nywcc.com or fill out the form located at www.nywcc.com and return to NYWCC (800 South Main Street, Canandaigua, NY 14424). Call 585.394.7070 with questions.
Event Information
Saturday, September 28, 2013 6:30pm Tickets available for purchase at NYWCC and online at www.nywcc.com for $150 per person. All proceeds benefit educational programming at NYWCC.
About the New York Wine & Culinary Center
The New York Wine & Culinary Center is a 501(c)3 not-for-profit organization founded in 2006 to educate visitors while showcasing New York's dynamic agriculture, wine and food industries. The Center's state-of-the-art facility overlooking Canandaigua features a Hands-On Kitchen, Educational Theater, Tasting Room, Private Dining Room, gift boutique, and the local-fare restaurant, Upstairs Bistro. Daily activities, events, and classes surround the Center's mission to educate, engage, and excite. To learn more about the New York Wine & Culinary Center, please call 585-394-7070 or visit
http://www.nywcc.com/
.
Media Contact:
Lynn Freida
lynn.freida@cbrands.com
  585.704.0872