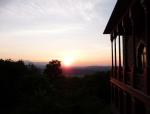 Hudson, N.Y.
- The Olana Partnership is proud to offer Strings at Sunset: Viola and Guitar Concert with Washington D.C. musicians Bob Israel and Daniel Morris on Saturday, September 14 at 4:30 p.m. in Olana's beautiful autumnal landscape.  The concert will take place on the East Lawn at Olana State Historic Site.  In the event of rain, the concert will take place at the Wagon House Education Center on-site.  Israel and Morris will enliven the Hudson Valley with melodies from 19
th
century Hudson River School artist Frederic Church's music collection, as well as an array of folk, classical, and modern musical selections. As a musician Bob Israel has performed in concert with Nancy Wilson, Stanley Turrentine, Harry Connick, Dizzy Gillespie, Mary Wilson and Steve Allen. In addition to performing at the inaugural balls of Ronald Reagan, George Bush, and Bill Clinton he has performed for many corporate and associate events as an orchestra leader. The Washington Jazz Battalion Big Band, with whom he was the founder, leader, and principle trombone, was one of Washington's finest and attracted crowds of over a thousand people a night. The band was purchased by Blues Alley and became the Blues Alley Big Band directed by Bob Israel. More recent projects include the Artists-in-Residence program at Strathmore Hall and performing in the Potomac Orchestra, featuring such luminaries as Chuck Redd and Mike Cotter. Musician and songwriter Daniel Morris has performed both nationally and internationally, spanning three continents.  Morris is co-owner of Twins and Violins where his twin brother and he have close to 40 combined years of experience playing piano, violin and viola.  Daniel Morris has played at the Italian Embassy in Washington, D.C., opened for internationally known blues musician Memphis Gold at the Strathmore Mansion in Rockville, Maryland, in addition to performing at Strong Mansion, the D.C. Convention Center, and most recently has performed for the Mayor of Washington D.C. at the Environmental Sustainability Awards Ceremony. Bring a blanket and a picnic.  The cost of the concert is $10/person, families $25.  For more information and to purchase tickets contact Sarah Hasbrook, Education Coordinator for The Olana Partnership, at shasbrook@olana.org or call (518) 828-1872 x 109. Strings at Sunset is one of the many events included in the Fourteenth Annual Hudson River Valley Ramble in September.  The Ramble is sponsored by the Hudson River National Heritage Area, Hudson River Valley Greenway, the New York State Department of Conservation's Hudson River Estuary Program, the New York State Office of Parks, Recreation and Historic Preservation and the New York State Division of Tourism. On the weekends of September 7-8, 14-15, 21-22, 28-29, more than 175 events will be hosted from Saratoga in the Capital Region to New York City. For a complete listing of events, visit www.hudsonrivervalleyramble.com. The Ramble brochure is one of the most comprehensive regional recreational guides and can be used as a reference throughout the year. Copies of the program guide can be found at various tourist destinations throughout the Hudson Valley. Program guides may also be downloaded from the website. The Hudson River Valley Ramble is presented by the Hudson River Valley National Heritage Area and Greenway, in partnership with the NYS DEC Hudson River Estuary Program, NYS Office of Parks, Recreation and Historic Preservation, the NYS Division of Tourism, the  National Park Service, and over 155 organizations hosting Ramble events throughout the Hudson River Valley.  The 2013 Ramble is also sponsored by Erie Insurance and the New York State Outdoor Education Association.
About Olana and The Olana Partnership
The eminent Hudson River School painter Frederic Edwin Church (1826-1900) designed Olana, his family home, studio, and estate as an integrated environment embracing architecture, art, landscape, and conservation ideals.  Considered one of the most important artistic residences in the United States, Olana is a 250-acre artist-designed landscape with a Persian-inspired house at its summit, embracing unrivaled panoramic views of the vast Hudson Valley. Olana State Historic Site, a historic site administered by the New York State Office of Parks, Recreation and Historic Preservation, Taconic Region, is a designated National Historic Landmark and one of the most visited sites in the state.  The Olana Partnership, a private not-for-profit education corporation, works cooperatively with New York State to support the restoration, development and improvement of Olana State Historic Site.  To learn more about Olana and The Olana Partnership please visit www.olana.org.
###
Media Contact:
Sarah D. Hasbrook Education Coordinator (518) 828-1872 x 109
shasbrook@olana.org